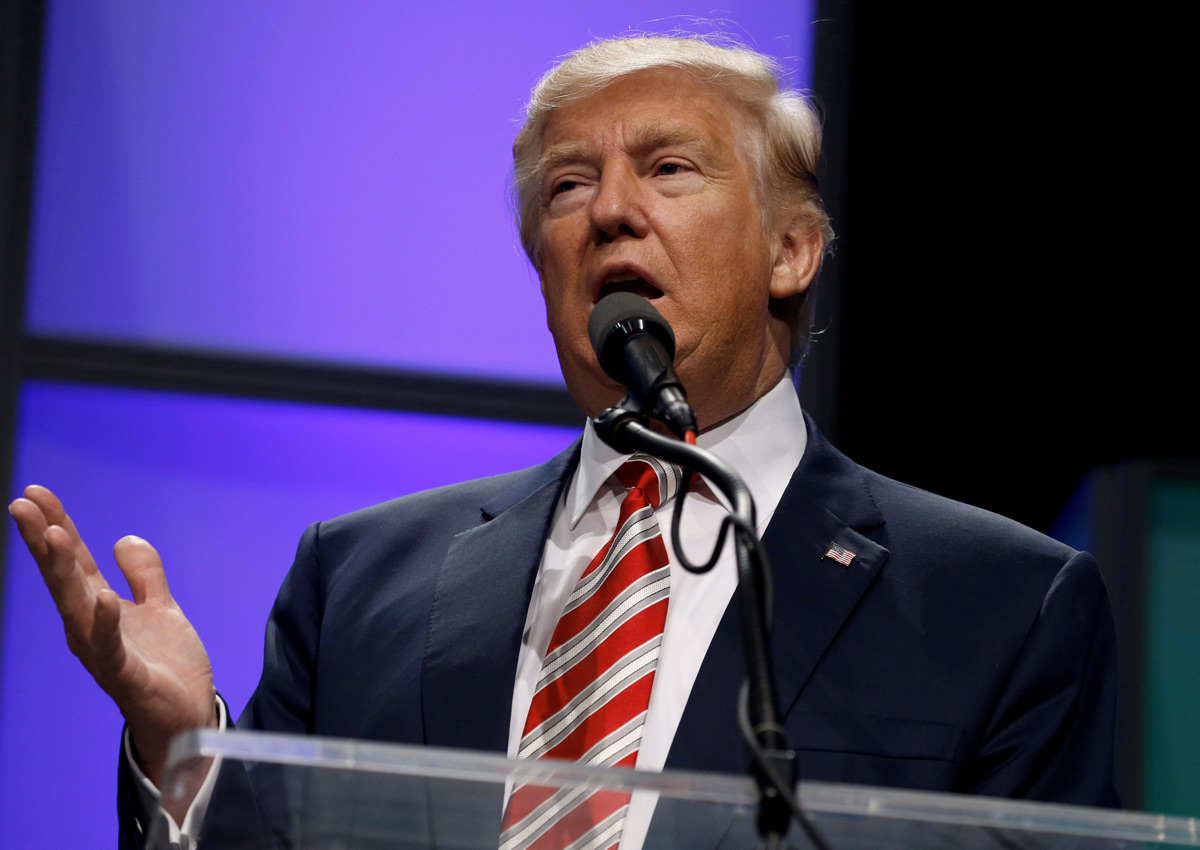 Here's a chicken-and-egg question: Did pop culture predict Donald Trump's presidency, or did Mr Trump rise to power because he shows up so often on screen?
It is uncanny how many movies, TV shows, and even a music video suggested that he would succeed in running for president.
Many portray him as an aggressive, greedy business mogul, but also show him as having magnetism and charm.
The latest TV drama to be inspired by the US President-elect is Law & Order: SVU, which features a Trump-like presidential candidate facing accusations of sexual harassment from women in the episode Unstoppable.
Originally scheduled to air on Nov 16, it has been postponed to possibly next year.
Donald Trump wins US presidency in stunning upset
Here are Mr Trump's top appearances in pop culture.
THE APPRENTICE
The reality show boosted Mr Trump's visibility and fame.
Its first season had nearly 21 million viewers a week and was the seventh most-watched show of 2004.
He starred as a business-minded "fairy godfather" who would grant contestants their wish to go not to the ball but the boardroom.
The Apprentice made "you're fired" a catchphrase and no one said it with more relish than Mr Trump.
He yelled at and humiliated under-performing contestants, occasionally made comments loaded with sexual innuendo about female contestants, and basically came off as an arrogant alpha male, but one who was also a financial genius.
THE SIMPSONS
Sixteen years ago, the animated comedy series aired an episode called Bart to the Future, picturing a future where Lisa Simpson becomes US President after Mr Trump, who had run the nation to ruin.
In an interview with The Hollywood Reporter in March, The Simpsons writer Dan Greaney said: "It was a warning to America. That just seemed like the logical last stop before hitting bottom. It was consistent with the vision of America going insane...
"The Donald Trump that we were writing about was kind of a lovable, over-the-top character and didn't have this darkness."
The Simpsons creator Matt Groening said last month: "Back in 2000, Trump was, of course, the most absurd placeholder joke name that we could think of at the time and that's still true. It's beyond satire."
Last year, the show aired the episode Trumptastic Voyage, after Mr Trump announced he was running for president, in which Homer Simpson posed as a Trump supporter and took a fantastical trip into Trump's "gravity-defying comb-over".
BACK TO THE FUTURE PART II
The 1989 film saw hero Marty McFly visit the future - 2015, to be exact - only to see his nemesis, Biff Tannen, as a successful business tycoon with a casino to his name and women in his hot tub.
The brash, villainous Biff also uses his money to become a corrupt Republican politician, leading California's Hill Valley to a crime-infested, post-apocaplyptic state.
Co-writer Bob Gale told The Daily Beast that the Biff character was loosely based on Mr Trump.
He said: "There's a scene where Marty confronts Biff in his office and there's a huge portrait of Biff on the wall behind Biff, and there's one moment where Biff kind of stands up and he takes exactly the same pose as the portrait."
Mr Trump is known for having a six-foot-tall portrait of himself, which he bought in 2007 at a fundraiser auction for US$20,000 (S$28,260) with money from his Donald J. Trump Foundation.
RAGE AGAINST THE MACHINE MUSIC VIDEO
In the Sleep Now In The Fire music video in 1999, by US rock band Rage Against the Machine, the US is a dystopian society filled with the greedy and morally bankrupt and one man is seen holding up a sign that says "Donald J. Trump for President".
Mr Trump had thrown in his name to be the Reform Party nominee for president, but he withdrew in 2000.
Film-maker Michael Moore, who directed the video, made the documentary Michael Moore in TrumpLand this year, warning of the dangers of Mr Trump's possible election.
Moore posted an essay titled 5 Reasons Why Trump Will Win on his website in July and said that Mr Trump's reputation for nastiness and narcissism would not affect his popularity at the voting booth.
He wrote: "This wretched, ignorant, dangerous part-time clown and full-time sociopath is going to be our next president."
He was right - and so were the other Trump-inspired entertainment tidbits.
Read also:
In Singapore, many Americans just want to move on
Mexico moves to help migrants after Trump win

This article was first published on November 14, 2016.
Get The New Paper for more stories.