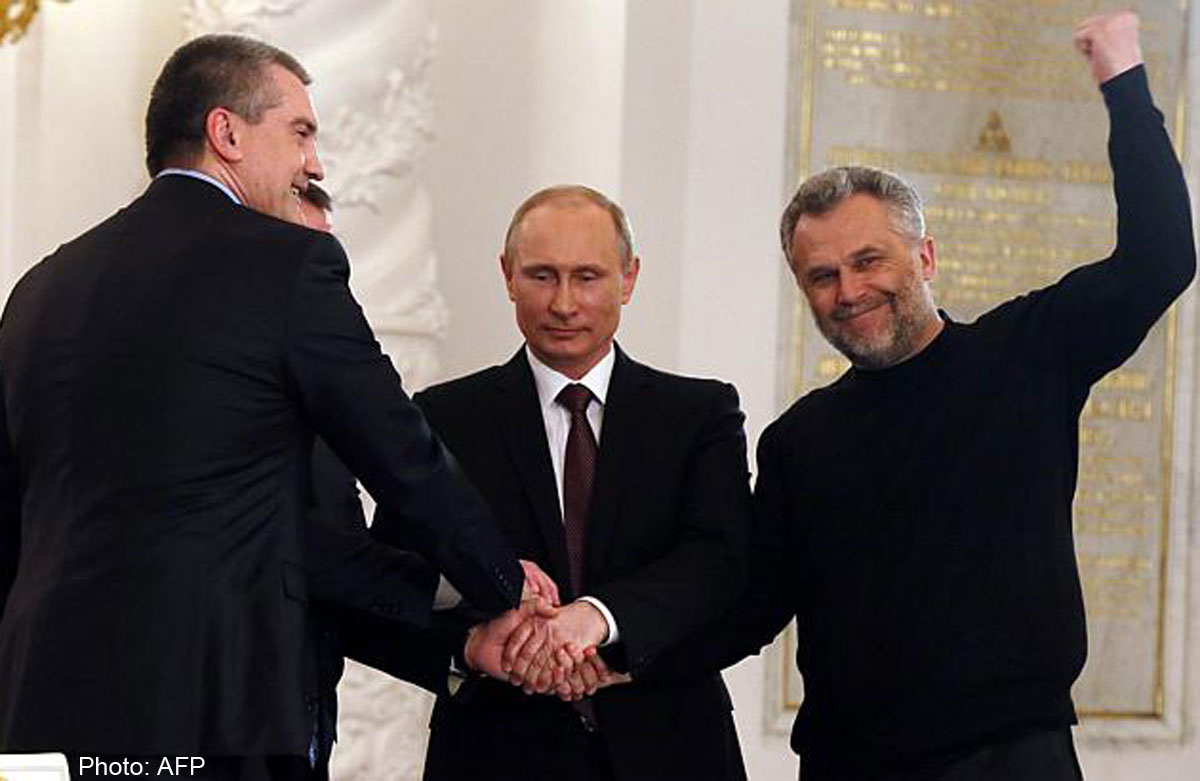 Russian President Vladimir Putin yesterday signed a treaty making Crimea part of Russia, igniting cheers and dancing in the streets of its Black Sea port city of Sevastopol but protests in Ukraine and warnings from the West.
In a speech to the Russian Parliament yesterday interrupted by tears and cheers, he said: "In the hearts and minds of people, Crimea has always been and remains an inseparable part of Russia."
But he also said the Kremlin had no plans to seize any other parts of Ukraine. "Don't believe those who say Russia will take other regions after Crimea," he said. "We don't need that."
Those words helped reassure global investors, if not the world's politicians. Russian stocks rose 2 per cent, its rouble currency firmed and European equities and the US stock market saw gains.
The treaty signed by Mr Putin and Crimean leaders - as the Russian national anthem played - makes the southern peninsula another corner of Russia.
The move came just two days after a referendum on the issue was held in Crimea, where most of the two million residents are ethnic Russians. The head of the referendum election commission said on Monday that final results showed nearly 97per cent of voters favoured a split from Ukraine.
Mr Putin said the referendum revealed the wishes of the people to be reunited with Russia after 60 years as part of the Ukrainian republic. But Ukraine's new government in Kiev called the vote a "circus" that Moscow had directed at gunpoint.
The treaty to ratify the annexation of Crimea must still be approved by the Russian Parliament, but that is expected to happen within days.
Crimean Prime Minister Sergei Aksyonov wasted little time, though, in announcing that Crimea would move its clocks to Moscow time from March30. Bankers in Crimea's capital, Simferopol, also introduced the rouble as an official currency in addition to Ukraine's hryvnia.
In his 50-minute speech to the Russian Parliament yesterday - interrupted about 30 times by applause - Mr Putin listed a litany of what he painted as hypocritical actions taken by the West since the downfall of the Soviet Union.
Condemning the expansion of Nato and missile defence systems, he put a positive spin on Russia's own actions, noting its support for the reunification of Germany in 1990. "I hope Germans will support the aspirations of Russians to restore Russia," he said.
Mr Putin pointed out that Western nations had supported Kosovo's independence from Serbia but now did not approve of allowing Crimeans the same right.
"You cannot call the same thing black today and white tomorrow," he said to wild applause, adding: "Our Western partners have crossed a line. They've been unprofessional."
Mr Putin also took aim at Ukraine's new leaders who came to power after the overthrow of pro-Moscow president Viktor Yanukovych last month, calling them "neo-Nazis, Russophobes and anti-Semites".
Thus far, the United States and European Union have imposed sanctions on several officials from Russia and Ukraine they have identified as playing a major role in Moscow's seizure of Crimea.
Russian politicians mocked the sanctions. The State Duma, or Lower House, even adopted a statement calling on the US and the EU to extend the visa ban and asset freeze to all its members.
Get a copy of The Straits Times or go to straitstimes.com for more stories.