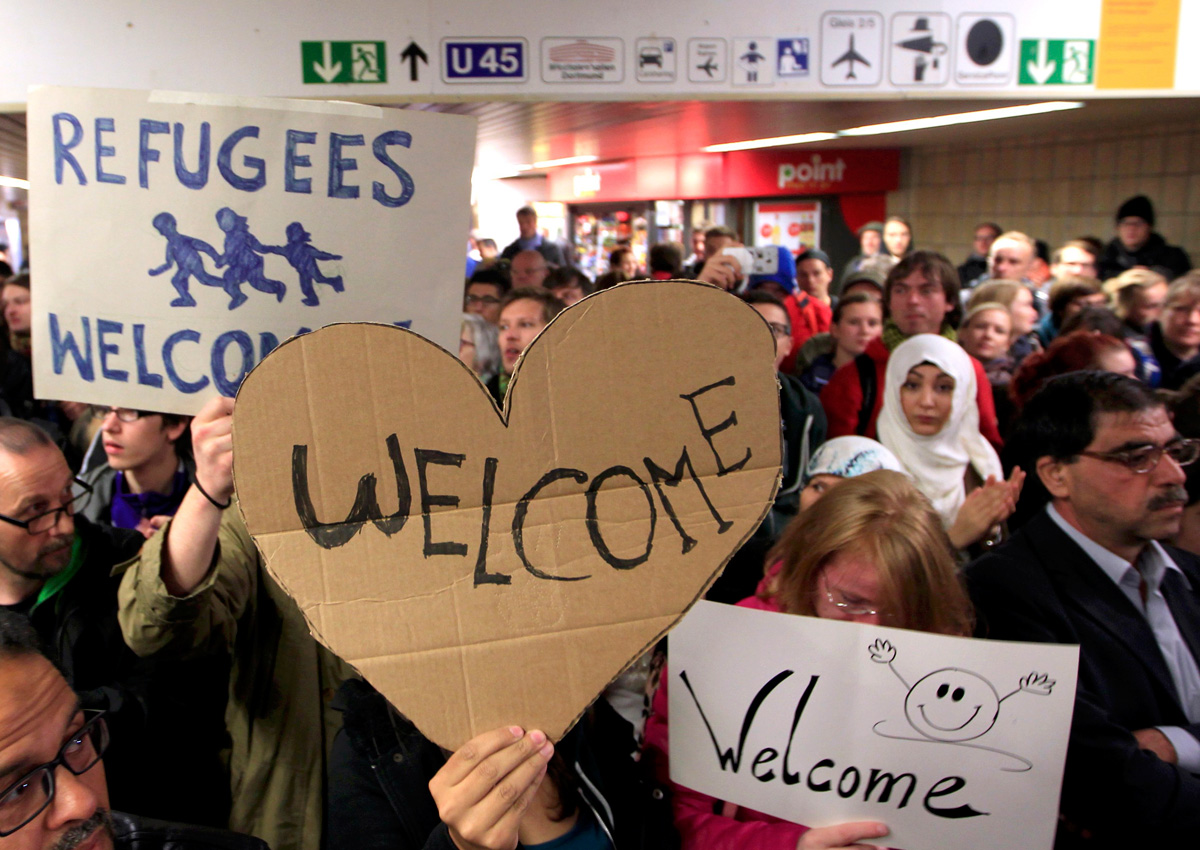 BERLIN - Thousands of exhausted migrants received a hero's welcome as they streamed into Germany on Sunday as the UN criticised the huge disparity in European efforts to help them.
As well-wishers turned out en masse at train stations in Munich, Frankfurt and other German cities, the UN's refugee chief said the crisis could be "manageable" if European countries all pulled their weight and agreed on a common approach.
Europe's worst refugee crisis since World War II has sparked a flurry of diplomatic wrangling, with Turkey lashing out at what it called the closed-doors response of "Christian fortress Europe".
But for thousands of refugees who had made a perilous trip across land and sea and finally set foot in Germany - seen by many as a promised land - the welcome was overwhelming.
As they stepped off trains in Munich, many clutching young children, the newcomers were met by crowds of cheering well-wishers holding balloons, who handed them food, water and toys.
"The people here treat us so well, they treat us like real human beings, not like in Syria," said Mohammad, 32, from the devastated town of Qusayr, his eyes welling up with tears.
'Ridiculously small'
Although Germany has thrown open its doors, waiving procedural rules for Syrian asylum-seekers, Turkish Prime Minister Ahmed Davutoglu on Sunday lashed out at the "ridiculously small" share of refugees EU countries were accepting.
Writing in Germany's Frankfurter Allgemeine Zeitung, he hit out at "Christian fortress Europe" pointing out that Turkey had already taken in more than two million people from war-torn Syria and Iraq.
His remarks came just days after Hungary, which saw 50,000 new arrivals in August alone, raised the alarm over the impact of mainly Muslim refugees on Europe's "Christian culture".
But Pope Francis urged a different approach in his Sunday sermon.
He described the refugees' plight as an issue for Christians everywhere, urging "every parish, every religious community, every monastery, every sanctuary in Europe" to take in a family.
"Faced with the tragedy of tens of thousands of asylum-seekers fleeing death (as) victims of war and hunger who are hoping to start a new life, the gospel calls on us to be the neighbour of the smallest and the most abandoned, to give them concrete hope," he said.
The Vatican's two parishes would take in two refugee families "in the coming days", he said, setting an example for more than 50,000 other parishes across the continent.
'Sad and tragic'
Images of the body of a three-year-old Syrian refugee on a beach in a Turkish holiday resort set off a fresh wave of soul-searching in Europe last week, highlighting the peril faced by thousands fleeing war and bloodshed in the Middle East and beyond.
Turkish police officer Mehmet Ciplak, who was pictured cradling the toddler's body, recounted the crushing sense of loss when he realised the little boy was dead.
"I have a six-year-old son. The moment I saw the baby, I thought about my own son and put myself into his father's place. Words cannot describe what a sad and tragic sight it was," he told Turkey's Dogan news agency.
Meanwhile, another 115 people, half of them women and children, were rescued off a small fishing boat off the southern coast of Cyprus, officials said.
And Greece sent troops to the island of Lesbos after more clashes between police and migrants sparked by delays in the registration process that have left thousands unable to move on.
Most of the migrants are hoping to reach Germany, Europe's biggest economy, which is expecting to a record 800,000 new asylum seekers this year, four times the number in 2014.
By 1500 GMT Sunday, some 6,000 people had entered Germany, with another 4,000 expected to arrive by the end of the day, police said. Another 8,000 people had entered the country on Saturday.
A 'manageable' crisis
As the constant flood of arrivals showed no sign of abating, UN refugee chief Antonio Guterres said the crisis was "manageable" despite the European Union's flawed asylum system.
"The European asylum system is deeply dysfunctional, it works badly. Some countries make the necessary effort, and the effort of many others is nearly non-existent," he told French radio station RFI and the TV5Monde television channel.
But he insisted the situation could be tackled by a united European effort.
"It is a manageable crisis if everyone agrees on a joint action plan."
His words echoed calls earlier on Sunday by German Finance Minister Wolfgang Schaeuble who urged EU states to "act together" and Austrian Chancellor Werner Faymann, who said there was "no alternative to a common European solution".
Berlin and other capitals have called for binding refugee quotas for each EU country, and common rules on the granting of asylum.
European Commission President Jean-Claude Juncker is expected on Wednesday to present a plan to relocate 120,000 refugees from overstretched Italy, Greece and Hungary.
Germany's Welt am Sonntag newspaper said the plan would see Germany accepting 31,000, followed by France with 24,000 and Spain with almost 15,000.