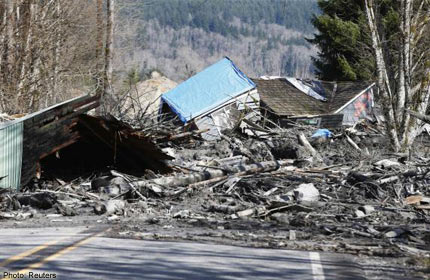 ARLINGTON, Washington - Ruth Hargrave held back her emotions as she gazed at an aerial photograph of her neighborhood showing how it had looked before a monstrous landslide ripped through it, killing 14 people and leaving scores more missing.
The 67-year-old retiree, who fears the home she bought near the tiny town of Oso some 15 years ago was among the dozens swept away, conjured images of her neighbours buried in the muck.
"Right here is the firefighter whose wife and baby granddaughter are missing," Hargrave told Reuters as she pointed to houses now swept away by the cascading mud.
Hargrave's community in this rural stretch of Washington state is bracing for a higher death toll as up to 176 people remain missing, and emergency officials have expressed doubts about finding any more survivors.
Pete Bellomo said he feared his daughter, Shelley, and her longtime partner, Jerry, would not be found alive.
"No, no, I don't think there's any chance of that ... but I haven't been informed of anything yet," Bellomo told the Seattle Times newspaper.
The slide tore through an area near Oso, one of a number of small communities dotting a stretch of two-lane highway along with farm stands, gas stations and craggy views of the Cascade Range. Fisherman ply the North Fork of the Stillaguamish River for steelhead and logging trucks run east toward Darrington.
TREACHEROUS CONDITIONS
A crude dam of mud and rubble dumped into the river by the slide was building up in the area along State Route 530, about 55 miles northeast of Seattle.
President Barack Obama has signed an emergency declaration ordering US government help to supplement state and local relief efforts after the mudslide and flooding.
Several dozen homes were believed to have sustained extensive damage in the slide, officials said. More than 100 properties were hit by the cascading earth, 49 of which had a house, cabin or mobile home on them. At least 25 of those homes were believed to have been occupied all year round.
"Family members are grieving, trying to focus on finding missing loved ones or working through the process of rebuilding what was lost," Washington state Governor Jay Inslee said.
There were more than 100 rescuers on the ground during the day on Monday, some with dogs, others using earth-moving equipment. Aircraft were also used to scan the debris.
The rescue operation was often treacherous, with quicksand-like conditions forcing workers to suspend their efforts late on Sunday. Some had to be dragged to safety from the thick mud.
No survivors have been pulled out since Saturday.
On Monday, an elderly couple stood across from the police department building in Arlington, about 10 miles southwest of the disaster site, waiting for an update on the search effort.
The couple, who declined to give their names, were hoping for some word of their daughter, whose house had been directly in the path of the avalanche.
The announcement was postponed. They walked away somberly.