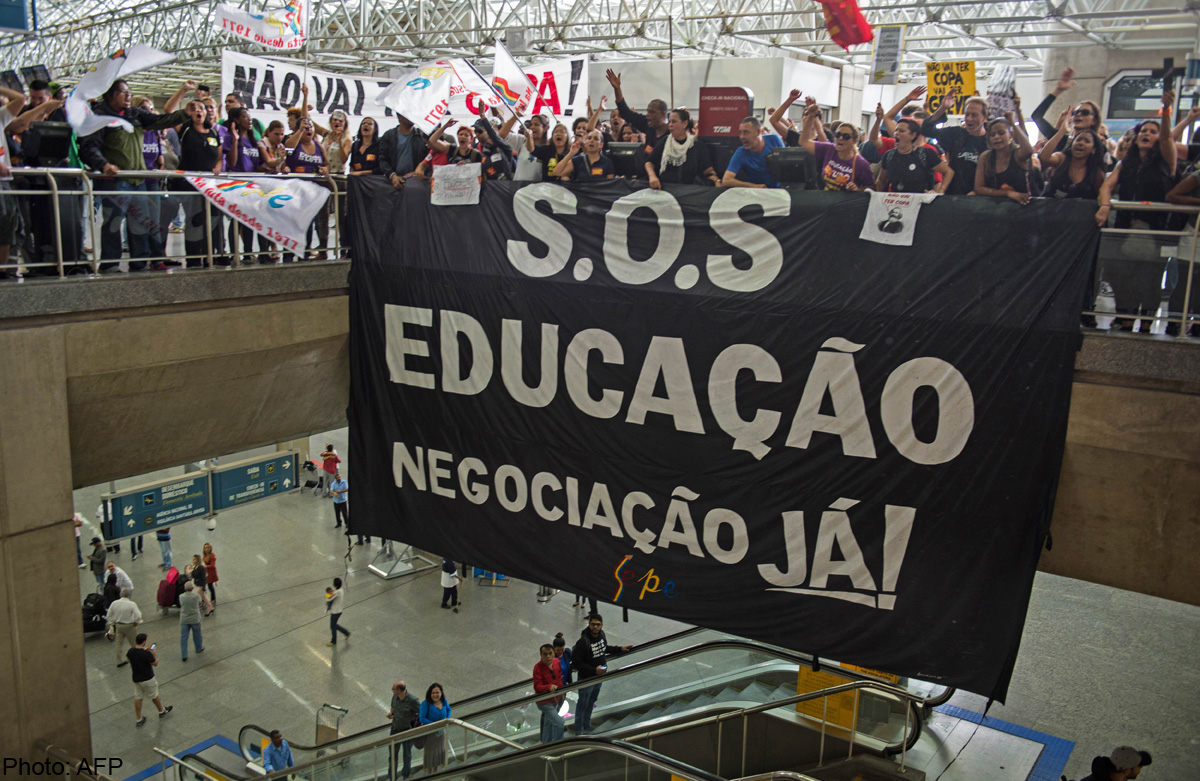 RIO DE JANEIRO - Striking airport ground staff in Rio de Janeiro blocked the road leading to the city's international airport Thursday, as Brazil prepared to host the opening match of the World Cup.
The protesting workers, who have declared a 24-hour partial strike, invaded Avenida Vinte de Janeiro and managed to completely close it in one direction for around 10 minutes before military police intervened and partially reopened the road, said news website G1.
TV images showed around 25 workers in red T-shirts and carrying red banners flooding onto the busy road and forcing drivers to stop, causing a long traffic jam to form.
Some passengers could be seen getting out of their vehicles and running toward the airport to catch their flights.
The workers have vowed to respect a court ruling ordering them to maintain 70 to 80 per cent service, but the strike has nevertheless raised fears of delays as thousands of football fans descend on the tourist-magnet city around the opening match Thursday afternoon in Sao Paulo and first game in Rio on Sunday.
Union representative Marcelo Schimdt said that although workers are respecting the court ruling, their goal is to disrupt airport operations.
"Every late flight costs the companies 9,000 reals ($4,000)," he said, quoted by G1.
"This is the first strike. There will be more." After riot police arrived and spoke to the protesting workers, they agreed to partially unblock the road.
The workers are calling for World Cup bonuses, better working conditions and raises of up to 12 per cent, but say employers are offering a maximum of eight per cent.
The National Civil Aviation Agency has said it is monitoring the situation and has contingency plans in place for World Cup strikes.
Rio is one of the major arrival points for foreigners visiting Brazil.
It is a 40-minute flight from Sao Paulo, which hosts Thursday's opening match between Brazil and Croatia.
More than three million Brazilians and 600,000 foreigners are expected to criss-cross Brazil during the tournament, which wraps up with the final match in Rio on July 13.