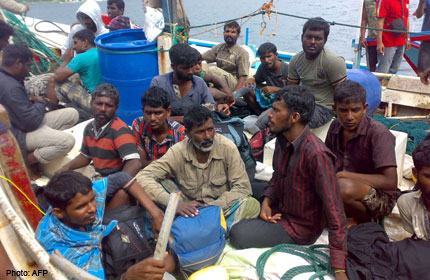 SYDNEY, New South Wales - Buildings were torched as hundreds of asylum-seekers escaped detention during riots at an Australian refugee facility on Nauru, witnesses said Saturday, following the launch of a hardline immigration crackdown.
Australia announced on Friday that boatpeople will no longer be resettled in the country and all future unauthorised arrivals will be sent to poverty-stricken Papua New Guinea for permanent resettlement.
The riots on Friday night saw detainees take control of the immigration processing centre on the remote Pacific island of Nauru and arm themselves with knives and steel bars.
Nearly half of the facility's 500 asylum-seekers escaped and a number of buildings were set alight, according to local photographer Clint Deidenang.
They abandoned the four-hour protest after a huge group of locals descended on the centre armed with pipes and machetes to help authorities contain the violence in response to a government call for assistance, he added.
David Adeang, acting president of the Micronesian nation with a population of just 9,400, issued an emergency decree granting private security forces and others police powers to respond to the riots.
As of midnight on Friday Australia's immigration department said all detainees had been accounted for.
"Plastic water tanks near burned out buildings melted like butter. I can see one building with its entire roof caved in," said Deidenang, estimating that 95 per cent of the centre's buildings had been razed.
"I can see workers in orange shirt going through the war zone-like wreckage of burned and twisted tin houses. Destructive site," he wrote on Twitter.
A spokeswoman for Australia's immigration department confirmed there had been "non-compliant behaviour" at the Nauru facility overnight involving about 150 detainees.
"(Private contractor) Wilson Security and the Nauruan police were engaged and they assisted with a response to the incident," she told AFP.
"The centre is actually now calm. We are still assessing the extent of the damage, all we know is that there is damage to property."
She could not confirm exactly how many detainees had escaped from the facility but said "all staff and transferees have now been accounted for".
According to Australian media reports, which could not be confirmed by immigration, 15 guards were injured and about 60 detainees were arrested.
"Today was history. The biggest riot ever to be staged on Nauru soil. The most violence I've seen. Amazing support from local(s) to the police," he said.
The Nauru centre is part of Canberra's punitive Pacific detention policy for asylum-seekers who pay people-smugglers for passage to Australia, with a second such facility on Papua New Guinea's Manus Island.
The programme was ramped up Friday with an announcement that Australia was effectively closed to asylum-seekers arriving by boat in a bid to deter arrivals, which have exceeded 15,000 so far this year.
All future smuggled boat passengers will be banished permanently to PNG, regardless of whether they are ultimately found to deserve a visa, under a hardline plan Australian Prime Minister Kevin Rudd hopes will boost his fortunes in an election year.
Ian Rintoul, from the Refugee Action Coalition, said detainees had been planning to break out for weeks to protest against their lengthy detention on the island.
"I really do hope that (PNG) prime minister (Peter) O'Neill is looking what's happening on Nauru," he said.
There was a major publicity blitz on the harsh new measures Saturday, as hundreds of protesters gathered at snap rallies across Australia to condemn the move.
Meanwhile Australian Foreign Minister Bob Carr said he'd been "struck by the level of support both in the Pacific region and beyond" for the plan.
"They understand that this is something that Australia's got to respond to with new approaches," he said.