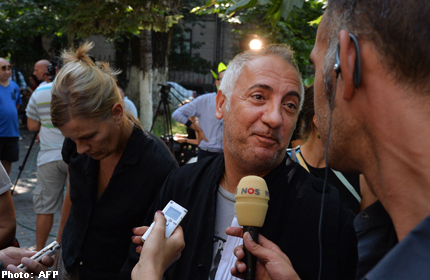 BUCHAREST - Romanians on trial accused of stealing paintings worth tens of millions, including works by Picasso and Monet, have denied burning the artworks and are willing to give them back if a deal can be struck, their lawyers said on Tuesday.
The paintings were snatched from Rotterdam's Kunsthal museum in October in one of the art world's most dramatic heists of the past few years and among the biggest ever in the Netherlands.
A Bucharest court began a trial on Tuesday of the six Romanians accused of the theft, but hearings were then suspended until Sept. 10 to clear up some technical issues.
At least some of the paintings, which also include pieces by Matisse, Gauguin, Lucien Freud and Meyer de Haan, a 19th century Dutch artist, were believed to have been destroyed by fire.
A Romanian team of experts earlier assessed that three of the paintings could have been burnt. The mother of the suspected theft ringleader said she had burnt them to protect her son as police closed in. She later retracted her statement.
"Our clients have informed us the paintings were not burned and documents we have make us believe them," Maria Vasii, a defence lawyer, was quoted by state news agency Agerpres. "Our clients are waiting for the correct trial framework to take all steps needed to surrender these paintings to Dutch authorities."
A second lawyer, Catalin Dancu, said: "We have a surprise for the judges. Our clients want to say where these paintings are, but they want to make a deal. We are not in a position to give more details (at this time)."
The works stolen were Picasso's "Tête d'Arlequin", Matisse's"La Liseuse en Blanc et Jaune", Monet's "Waterloo Bridge, London" and "Charing Cross Bridge, London", Gauguin's "Femme devant une fenêtre ouverte", De Haan's "Autoportrait" and Freud's "Woman with Eyes Closed".
When they were stolen, specialists in recovering missing artworks said there was a good chance of getting them back. They said such pieces were so well known that it was almost impossible to sell them on the open market.