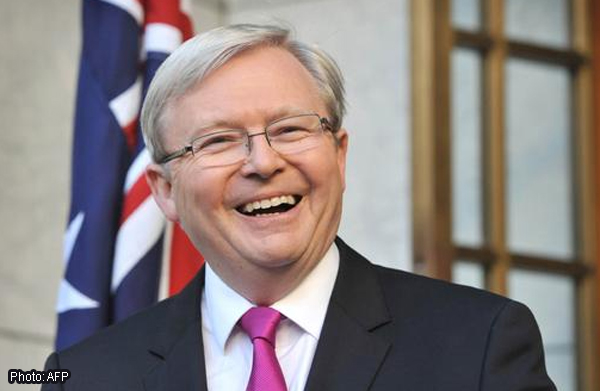 Australia's former prime minister Kevin Rudd is believed to be angling to be the next United Nations secretary-general but he faces some formidable challenges.
As the manoeuvring to find Mr Ban Ki Moon's successor begins, Mr Rudd, besides accepting a position at Harvard University, has also travelled the globe of late, including to all five permanent UN Security Council members.
Mr Ban, 69, finishes his second five-year term at the end of 2016 and his successor is due to be appointed in October that year. The position is appointed by the UN General Assembly but nominees are put forward by the Security Council, whose five permanent members can veto any candidate.
The problem for the highly ambitious Mandarin-speaking Mr Rudd, 56, is that the UN's attempt to share the job across geographic regions suggests that an east European is likely to get the post. The seven secretaries-general before South Korea's Mr Ban were from Ghana, Egypt, Peru, Austria, Burma (now Myanmar), Sweden and Norway.
Several high-profile candidates have been touted, including former Slovenian president and law professor Danilo Turk, 62.
But some commentators suggested that the Western Europe and Others Group - to which Australia belongs - could vie for the post, or potentially make a deal to share it with eastern Europe over a two-term period.
There has certainly been much speculation in Australia recently about Mr Rudd's ambitions for the job. He had been prime minister twice and became known as "Kevin 747" for his passion for travel and international affairs.
Even as leader, rumours circulated that his real eye was on the UN secretary-general's position.
During his first term from 2007 to 2010, he pursued an ambitious foreign policy, including setting up an international nuclear commission and seeking a place for Australia on the UN Security Council, a much-derided bid which was eventually successful. He also pushed for international climate change action and helped to elevate the role of the Group of 20 major economies and ensure that the forum held ongoing leaders' summits.
But his chaotic and centralised leadership style angered his colleagues and he was eventually deposed in 2010 by his deputy Julia Gillard. He made a brief comeback as prime minister last June, ousting Ms Gillard before losing the September elections.
Since his election loss, he has travelled widely, including to the five permanent UN members - China, France, Russia, Britain and the United States. In February, he was appointed a senior fellow at Harvard's John F. Kennedy School of Government - not too far from the UN headquarters in New York - and will research Sino-US relations.
Mr Rudd has played down his UN ambitions, telling Britain's Channel 4 last December: "I'm a big supporter of the United Nations but I don't think that position's going to be headed Down Under."
He made the point again to The Straits Times, saying the job was "not going to happen". He did not deny he was pursuing the job but noted that appointments are "on a cyclical, geographical basis".
"It is agreed that the next rotation will be eastern Europe, which has never had a secretary-general," his spokesman said.
Mr Rudd made the same comment two weeks ago to the weekly Saturday Paper, which noted that the denial was "classic Rudd". Last June, he insisted there was no leadership challenge, but launched a challenge against Ms Gillard three weeks later.
"Even before he had even left Parliament, Rudd was already paying private visits to world leaders from the opposition backbenches," the paper said.
A former Australian MP who served in the UN Secretariat from 1997 to 2002, Professor John Langmore, now at Melbourne University's school of government, told The Straits Times he believed Mr Rudd's chances were "pretty remote".
Some of Mr Rudd's policies as leader may count against him, including his hardline position on refugees and his 2009 defence White Paper which warned about China's rise and angered Beijing, he added.
jonathanmpearlman@gmail.com
This article was published on May 1 in The Straits Times.


Get a copy of The Straits Times or go to straitstimes.com for more stories.