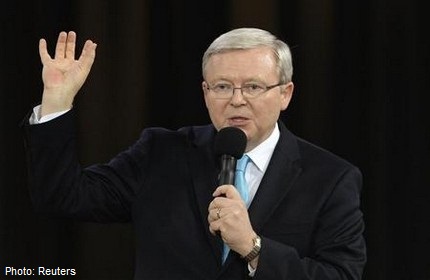 BRISBANE, Australia / Queensland - Australian Prime Minister Kevin Rudd announced he would step down as Labor leader after a heavy defeat to the conservatives in national elections Saturday following years of leadership ructions.
"I will not be recontesting the leadership of the parliamentary Labor Party. The Australian people, I believe, deserve a fresh start with our leadership," Rudd said in his concession speech.
Rudd took charge of centre-left Labor just weeks before calling Saturday's election, toppling Australia's first female prime minister Julia Gillard in a party room coup due to sliding popularity in opinion surveys.
He was disposed of in identical circumstances by Gillard ahead of the 2010 elections and the saga was seen as the major factor in Rudd's comprehensive defeat by conservative leader Tony Abbott on Saturday.
"My responsibility has been to maintain Labor as a fighting force for the future so that we can unite behind the next leader of our party," Rudd told a gathering of the party faithful.