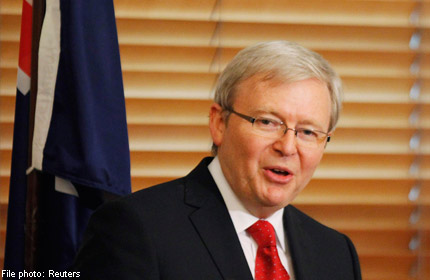 AUSTRALIA - After a spectacular comeback as Australia's Prime Minister three months ago, Mr Kevin Rudd pledged to replace an era of negativity with the "politics of hope".
But as the election campaign entered its second half last week, there was little sign of his triumphant promise to be "kinder and gentler".
Instead, Mr Rudd, a former diplomat, found himself trailing badly in the polls and resorted to the age-old tactic of the politically desperate: a nasty scare campaign.
Mr Rudd and the ruling Labor party dispensed with its efforts to preserve his image as a friendly, bookish nerd and began issuing dire warnings about the grave risks of electing opposition leader Tony Abbott.
Apparently ignoring his own campaign motto - "A new way" - Mr Rudd went on the attack. He said Mr Abbott was "on a different planet" and would lead Australia down a British-style austerity path towards recession.
Asked about Labor's negative television advertisements, which began airing a week ago, Mr Rudd told Channel Seven: "We're returning fire - returning fire based on policy facts."
Ironically, Mr Abbott, a London-born former amateur boxer, has also adopted a swift image reversal.
During his four years as opposition leader, Mr Abbott has earned the nickname "Dr No" and become known for his brutal attacks on Mr Rudd and Ms Julia Gillard, who deposed him in 2010 only to lose the leadership to Mr Rudd this year.
Mr Abbott has also become known for his effective three-word slogans attacking Labor policy. He described both Ms Gillard's controversial carbon and mining taxes as a "great big tax", while repeatedly using the mantra "stop the boats" to demand a tougher stance on asylum-seekers arriving in Australia by sea.
Indeed, Mr Rudd triggered the election campaign on Aug 4 with a promise to end the "three-word slogans of the past". Yet, he has now come up with a slogan of his own to describe Mr Abbott: "Cut, cut and cut".
Mr Abbott, on the other hand, has sought to present himself as the more amiable, composed and approachable candidate.
An expert on Australian politics at Melbourne University, Dr Damon Alexander, said Mr Rudd was starting to appear "desperate" but the negative campaigning was unlikely to tarnish his image. He said Mr Rudd had no choice but to attack given his standing in the polls.
"I think negative campaigns are something the Australian electorate expects," he told The Straits Times. "Part of it for Rudd is trying to show he is a strong leader who won't take a backward step… Abbott has avoided any major disasters - and that is all he really needs to do."
The contrast between the leaders was on stark display at the second televised debate of the campaign last week.
Asked about his proposed spending and deficit cuts, Mr Abbott said: "Let's not please say that I'm somehow Mr Cut, Cut, Cut because I want to be Mr Build, Build, Build so we have more jobs, jobs, jobs."
Some analysts agree about the "role reversal" and that Mr Abbott no longer needs to try to harness public fear because he is safely ahead in the latest polls.
These showed Labor trailing by 48 per cent to 52 per cent. A Galaxy poll released last Friday showed Labor on track to lose six of seven marginal seats in Sydney.
"(Mr Abbott) is the one who needs to preserve the situation and reassure the electorate that they are on the right course," said commentator Peter Hartcher in the Sydney Morning Herald.
Certainly, Mr Rudd has signalled that he will not back away from his tough new image.
"I'm a fighter," he told Channel Nine on Friday. "We have just under 21/2 weeks to go in this campaign... and I intend to take the argument up."
The frenetic campaign appears to be taking the sheen off the public images of both candidates.
As Wednesday's debate wore on, Mr Abbott, a no-nonsense straight-talker, lost his composure during a testy exchange with the Prime Minister and commented: "Does this guy ever shut up?"
Meanwhile, Mr Rudd, who has long faced claims that he can be extremely bad-tempered behind closed doors, was accused of being rude to make-up artist Lily Fontana, who did his make-up for the debate. She posted a comment on Facebook, saying: "I have (N)ever had anyone treat me so badly."
As the campaign wears on, it seems both leaders are finding it difficult to conceal their truer selves - no matter what the make-up artist does for them.
jonathanmpearlman@gmail.com
Get a copy of The Straits Times or go to straitstimes.com for more stories.