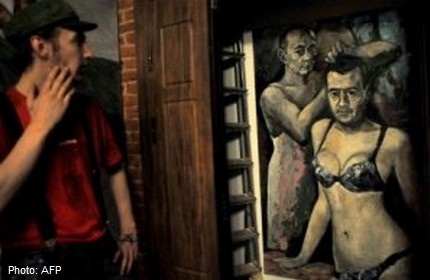 SAINT-PETERSBURG - The director of a small Russian museum was briefly detained Tuesday after it exhibited a painting of President Vladimir Putin and Prime Minister Dmitry Medvedev wearing women's underwear, a colleague said.
"Tatyana Titova, the director of Museum of Power" was detained at 2:00 am (2200 GMT Monday), when she was hanging paintings in the museum," said the founder of the Saint-Petersburg privately-owned venue, Alexander Donskoi.
She was released from the police station four hours later without explanation, Donskoi told AFP.
Police a week ago Tuesday raided an exhibition at the Museum of Power, taking several paintings, including one where Putin appears in a strappy nightie while Medvedev is pictured in a bra and knickers.
Two days later, the painting's author Konstantin Altunin announced he had fled to France and is applying for asylum out of fear of criminal charges in case the painting is judged "extremist."
Police in Saint Petersburg told Russian news agencies that Titova was never formally detained, but that policemen reacted to a call from a citizen worried about "suspicious people" in the neighborhood.
"After checking documents, the people were let go at 6:00 am," a police representative told Interfax.