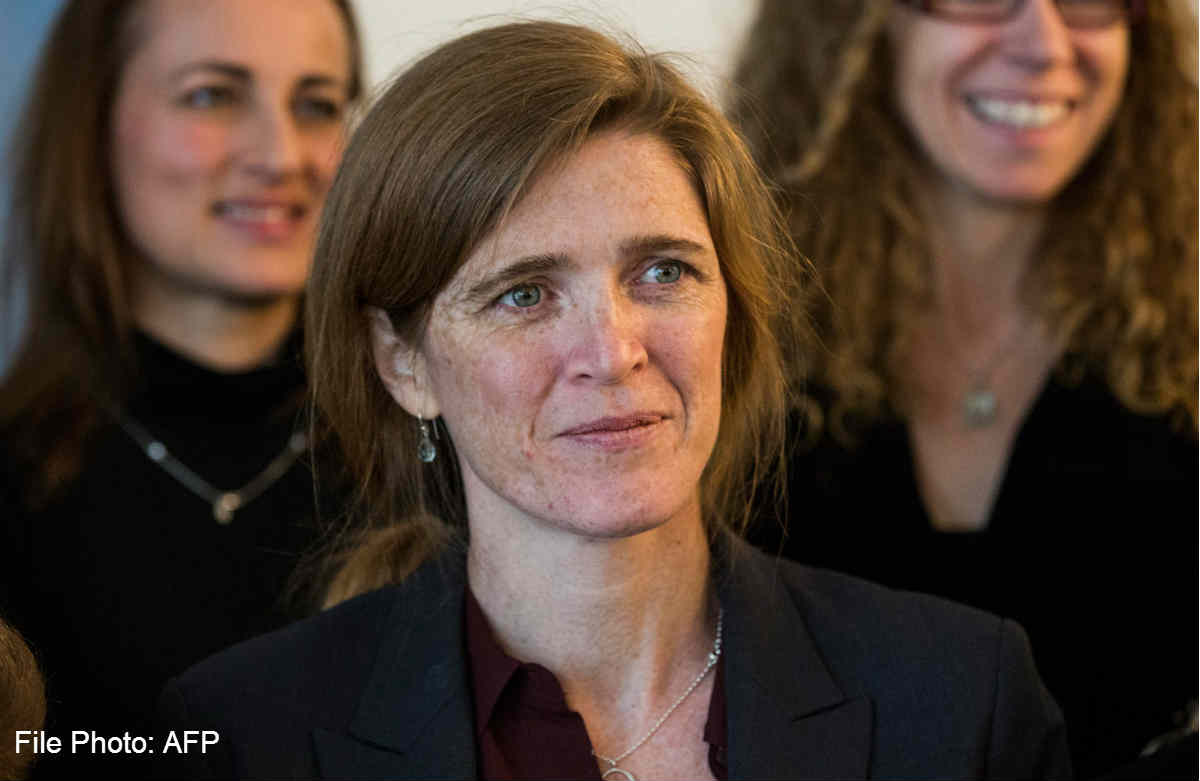 NEW YORK - US Ambassador to the United Nations Samantha Power on Wednesday discussed "disturbing" trends in Russia with members of Russian punk band Pussy Riot, prompting Moscow's UN envoy to ask if she was joining the group.
Power, who was well known for her own human rights activism before she joined the first administration of US President Barack Obama after his 2008 election, met with Nadezhda Tolokonnikova and Maria Alyokhina. The pair are due to speak at an all-star concert in the New York borough of Brooklyn on Wednesday night.
Power and the two band members discussed "the disturbing trend in (Russia) of legislation, prosecutions and government actions aimed at suppressing dissent and pressuring groups that advocate for fundamental human rights and basic government accountability," Power's deputy spokesman Kurtis Cooper said.
The meeting took place at the US mission to the United Nations.
The case of Pussy Riot sparked a global outcry. In 2012 Tolokonnikova, 24, and Alyokhina, 25, were convicted of hooliganism motivated by religious hatred after storming Moscow's biggest Orthodox cathedral and beseeching the Virgin Mary to rid Russia of President Vladimir Putin.
After nearly two years behind bars, Putin granted the pair amnesty in December.
When asked about Power's roughly half-hour meeting with the Pussy Riot members, Russian UN Ambassador Vitaly Churkin responded: "She has not joined the band?"
"I would expect her to invite them to perform at the National Cathedral in Washington," he said. "Maybe they could arrange a world tour for them, you know."
"St Peter's Cathedral in Rome, then maybe in Mecca in Saudi Arabia, ending up with a gala concert at the Wailing Wall in Jerusalem. So if Ambassador Power fell short I would be disappointed," Churkin said.
Power struck back at Churkin on Twitter on Wednesday night, saying she would be honoured to go on tour with Pussy Riot because they speak up and stand up for human rights, asking the her Russian counterpart: "Will you join us?"
"I can't sing, but if Pussy Riot will have me, Ambassador Churkin, I say our first concert is for Russia's political prisoners," Power wrote, suggesting that performance should be at Moscow's Matrosskaya Tishina prison.
Russia's leadership has not attempted to hide its annoyance when Washington criticizes Moscow for its human rights record. The Russian Federation has in turn accused the United States of rights abuses at home.