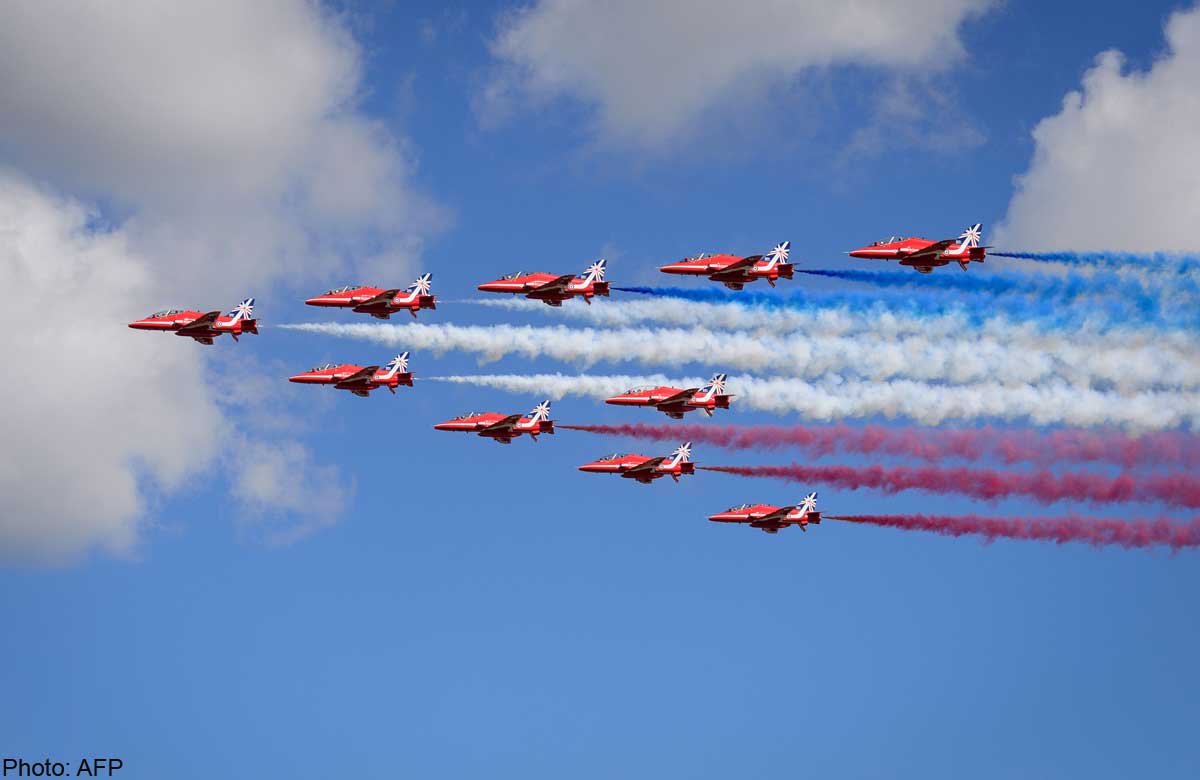 FARNBOROUGH - Doubts over Russia's participation in the world's biggest aerospace industry event were growing on Tuesday after the country's deputy prime minister urged its delegates to pack up and go home.
Unlike previous years, when Russian military displays have been some of the main attractions, Russia has no military hardware on display at Britain's Farnborough Airshow after it was dragged into an East-West diplomatic row over Ukraine.
Britain snubbed Russia last week by not inviting any of its government officials to the biennial air show. Organisers also said more than 100 Russian delegates were unable to attend after failing to receive British visas. "Given what happened in Ukraine, the idea was to avoid it looking like 'business as usual' with Russia," said one Western source familiar with planning for the air show.
Russia is only exhibiting civilian aircraft - two Sukhoi Superjet airliners - at the show and on Monday its deputy prime minister urged its delegates to walk out. "I recommend our delegation roll up participation in the show and return home," Dmitry Rogozin wrote on Twitter.
The head of United Aircraft Corporation, the Russian state-owned company which operates Superjet manufacturer Sukhoi, said politics should stay out of the business world. "Business should be above politics. You can have political disagreements but business ... should be left out of it,"Director General Mikhail Pogosyan told Reuters.
Russia's arms export agency aims to maintain last's years level of business, which totalled some $13 billion in revenues from sales to 60 countries, according to media reports.
But the European Union introduced a new round of sanctions last week against Russian firms and individuals over claims Moscow is supporting a separatist movement in Ukraine's Russian-speaking east.
Ukraine's defence minister said on Monday a Ukrainian AN-26 plane, taking part in a military campaign against separatist rebels, had been shot down by a rocket which was "probably"fired from Russian territory.
Russia denies supporting the revolt, which began in April after Russia annexed Ukraine's Crimea peninsula following the overthrow of a Moscow-backed president in Kiev, while dealing with growing signs its economy is wilting under EU and US sanctions. "It's obvious that because of tensions with Western governments over differences between Russia and Ukraine, the military presence is really scaled down at this year's Farnborough," air show organiser Alexander Velovich said.
Ukraine's state-run aircraft manufacturer Anotonov told Reuters it had lost more than $100 million of business and 10 per cent of its trade since political fall-out made cooperation with Russia impossible.