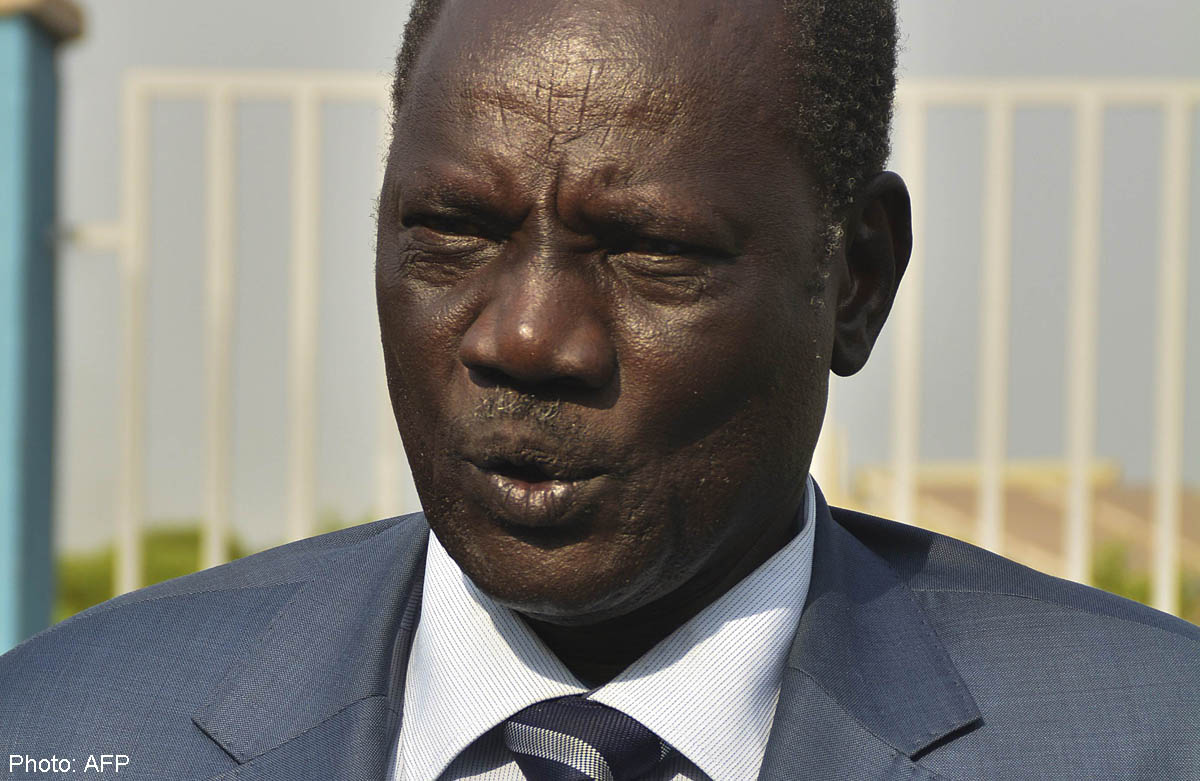 ADDIS ABABA - South Sudan's government and rebels were set to begin formal peace talks Sunday following a night of more fighting that sent more civilians fleeing the capital Juba.
The talks in the Ethiopian capital are aimed at ending three weeks of fighting that have already left thousands dead in the world's newest nation.
After a preliminary meeting late Saturday, negotiations were expected to begin in earnest at 2:00 pm (1100 GMT), diplomats said, with regional peace brokers struggling to prevent an early breakdown.
The spokesman for South Sudan's government delegation, Information Minister Michael Makuei, struck a confrontational tone by again accusing rebel leader Riek Machar of having started the fighting by attempting a coup.
"His attempt to overthrow a democratically elected government is an established fact, and not that only, but the way the international community is handling it is rather strange," he told reporters, rejecting calls for the government to release suspected rebels who are now in custody.
"They say these people have not committed anything, but why are people dying if there is no offence committed? Nobody is above the law, and whatever you do, if you are found in conflict with the law, whatever you are, you must be subjected to the law. This is our position."
"We are being told to negotiate with the rebels. But any rebels who have fallen in our hands will have to answer why he or she decided to take up arms against a democratically elected government," he added.
The conflict erupted on December 15, pitting army units loyal to President Salva Kiir against a loose alliance of ethnic militia forces and mutinous army commanders nominally headed by Machar, a former vice president who was sacked last July.
Machar has denied attempting a coup, and in turn accuses the president of conducting a violent purge of his rivals.
Fighting now grips much of South Sudan - which won independence from Khartoum only in 2011 - with the rebels seizing several areas in the oil-rich north. The conflict has already left thousands dead, according to UN officials, with both sides alleged to have committed atrocities.
Fighting in Juba
Juba was also rocked by heavy gunfire late on Saturday, with exchanges of automatic and heavy weapons fire heard coming from a district in the south of the city before calm returned in the early hours of the morning.
There was speculation that another army unit had defected to the rebels, although army spokesman Philip Aguer told AFP that the government was "investigating exactly what happened" during the night.
Fighting was reportedly continuing Sunday in Bor, a rebel-held town north of Juba, while clashes were also reported to have broken out during the night in Yei to the south.
After a terrifying night sheltering in their homes, more Juba residents could be seen trying to get transport south to Uganda, adding to the nearly 200,000 people who have already been displaced by the three-week-old conflict.
UN peacekeeping bases have also been overwhelmed with civilians seeking shelter, many of them sheltering from ethnic violence pitting Kiir's Dinka community against Machar's Nuer tribe.
Ethiopian government spokesman Getachew Reda said IGAD - the East African regional bloc brokering the talks - was trying to convince South Sudan's government to release 11 detainees, many of them former senior government officials.
He said it was important "for the government of South Sudan to go the extra mile as a goodwill gesture."
"The prisoners can have their day in court, but IGAD could expedite the process - one suggestion is bailing out and transferring the detainees to IGAD's custody," he said.
The United States, which was instrumental in helping South Sudan win independence, also urged the warring parties "to make rapid, tangible progress on a cessation of hostilities, humanitarian access and the status of political detainees".
"We urge the government of South Sudan to uphold its commitments and release political detainees immediately," a State Department spokesperson said, adding that rebel officials had to be released in order to take part in the negotiations.
"These talks are of critical importance to the people of South Sudan. There can be no military solution to this conflict. Forging a durable and lasting peace depends on resolving the underlying political causes of the conflict," the State Department said.