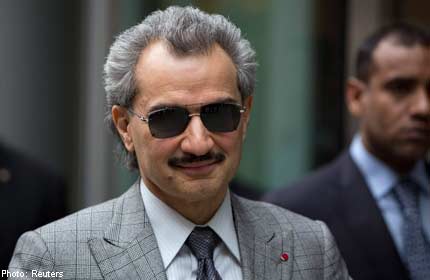 RIYADH - Saudi billionaire prince Alwaleed bin Talal has warned global demand for the kingdom's oil is dropping, urging revenue diversification and investment in nuclear and solar energy to cover local consumption.
In letters to officials and published on Sunday on his Twitter account, King Abdullah's nephew warned that it was alarming that "92 per cent of the government budget relies on oil".
"The world's reliance on OPEC oil, especially the production of Saudi Arabia, is in a clear and continuous drop," he wrote in letter addressed to oil minister Ali al-Naimi.
He said the threat from shale gas is "definitely coming", pointing to progress in that sector in North America and Australia.
"Revenue diversification is a must, and that necessitates a clear vision that should be implemented immediately," the Arab world's richest businessman said.
He proposed creating a sovereign wealth fund to manage the kingdom's reserves, which he said stood at US$676 billion in March, citing official figures.
Alwaleed also urged action to press ahead with plans to develop nuclear and renewable energy to "reduce local consumption of oil as soon as possible".
Alwaleed was 26th on the Forbes 2013 list of billionaires, with an estimated wealth of US$20 billion - but he challenged the rating, saying he was worth US$9.6 billion more.