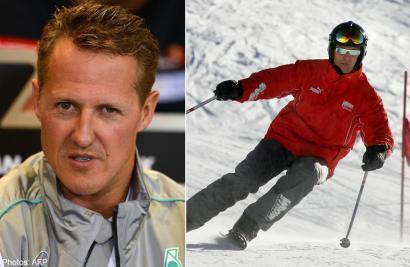 LYON - Formula One champion Michael Schumacher is out of a coma and has left the French hospital treating him since a devastating ski accident in December, his spokeswoman said Monday.
"Michael has left the CHU Grenoble (hospital) to continue his long phase of rehabilitation. He is not in a coma anymore," Sabine Kehm said in a statement.
"His family would like to explicitly thank all his treating doctors, nurses and therapists in Grenoble as well as the first aiders at the place of the accident, who did an excellent job in those first months.
"For the future we ask for understanding that his further rehabilitation will take place away from the public eye," she said, without giving further details about his condition or where the seven-time world champion was sent to.
Schumacher slammed his head on a rock while skiing in the French resort of Meribel in December and was put in a medically induced coma after undergoing brain surgery at the hospital in the Alpine city of Grenoble.
His family said at the end of January that drugs used to keep the 45-year-old in his deep sleep were being reduced to bring him back to consciousness, but little had filtered out about his condition since then.
Motor racing-Schumacher admitted to Lausanne hospital: spokesman
By Reuters
Formula One ex-champion Michael Schumacher was admitted on Monday to the University Hospital of Lausanne, in western Switzerland, after leaving a French hospital where he had been in a coma since a ski accident last December, a spokesman said.
"He is here, he arrived this morning," Darcy Christen, spokesman for the University Hospital of Lausanne (CHUV), told Reuters.
Christen declined to say what unit Schumacher, who lives with his family in a town between Lausanne and Geneva, he was being treated in, citing medical secrecy and family privacy. His spokeswoman said earlier he was no longer in a coma.