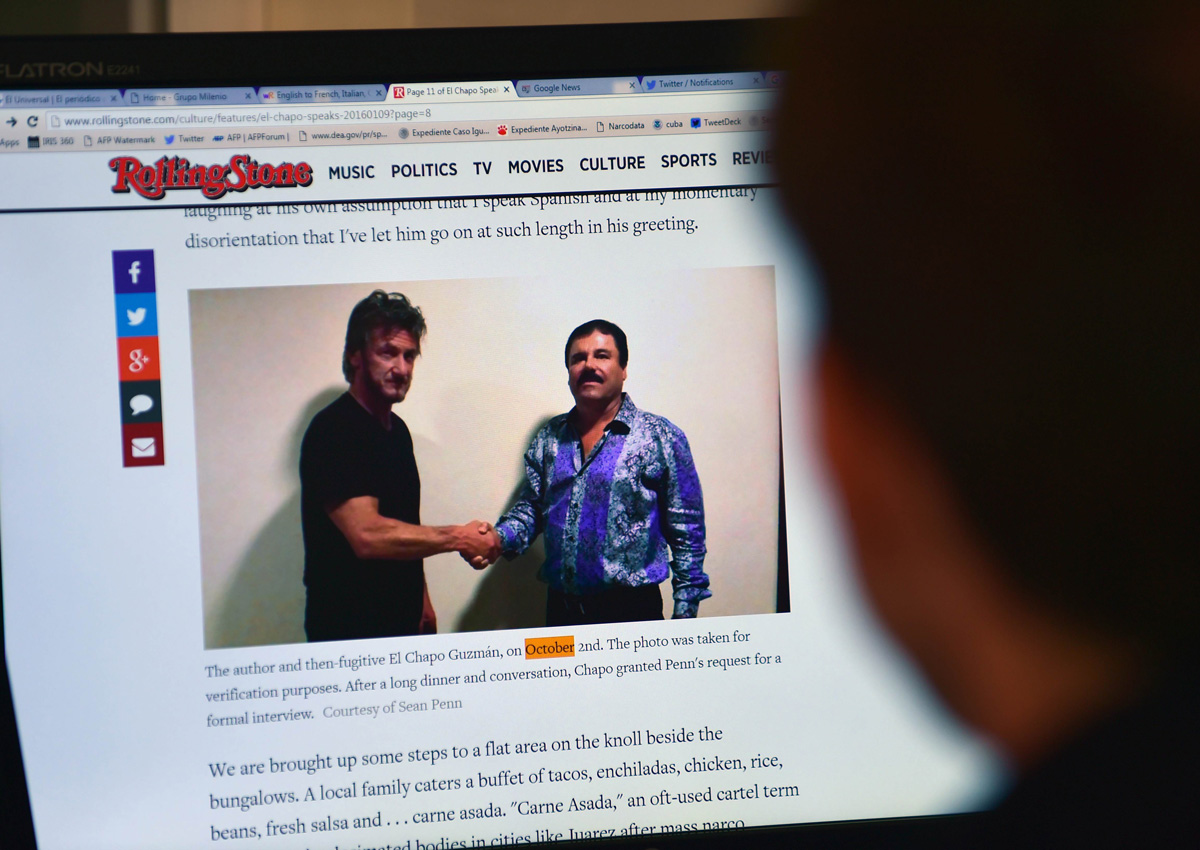 It was like a scene straight out of a Hollywood blockbuster when news broke that award-winning US actor Sean Penn had secretly met with Joaquin 'El Chapo' Guzman Loera, the wanted Mexican drug lord.
According to various media reports, 55-year-old Penn's secret interview with the fugitive - which reportedly took place in a Mexican jungle no less - was published in US magazine Rolling Stone shortly after El Chapo was recaptured by authorities.
But this very act might cause Penn some legal issues.
Mexican authorities want to speak with him and Latin television star Kate del Castillo, NBC News reported.
Del Castillo played an integral role in helping Penn gain rare access to El Chapo, according to news agency Reuters.
Penn also wrote in his Rolling Stone article that the interview was planned by del Castillo, who supported Guzman. The drug lord wanted the actress to be involved in a movie project about his life.
A Mexican law enforcement official told NBC News that investigators had intercepted phone conversations between Penn, Del Castillo and El Chapo.
According to news agency AFP, a Mexican official revealed that authorities had found out about the meeting, which eventually helped them track down the drug cartel chief.
Penn said in the Rolling Stone article: "There is no question in my mind but that DEA and the Mexican government are tracking our movements."
A Reuters report stated that senior Mexican government sources said they were indeed aware of the drug lord and Penn's October meeting and had monitored the actor-turned-activist's movements.
ABC News also reported that Penn and Del Castillo are under investigation for their interview with Guzman.
Guzman was recaptured in a deadly military raid on Friday, Jan 8, and sent back to the maximum-security prison where he escaped from six months ago.
Despite his reputation as a wanted drug lord who is likely to face charges of murder, money laundering and drug trafficking in the US, Reuters reported that Guzman's hometown is in mourning over his latest downfall.
The fugitive is regarded as "a latter-day Robin Hood who brought jobs to the rural poor and fought off the incursion of rival gangs" in his hometown of Sinaloa, where marijuana and opium poppies have been grown for decades, according to Reuters.
Guzman is also credited with paying for public works and giving away toys to children, Reuters reported.
Amongst the questions Penn had sent El Chapo's way, one was on whether the drug lord considered himself a violent person - to which he replied: "No, sir."
He later added: "Look, all I do is defend myself, nothing more. But do I start trouble? Never."
After Guzman's capture, marines took him to Hotel Doux, according to AFP.
Authorities are reportedly not taking any chances as prosecutors announced the day after El Chapo's recapture that they would pursue his extradition to the United States.
AFP reported that some legal experts, however, doubt that Penn could face charges in the United States or Mexico. One of the experts told AFP that "Penn did not violate any US laws."
Penn is widely regarded as one of Hollywood's most colourful actors who is no stranger to controversies. Besides his prolific career, he had always been a tabloid magnet, thanks to his personal life and his penchant for being vocal when it comes to social and political issues.
ssandrea@sph.com.sg