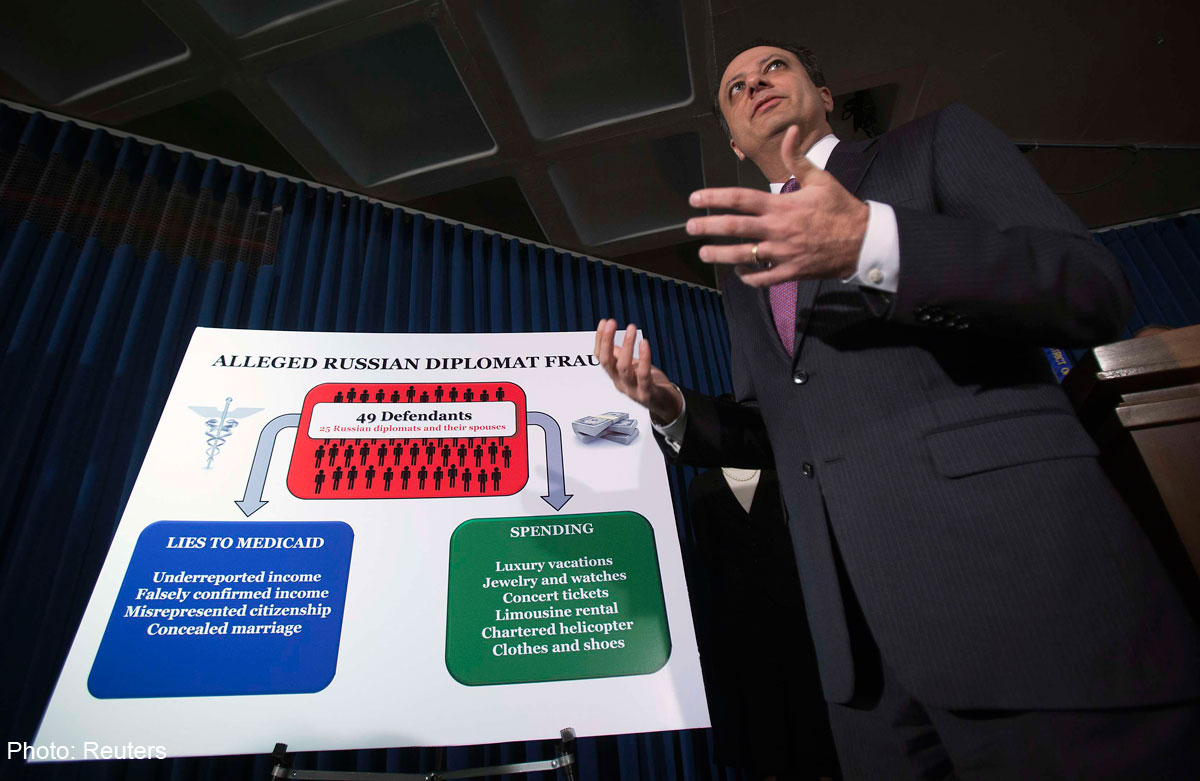 Ever since he read Inherit the Wind - a play about a teacher on trial for teaching Darwin's theory of evolution - when he was in seventh grade, Mr Preet Bharara knew he wanted to be a lawyer.
Today, at age 44, he is one - but not just any lawyer. As the United States attorney for the Southern District of New York - a title given to the chief federal prosecutor in each of the 94 districts - he has taken down terrorists, drug traffickers and at least 75 insider traders since his appointment in 2009.
That record has earned him a nickname: The Sheriff of Wall Street.
Mr Bharara is also most recently responsible for the headline- grabbing arrest of Indian diplomat Devyani Khobragade, who allegedly submitted false documents to obtain a work visa for her helper. She is said to have paid a maid "far below minimum wage" and made her work more than the contracted 40 hours a week.
The arrest, which resulted in a full body search of Dr Khobragade, caused heightened diplomatic tension between the US and India. New Delhi has demanded that all charges be dropped against the diplomat, who was India's deputy consul-general in New York.
Last Wednesday, Mr Bharara outlined the facts of the ongoing case, questioning why there was "so much outrage about the alleged treatment" of Dr Khobragade, but "precious little outrage about the alleged treatment of the Indian victim and her spouse".
He also stated, in no uncertain terms, that the role of his office is to "uphold the rule of law, protect victims, and hold accountable anyone who breaks the law - no matter what their societal status and no matter how powerful, rich or connected they are".
Bringing down the rich and powerful is something Mr Bharara is familiar with.
One of his most notable insider trading cases led to the 2011 conviction of billionaire hedge fund manager Raj Rajaratnam, head of the Galleon Group, who is now serving 11 years in prison. This was followed by the conviction of former McKinsey chairman and Goldman Sachs board member Rajat Gupta, who was sentenced to two years' jail in 2012.
Last year, Mr Bharara even made Time's list of 100 most influential people, and was featured on the magazine's cover with the words "this man is busting Wall St" across his face.
In an interview with noted American TV host Charlie Rose last year, he said: "We don't think of it as busting Wall Street. We think of it as holding people accountable."
But putting away individuals is not enough. Last month, he announced that a hedge fund, SAC Capital, had pleaded guilty to insider trading violations, agreed to shut down its investment advisory business and pay a record US$1.8 billion (S$2.3 billion) penalty - the highest fine for insider trading offences.
When asked by the International New York Times if he is treated differently by the South Asian community, as a number of his high-profile cases are against South Asians, he said people are usually polite in front of him.
"But of course, people are not happy with some of the ways we prosecute cases... if everyone was happy with everything we did, then we probably wouldn't be doing our job properly."
Other high-profile cases include successful prosecutions of terrorist Faisal Shahzad, the would-be Times Square bomber, in 2010, as well as arms trafficker Viktor Bout in 2011, for conspiring to sell weapons to men he believed were Colombian terrorists planning to kill Americans.
A naturalised US citizen, whose father is Sikh and mother is Hindu, Mr Bharara and his family moved to the US when he was two. His father, a doctor, sought the American dream and built a medical practice in New Jersey. Also equally successful is his brother Vinit Bharara, who co-founded diapers.com and sold the online business to Amazon.com for US$545 million in 2010.
Mr Preet Bharara attended Harvard University and Columbia Law School. A father of three himself, he told the International New York Times in a rare personal interview that he spends much of his time on the job.
"I work a lot and have a lot of obligations," he said. "When I have a little bit of time, I like to be with my family. We go out to eat as much as we can."
Mr Bharara, who once served as chief counsel to New York Senator Charles Schumer, has downplayed speculation that he has political aspirations, saying many times that he hopes to be in his job for as long as possible.
simlinoi@sph.com.sg

Get a copy of The Straits Times or go to straitstimes.com for more stories.