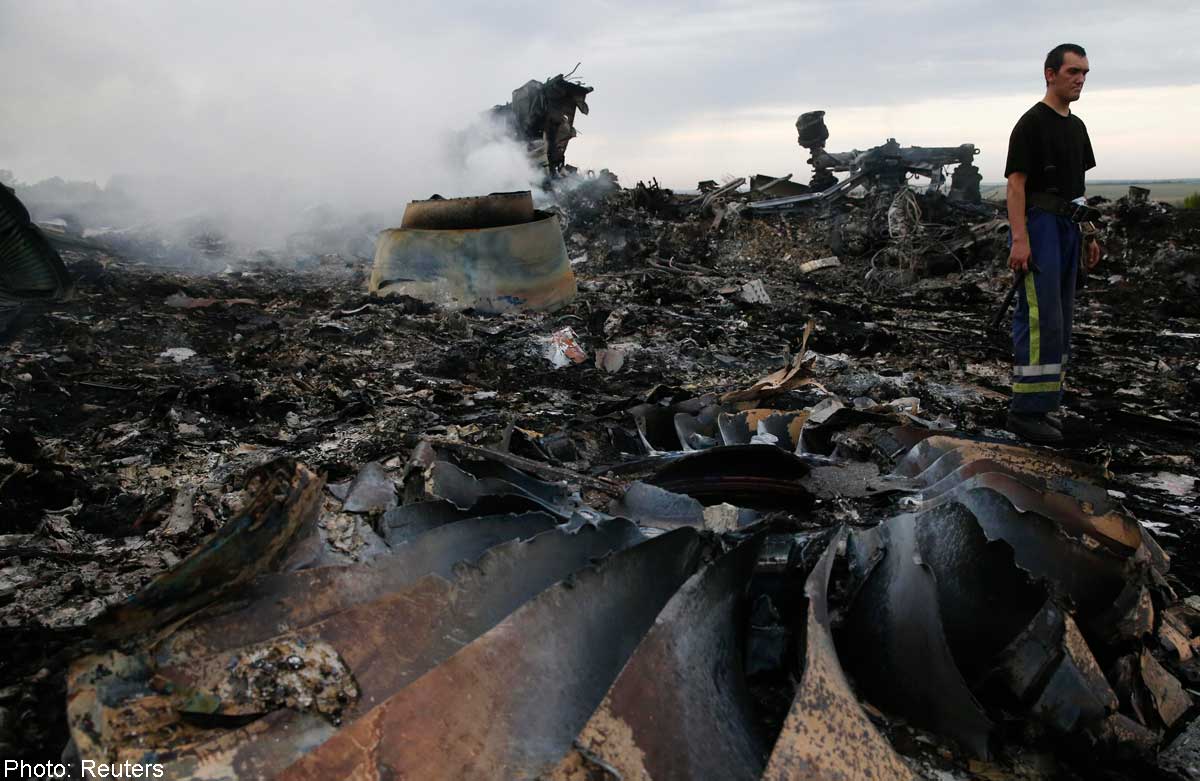 GRABOVE, Ukraine - A Malaysian airliner crashed in strife-torn east Ukraine, killing all 298 people on board and leaving a horrific trail of carnage on the ground, with US claims it was shot down in a missile attack prompting global consternation.
Kiev accused pro-Russian separatists battling Ukrainian forces of the "terrorist act" as stunned world leaders called for an international inquiry into the disaster, which could further fan the flames of the worst East-West crisis since the Cold War.
The downing of Malaysian Airlines flight MH17, enroute from Amsterdam to Kuala Lumpur, also heaps new distress on Malaysia and its flag carrier, which is still afflicted by the trauma and global stigma of flight MH370's disappearance four months ago.
Dozens of mutilated corpses and body parts were strewn around the smouldering wreckage of the Boeing 777, which went down Thursday in a cornfield in the village of Grabove near the Russian border. Shocked residents of the village said the crash felt "like an earthquake".
Malaysian Airlines said 283 passengers and 15 crew were aboard the plane - including 154 Dutch nationals, 27 Australians and 43 Malaysians.
As many as 100 of those killed in the crash were delegates heading to Australia for a global AIDS conference, the Sydney Morning Herald reported.
As Malaysian investigators headed to the scene, the UN Security Council called an emergency session on Friday to discuss the disaster.
President Barack Obama warned evidence among scattered debris must not be tampered with as the United States called for an unimpeded and prompt investigation.
Comments attributed to a pro-Russia rebel chief suggested his men may have downed Malaysia Airlines flight MH17 by mistake, believing it was a Ukrainian army transport plane.
However Russian President Vladimir Putin's said Kiev bore full responsibility for the crash, saying Ukraine's crackdown on separatist rebels stoked tensions that led to the disaster.
Global markets tumble
News of the crash sent European, US and Asian stock markets tumbling. Shares in Malaysia Airlines plummeted almost 18 per cent.
Markets were jittery as the crash could worsen geopolitical tensions fuelled by broadened US and EU sanctions aimed at pressuring Russia to force the rebels in Ukraine's east to end their three-month insurgency that has claimed more than 600 lives.
The disaster comes just months after Malaysia's Flight MH370 disappeared on March 8 with 239 on board. That plane diverted from its Kuala Lumpur to Beijing flight path and its fate remains a mystery despite a massive multinational aerial and underwater search.
"This is a tragic day, in what has already been a tragic year, for Malaysia," Malaysia's Prime Minister Najib Razak told a press conference early Friday after announcing an "immediate investigation".
Najib added that a team of disaster response specialists had been dispatched to Kiev and that authorities in Ukraine had agreed to try to establish "a humanitarian corridor to the crash site".
'Blown out of the sky'
In calls with pro-Western Ukrainian President Petro Poroshenko and Dutch Prime Minister Mark Rutte, Obama put down an early marker on the necessary conditions for an air accident investigation that will have to take place in the middle of an escalating civil war.
The White House said that Obama told Rutte the United States was prepared to contribute "immediate assistance" for "a prompt, full, credible and unimpeded international investigation." Two US officials told AFP that intelligence analysts were reviewing the data to see whether the missile used to down the aircraft was launched by pro-Moscow separatists, Russian troops across the border or Ukrainian government forces.
"We are working through all the analysis," said one official, adding that there was little doubt that the plane was struck by a surface-to-air missile.
In Detroit, US Vice President Joe Biden said the plane was "apparently... and I say apparently because we don't have all the details yet... shot down. Not an accident. Blown out of the sky."
Shot by mistake?
There were conflicting claims of responsibility after the shocking new development in crisis-torn Ukraine, where fighting between separatists and the Western-backed government has claimed over 600 lives.
Poroshenko's spokesman said he believed pro-Russian insurgents downed the jet.
"This incident is not a catastrophe. It is a terrorist act," the spokesman, Svyatoslav Tsegolko, said on Twitter.
A flurry of comments on social media by rebel chiefs claiming they had shot down a Ukrainian army plane in the exact spot the Malaysian plane went down were hastily removed as they appeared to realise their error.
Alexander Borodai, prime minister of the self-proclaimed "Donetsk People's Republic", meanwhile told AFP that separatist forces would be ready to commit to a truce for several days to allow full access to the site.
The shooting down of civilian aircraft is extremely rare, and if proved the case, the downing of the MH17 would be one of the deadliest yet. In 1988, 290 were killed when an Iran Air plane was shot out of the sky and 269 died when Soviet fighter jets downed a South Korean Boeing 747 in 1983.