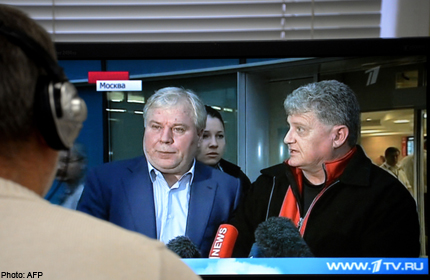 MOSCOW - The father of Edward Snowden arrived in Moscow Thursday, hoping to meet his son for the first time since the former US intelligence contractor became a fugitive after leaking sensational details of US covert surveillance.
Lon Snowden arrived in Moscow on an early flight from New York, speaking to reporters at Sheremetyevo airport where his son had spent more than a month in transit limbo before Russia agreed to grant him temporary asylum in August.
In an apparently carefully-organised itinerary, he swiftly appeared on the state television channel Rossiya 24, looking tired and still wearing his airplane outfit of sweat pants and fleece jacket.
In comments heavily dubbed into Russian from English, he admitted he still didn't know where his 30-year-old son was staying.
Edward Snowden's whereabouts have been a mystery ever since he was given asylum.
"It's really inappropriate for me to go into detail" of plans for meeting Edward Snowden, his father said.
He said his plans in Russia will depend on Snowden's lawyer Anatoly Kucherena, who is hosting the father as his "guest".
"I'm here to learn more about my son's situation," he told journalists at the airport. "My hope is to learn more about his circumstances and his health and to discuss legal options."
"If the opportunity presents itself, I certainly hope that I have the opportunity to see my son," Lon Snowden said in televised remarks.
He was met at the airport by Kucherena, a pro-Kremlin public figure with ties to Russia's security agencies, who has been the public's only source of information about Snowden's life in the past months and said that he met the fugitive leaker Wednesday.
'He will not return to the US'
Kucherena said Snowden continues to live in secret for fear of being tracked down by the United States and relies on money donated to him through various organisations, but has had several job offers and may decide to take employment soon.
The former National Security Agency contractor is wanted by the United States after revealing to the media details of massive domestic and foreign surveillance programmes operated by the secretive agency.
Lon Snowden said he had had no direct contact with his son in recent months, adding: "I really have no idea what his intentions are.
"I'm not sure that my son will be returning to the US," he told journalists. "That's his decision, he's an adult."
He said he believed his son was not leaking information from Moscow, adding: "Edward Snowden, since he has been in Russia, is simply trying to remain healthy and safe.
"I have extreme gratitude that my son is safe, secure, and free" in Russia, he said, adding that he believed his son to be a "whistleblower" rather than a criminal.
Lon Snowden, a US Coast Guard veteran who lives in Pennsylvania, said he was travelling on a multi-entry Russian visa on his long-mulled visit.
He had told US media in July that he was approached by the FBI with an offer to fly to Russia in order to persuade Edward Snowden to return home but refused due to uncertainty about whether he would have direct communication with his son.
Kucherena said Thursday that Edward Snowden will meet with his father soon, but that the date and place will be kept secret.
Snowden flew in to Moscow on June 23 from Hong Kong with a revoked US passport and remained in the transit area for weeks, as Russia mulled US requests to hand him over.
He finally walked out of the airport on August 1 after obtaining temporary asylum in Russia despite protests from Washington and has remained underground ever since.
On Monday, a tabloid Russian website LifeNews published a blurry photograph of a man it said was Snowden rolling a cart of groceries out of a supermarket.