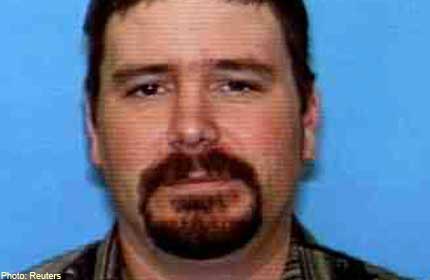 SALMON - Horseback riders returning from the remote Idaho wilderness have told police they may have encountered a California man suspected of killing a longtime family friend and kidnapping her teenage daughter, the San Diego County sheriff said on Friday.
The riders told police they came across fugitive James Lee DiMaggio backpacking northeast of Boise on Wednesday with a teenage girl thought to be 16-year-old Hannah Anderson, who he is accused of abducting, Sheriff William Gore said.
The group said they spoke briefly with the man and his young companion and realised only after returning from their excursion and seeing news reports that they may have encountered DiMaggio, 40, whose car was found in the same area on Friday.
The horseback riders who spotted the pair in the Frank Church River of No Return Wilderness said the two seemed out of place in the area's rugged terrain with only light camping equipment but that they appeared to be in good health, Gore said.
One of the riders told police he saw no indication that the girl was upset or being held against her will, said Andrea Dearden of the Ada County Sheriff's Department in Idaho.
"He didn't feel a need to jump in. He didn't feel he was stumbling upon somebody in distress or that he needed to get her away from the situation," Dearden said.
Asked if the girl's apparent lack of distress meant she could have gone with DiMaggio willingly, Dearden said: "We're being very careful to not get too far out by saying what Hannah is doing because we just don't know."
Police who later converged on the area found a car belonging to DiMaggio at a trailhead in the wilderness, covered in brush, its license plates removed. But there was no sign of the wanted man or his alleged victim.
Police have cautioned that the car could be rigged with explosives, and a bomb squad was en route.
San Diego County Sheriff's Captain Duncan Fraser said that the camping gear being used by DiMaggio and the girl had been purchased several weeks earlier.
"We believe this was a planned event. The information we're working with now tells us that this was planned," Fraser said.
DiMaggio is wanted in the killing of Christina Anderson, 44, and in the disappearance of her two children, Hannah and 8-year-old Ethan, all of whom were last seen on Saturday, the day before he is suspected of setting his own house on fire.
The computer technician has been described as a longtime family friend who was like an uncle to Anderson's children.
MASSIVE MANHUNT
Since Sunday, authorities have issued child-abduction alerts across the US West and notified authorities in Canada and Mexico to watch for the fugitive and either of the Anderson children.
Dozens of searchers, including the US Marshals, were scouring the Idaho back country on foot and on horseback seeking clues about the pair's whereabouts, Dearden said.
Air resources have also been called in but weather conditions have so far prevented them from aiding in the search.
"Teams are stationed at multiple access points around the wilderness area to monitor any people coming in or out. At this time, the location of Hannah Anderson, Ethan Anderson and James DiMaggio is not known," the Ada County Sheriff's office said in a statement.
Two people trying to pack into the Idaho back country with light camping gear and supplies could be ill-equipped to master some of the most remote, rugged terrain in the lower 48 US states, said Chris Grove, district ranger with the Salmon-Challis National Forest, which oversees the wilderness area.
Nighttime temperatures in the high country are already dropping below freezing, and cross-country travelers will face numerous obstacles on trails like large, fallen trees and steep grades that may lead to nowhere, Grove said.
"The path you may choose may take you to a cliff or a river like the Middle Fork that is difficult to cross," he said of an area known for forested peaks, sheer canyons and whitewater rapids.
In California, police have not revealed how Christina Anderson was killed. They have said a child's body found in DiMaggio's burned-out home in the San Diego County community of Boulevard may be that of Ethan Anderson, but that more time was required for a positive identification.
The children's father, Brett Anderson, who now lives in Tennessee, has said he presumes the body is that of his son. He pleaded with DiMaggio in a televised message this week to let his daughter go and advised the teenager to make a run for it.
Authorities have said they have no evidence of a precipitating incident or circumstances that might have led to the crimes DiMaggio is suspected of committing.