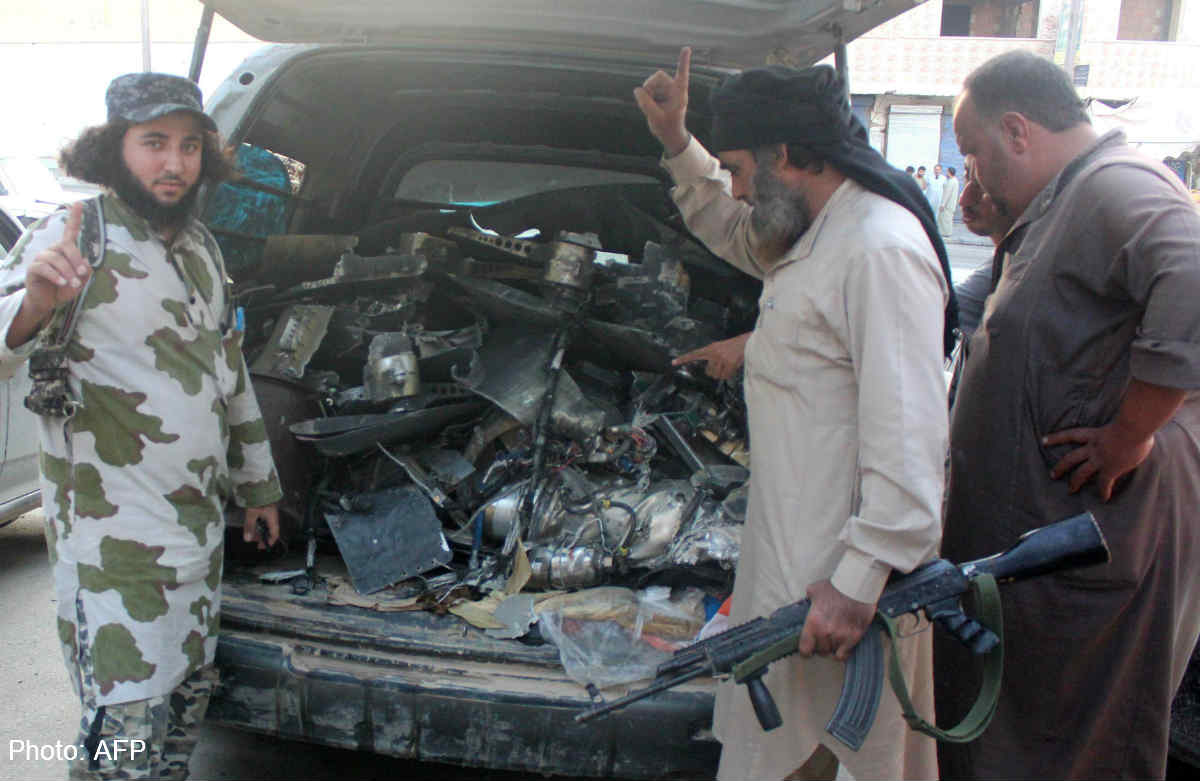 BEIRUT - Syria said on Tuesday that US Secretary of State John Kerry had told the Damascus government in a letter delivered by Iraq that the United States and its allies were going to attack Islamic State in Iraq and Syria (ISIS) group within its borders, hours before the air strikes took place.
Damascus, which had said any air strikes on Syria must have its approval, did not condemn the attacks launched by the United States with the help of Gulf states and Jordan against ISIS and al Qaeda-affiliated militants.
A Syrian analyst interviewed on tightly-controlled Syrian state TV said the air strikes did not amount to an act of aggression because the government had been notified in advance.
In a government statement read out on state TV, the Syrian foreign ministry said Syrian Foreign Minister Walid al-Moualem had received a letter from Mr Kerry via the foreign minister of Iraq, whose Shi'ite-led government is a close ally of Damascus.
There was no immediate response from the United States, which has shunned Syrian President Bashar al-Assad, describing him as part of the problem.
"The foreign minister received a letter from his American counterpart via the Iraqi foreign minister, in which he informed him that the United States and some of its allies would target (Islamic State) in Syria," the foreign ministry said in the statement. "That was hours before the raids started."
In the statement, Damascus vowed to keep up its own campaign against ISIS that has seized large areas of northern and eastern Syria. It said it would continue to target the group in areas hit in the US-led raids on Tuesday.
The US military, in a statement announcing air strikes on extremists in Syria, said US forces had also struck ISIS targets in Iraq, "using attack aircraft to conduct four air strikes".
Russia, one of Assad's major allies, criticised the US-led air strikes against ISIS, saying they should have been agreed with Damascus. But there was no sign of criticism in Syria's state-run media.
The Syrian government statement points to the scope for Iraq to act as a channel for indirect contact between Damascus and Washington, even as the United States and its allies shun Assad.
Iraq's national security adviser briefed Assad on efforts to fight ISIS last week, in the first such meeting since the United States launched air strikes on ISIS in Iraq.
The Syrian government said coordination with Iraq was "at its highest levels" and reiterated its willingness to be part of international efforts to combat Islamic State