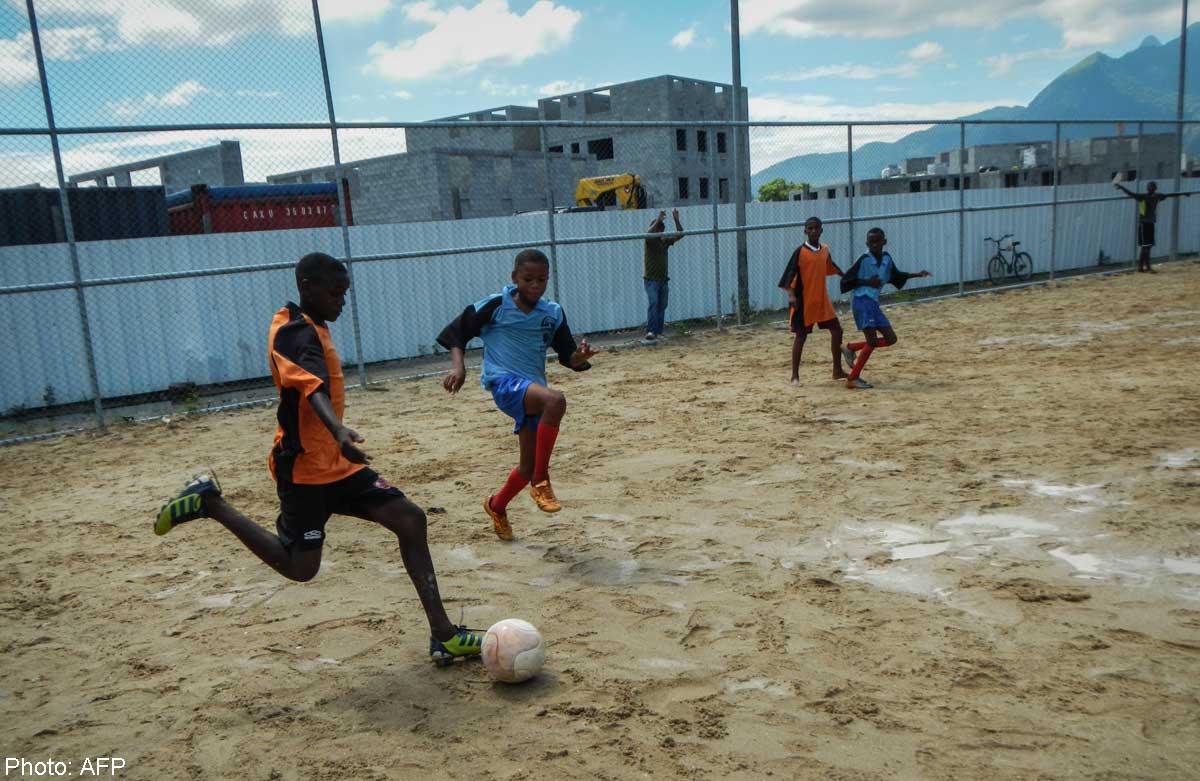 With AFP's backing in Rio, Christophe Simon, AFP's head of photography in Brazil, taught basic photography techniques to a group of 18 adolescents from the "Cidade de Deus" (City of God) favela (the term for Brazil's slums) in Rio de Janeiro, with amazing results. Together, they photographed their daily life and their passion for football, at a time when all eyes are on Brazil, set to host the Football World Cup in 2014.
It was while covering efforts to "pacify" the favelas that Christophe Simon realised that these underprivileged youngsters were fascinated by photography and his profession.
"I was constantly surrounded by crowds of kids who seemed really interested in my work, following me everywhere, asking me countless questions," said Mr Simon.
How the adventure started
Seeking to share his professional knowledge and show how much Brazilians love football, Mr Simon worked with Tony Barros, a local photographer who runs the "Lente Dos Sonhos" photography school in Rio. They found 18 kids ranging in age from 10 to 15 years old who wanted to participate in this project.
Each weekend, for more than five months, they met with these budding photographers in the City of God slum, training them in picture-taking techniques.
Although freshly "pacified", the City of God nevertheless remains a complex place where anything is possible. Such as coming face to face with drug dealers surprised to find children equipped with cameras. A tricky situation that was quickly defused thanks to the diplomacy of Mr Barros.
In groups of three to 10, the youngsters focused on one goal: photographing their universe, with football as the main theme.
"The sessions usually lasted three or four hours, sometimes a full day. Organisation was not easy," said Mr Simon.
The project rapidly became popular and the young people turned out to be particularly driven, some even showing promising talent.
Amazing results
The end results are striking. The quality of their work is indisputable.
"We gave these kids the opportunity to show us where they live and how their passion for football began. The result could not be more authentic," said Mr Simon.
The children caught on quickly to the basic rules (no posing, no flash, etc.). They saw their neighbourhood through new eyes, discovering things that they had not noticed previously.
The teachers selected 70 photos to be sold on ImageForum, AFP's photo database. Any income from sales of these images will be donated to Casa Geraçao, an organisation that trains underprivileged children to work in the fashion industry.
By selling these photographs and working with Casa Geraçao, AFP intends to advance this project further by making a photo training workshop available to the favela children until the 2016 Olympics.
Budding photographers with a promising eye
If someone had given Pele a camera when he was a child, what kinds of photos would he have taken of his spirited football games on the dirt roads of 1940s Brazil?
This was the opportunity given to 18 boys and girls in the favela who participated in this adventure. These kids were thus able to convey their vision of the Brazilian art of football. This experience allowed them to blossom, learn new things about their community, hone a professional project, and fuel their love of the game.
For Silvana de Araujo, a 13-year-old who is a big sports fan, these workshops allowed her to discover a new calling: "Before this project, I wanted to be a journalist. Now I would like to be a photographer shooting news stories or fashion events."
During the sessions, she learned several important techniques, such as framing a shot or how to blend in with the backdrop so that the subjects are not conscious of being photographed.
Like Silvana, Victoria de Jesus, 13, took Mr Simon's advice to heart. She would like to become a doctor and thus focused on the human dimension of this project which allowed her to meet new people. Her twin brother, Victor, remains fascinated by the final photos and will never forget the day when the participants and their families got together to see all the images on a giant open-air screen.
From a large family, Marcelo Ferreira Dos Santos, 14, dreams of becoming a professional football player for the Flamengo club. He joined the adventure thanks to his coach, and he was able to put his knowledge of the sport to good use to shoot very specific points in a game: "I learned to pay attention to the lighting, to wait to take the picture: the moment when the ball is in the air and two players go to head it at the same time."