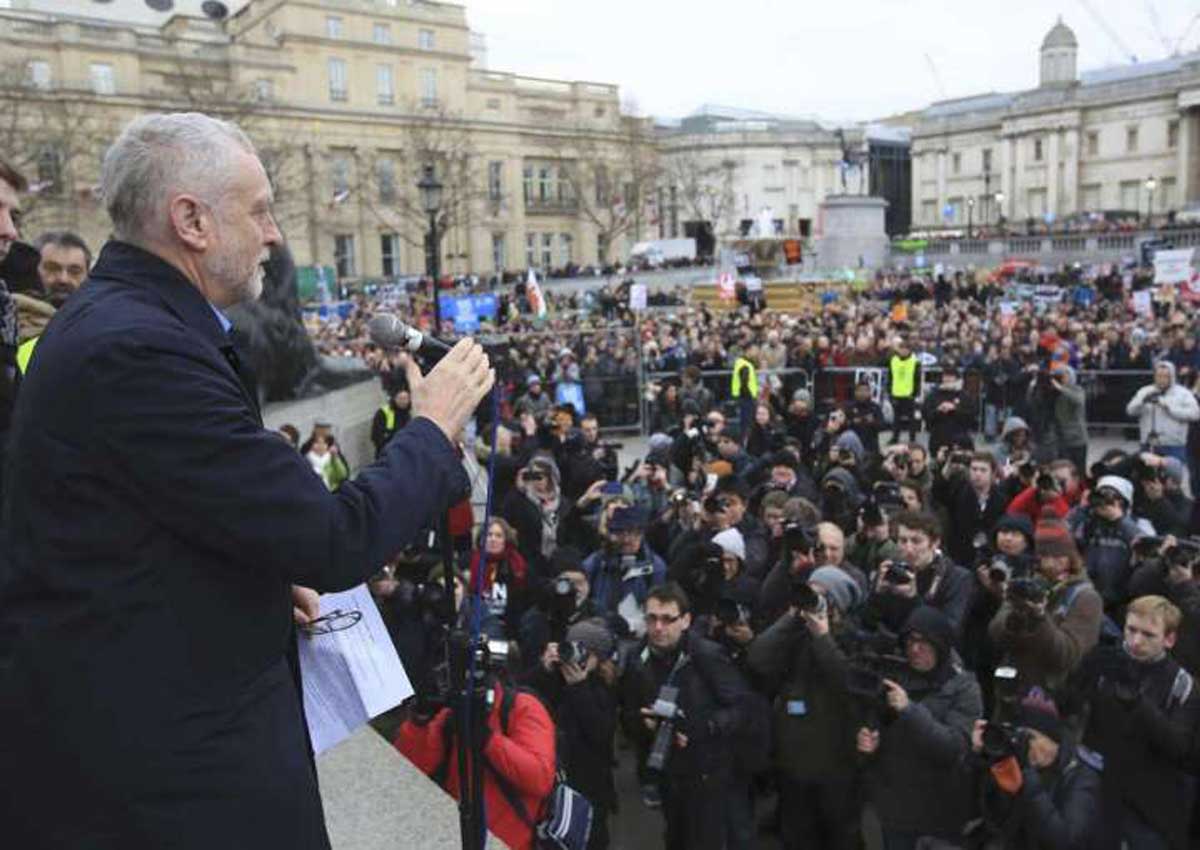 LONDON - Tens of thousands of people protested in London on Saturday (Feb 27) against the proposed renewal of Britain's Trident nuclear weapons system, in what supporters said was the biggest such demonstration in a generation.
Opposition Labour leader Jeremy Corbyn, who has been a member of the Campaign for Nuclear Disarmament (CND) since he was 16, addressed the crowd in Trafalgar Square alongside Scotland's First Minister Nicola Sturgeon.
"If a nuclear war took place there would be mass destruction on both sides of the conflict. Everyone should think about the humanitarian effects on people across this globe if they're ever used," Corbyn said.
Protesters converged on London from around Britain and CND claimed that 60,000 people joined the march. AFP reporters estimated the numbers in the low tens of thousands, while police would not give an estimate.
Corbyn said he was proud to attend "the largest anti-nuclear weapons rally in a generation", adding that it was a "an expression of many people's opinions and views".
A decision is expected to be taken later this year on replacing the ageing submarines which carry the Trident missiles, at an estimated cost of £31 billion (39 billion euros, $43 billion).
Prime Minister David Cameron's Conservative government is in favour, saying the system is vital to safeguard Britain's security.
"Disarming now would be a reckless gamble with our national security that would play into the hands of our enemies," junior defence minister Philip Dunne said ahead of the march.
Labour is deeply divided on the issue between leftwingers like Corbyn, who want to scrap it, and some centrists who want to keep it.
Sturgeon, the leader of the Scottish National Party that holds power in the devolved government in Edinburgh, said Trident was "immoral" and "impractical".
Trident is based at the Faslane naval base near Glasgow on the west coast of Scotland, and the issue is expected to be an issue during the forthcoming Scottish elections.
Caroline Lucas, a lawmaker for the Green party, described nuclear weaponry as a "cold war relic".
Britain currently has four submarines in its Trident fleet, at least one of which is on patrol somewhere in the oceans 24 hours a day.
The government wants to replace those with four so-called Successor submarines, the first of which would enter service in the early 2030s.