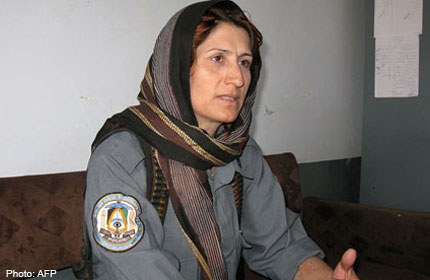 AFGHANISTAN - The top female police officer in Afghanistan's restive south died on Monday, officials said, a day after she was shot by gunmen in an attack that followed the recent killing of her predecessor.
Both women were gunned down on the streets of Lashkar Gah, the capital of Helmand province, by unknown assassins in murders that highlighted the grave threat to women who take on public roles in Afghanistan.
"I can confirm that Nigar died in the emergency unit of the hospital this morning," provincial government spokesman Omar Zawak told AFP. "She died from a bad injury to her neck."
Nigar, who like many Afghans used only one name, was earlier expected to survive after she was shot on Sunday morning by gunmen who escaped by motorbike.
She was walking near the police headquarters in Lashkar Gah when her killers struck.
Nigar, 38, had worked for seven years in the police crime branch in Helmand, a hotbed of the Islamist insurgency that erupted against the US-backed Kabul government after the fall of the Taliban in 2001.
She was the mother of a son and a daughter and was based at Lashkar Gah airport after reaching the rank of investigator. Before Helmand, she had been posted in the capital Kabul.
The last senior police woman in Helmand, Lieutenant Bibi Islam, was seen as a high-profile symbol of how opportunities for women have improved in Afghanistan since the repressive Taliban regime was ousted.
But before her murder in July, Islam admitted receiving regular death threats from people who disapproved of her career - including from her own brother.
After Islam was killed, Nigar told local media that she was not scared of being a police woman in ultra-conservative Helmand and that she was determined to continue doing a job she loved.
She said that she had also received death threats, but that Afghanistan needed more female police officers to protect women who often suffer repression, sexual violence and discrimination in the country.
No one claimed responsibility for either murders, and no arrests have been made.
A report released by Oxfam this month said that women make up only one per cent of Afghanistan's police force and as a result women are reluctant to seek justice for rising levels of violence.
"Policewomen often lack basic items, such as uniforms, which male colleagues receive. Many find themselves performing menial tasks," the report said.
There is only one female police officer for every 10,000 women in Afghanistan, and many receive little or no training and are rarely able to investigate crimes or carry out arrests.
"We are not treated the same as the men. Even when we are at the same rank as the men, it is us that the commander asks to make tea or do typing," a female officer told Oxfam.
Interior ministry spokesman Sediq Sediqqi admitted that there were problems involving women in the force, but said that the government was determined to fight them and recruit more female officers.
He told AFP around 2,200 women serve in Afghanistan's national police force, but that the government plans to double the number before landmark presidential elections in April.
Women's rights are a key focus of international efforts in Afghanistan, with foreign diplomats often pointing to more female school children and greater freedom for women as signs of progress.
But donor nations have also raised fears that such advances are at risk as 87,000 NATO troops withdraw next year and Islamist groups lobby for more influence.
The deaths in Helmand follows the killing of female police Lieutenant Colonel Malalai Kakar, in neighbouring province Kandahar in 2008, and the deaths of two successive women's affairs directors in Laghman province within months last year.