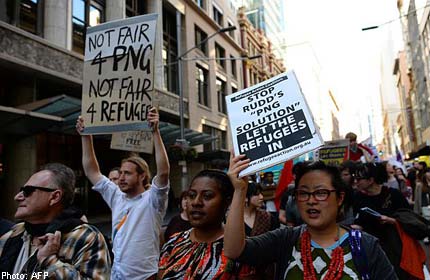 AUSTRALIA - It is likely to be the economy, the fast-sinking Aussie dollar and who the electorate feels has the best skill set to effect structural changes that will decide the outcome of Australia's Sept 7 elections.
But that has not stopped newly appointed Prime Minister Kevin Rudd and opposition Liberal Party leader Tony Abbott from trying to outdo each other in their hardline approach to the asylum-seeker issue.
No one is going to be a winner in this, least of all the refugees. At this point, it is difficult to see how Mr Rudd's radicalised Papua New Guinea (PNG) experiment or Mr Abbott's threatened tow- back policy can solve a problem that simply defies a lasting solution.
A tougher approach did work between 2001 and 2008, the year Mr Rudd, the incumbent prime minister, closed the processing centres on the Pacific islands of Manus and Nauru, established as part of predecessor John Howard's "Pacific Solution".
That reignited the flood, but the times have changed as well. People smuggling has become a hugely profitable criminal enterprise - and the withdrawal of international forces from Afghanistan next year may open the floodgates even wider.
Mr Rudd's monumental flip-flop aims at moving all new boat arrivals to an expanded corner of Lombrum naval base on Manus, off PNG's northern coast. If they are found to be genuine refugees, they will be able to resettle there - but not in Australia.
"The only way this will work is if it doesn't have to happen," says one refugee official, who is equally sceptical about the Abbott go-for-broke policy. "It's too big a flip-flop for people to think Rudd is serious."
PNG Prime Minister Peter O'Neill has already denied he agreed to take all asylum seekers, and despite claims by Australian immigration authorities, there is little evidence so far of a real let-up in the flow. Indeed, 2,900 people have landed in Australia since the policy was announced on July 19 and Indonesian authorities have intercepted 1,500 more, mostly while flying to boat take-off points stretching from North Sumatra to West Timor.
Mr Abbott's tow-back threat, reiterated by his aides in increasingly harsh terms, depends on the ability of the authorities to intercept the boats. But even during the Howard years, there were only a handful of cases where tow-backs actually occurred.
The problem of course is it risks antagonising Indonesia, which has stepped up its interceptions over the past two years and has even opened a people smuggling desk at the Coordinating Ministry for Political Affairs.
While tougher measures may have an effect over time, there is normally little movement during the Ramadan fasting month and the seas between Indonesia and northern Australia have been much rougher than usual in recent weeks.
The United Nations High Commissioner for Refugees (UNHCR) already has 8,600 asylum seekers and 2,070 refugees on its books in Indonesia. But it is unable to keep track of those who have lost patience with the glacial process and boarded boats.
Thousands more have not bothered to register, including a growing number of Myanmar's brutalised Rohingya minority - now believed to be second in number to the Afghans even if resettlement is a forlorn hope.
Some Afghans, particularly the Hazara minority, may feel settling in PNG, one of the world's poorest nations, is a better alternative to a future in their homeland or neighbouring Pakistan, clouded by fear and uncertainty.
Thousands of Laos' Hmong hill tribe refugees lived for decades in squalid camps in Thailand, either because they were not picked for resettlement or they did not want to leave. So have the 130,000 displaced Myanmar people still camped out along Thailand's western border.
With a limited capacity on tiny Nauru, the Australians finally chose Manus as a second processing centre in 2002 after Christmas Island, Fiji, and even Palau, located in Kiribati's eastern island group in the South Pacific, all turned them down.
Part of the Admiralty Islands, Manus is considered a step up from Nauru because it has more space and construction materials, fresh food and other provisions can be conveniently supplied from the port town of Lae, on the PNG mainland.
On Nauru, 2,400km to the east of Manus, staff sometimes had to request tankers heading for other destinations to divert to Nauru when the generators which supplied all the power to the island ran low on fuel.
When the Howard government banished asylum seekers to Nauru and Manus, they were told they would never set foot in Australia. But all 1,200 who passed through the two isolated camps were eventually resettled there.
Since former prime minister Julia Gillard reintroduced the Pacific Solution earlier this year, 540 have been sent to Nauru and 250 to Manus. Now they will be moved back to Australia as well to make room for those who have arrived since July 19.
Mr Abbott says under his government, the 30,000 asylum seekers who constitute the backlog in Australia will be processed and issued with only temporary protection visas, a cruel measure that will prevent them from reuniting with their immediate families.
Having said that, where all the chest-thumping may make a difference in Australia's forthcoming elections is among migrant voters, concentrated in marginal seats in Sydney's western suburbs and around Melbourne's fringes.
It is interesting that those most opposed to resettling the asylum seekers are many of Australia's newest immigrants who, after their long wait to be processed, do not look kindly on new arrivals trying to jump the queue.
thane.cawdor@gmail.com

Get a copy of The Straits Times or go to straitstimes.com for more stories.