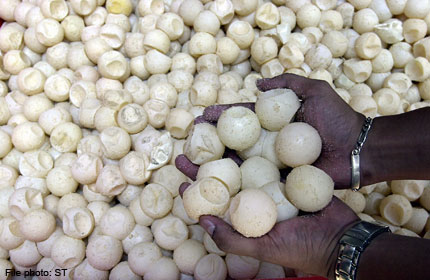 TUNIS - A Tunisian filmmaker who threw an egg at a minister received a suspended five-month sentence Friday while charges were dropped against the videographer who filmed the incident, their lawyer said.
"Nasreddine Shili was sentenced to five months in prison, suspended, while the charges against Mourad Mehrezi were dismissed," their lawyer Koutheir Bouallegue told AFP.
Both men had been accused of planning an act of aggression against a public official, defamation, contempt of others, attacking public morals and drunkenness, and could have faced up to seven years in jail.
The egg attack on Culture Minister Mehdi Mabrouk took place at a memorial ceremony on August 16 to mark 40 days since the death of a fellow artist and was filmed by Mehrezi, who works for Astrolab TV.
The two were arrested a few days after the incident but freed on bail last month. Mabrouk withdrew a lawsuit against Mehrezi, saying the video reporter was only doing his job and offered to do the same for Shili if he apologised.
Shili confessed to throwing the egg but said it was a "spontaneous act" and that Mehrezi had nothing to do with it.
Mabrouk is a well-known sociologist and an independent in the Islamist Ennahda-led cabinet.
The attack was reportedly in protest at the inadequate response by the culture minister to attacks on artists by extremists who deem their work offensive.
Ennahda is frequently accused by its critics of seeking to curb freedom of expression, a charge it strongly denies.
The case sparked a scandal last month when a journalist, Zied el-Heni, was detained for accusing the public prosecutor of fabricating evidence implicating the cameraman in the attack.
Heni was freed on bail three days later.