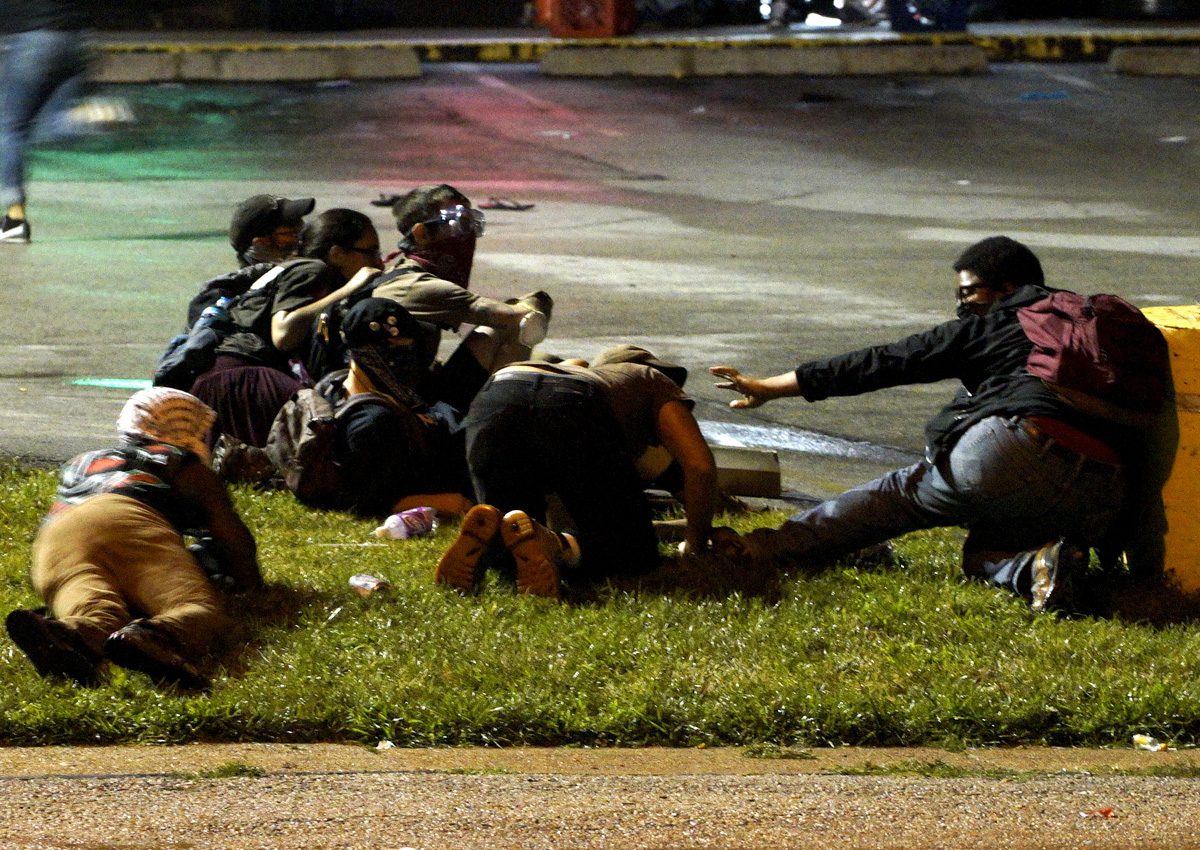 FERGUSON, Mo. - Two people were wounded in gunfire at a rally in Ferguson, Missouri on Sunday marking the first anniversary of the death of Michael Brown near where the unarmed black teenager was shot dead by a white office.
The gunshots rang out as police tried to disperse demonstrators blocking traffic and smashing windows along a street that was a flashpoint of last year's unrest following the slaying of 18-year-old Michael Brown.
The origin of the gunfire and condition of the two people shot was not immediately known, police said. One of the victims, a black male who looked to be a teenager or young adult, appeared in a Reuters photo to have been badly wounded.
Anniversary commemorations for Brown had begun hours earlier with a peaceful march through the St. Louis suburb after a moment of silence for the teenager, whose death on Aug. 9, 2014, ignited months of demonstrations and a national debate on race and justice.
The scene changed dramatically after dark with dozens of protesters blocking traffic and smashing store windows along West Florissant Avenue, which bore the brunt of last summer's rioting, chanting "Shut it down" in the midst of a severe thunderstorm.
A phalanx of helmeted police wearing body armor and carrying shields moved in. Protesters briefly fell away before regrouping to confront the line of officers, who ordered them to disperse.
The protesters, locking arms and edging closer to the police cordon, began throwing water bottles and shouting, "We are ready for war!"
Both sides held their ground, and police did not move immediately to make any arrests as clergy members and activists circulated between the two sides appealing for calm.
The face-off was shattered by several volleys of gunfire, sending police crouching behind their patrol cars and demonstrators scurrying for cover. Helicopters whirred overhead as additional police armed with assault rifles swarmed the area, some roaring down the street in armored vehicles in the direction of the gunfire.
A body could be seen on West Florissant Avenue and a young woman screamed that her brother had been shot. Multiple store windows were smashed and police stood atop vehicles surveying the scene.
Merchants, some armed, stood guard outside their businesses early Monday after the incident.
"The St. Louis County Police Department was involved in an officer-involved shooting after officers came under heavy gunfire," county police spokesman Shawn McGuire said in a statement.
He said at least two unmarked police cars had been hit by gunshots.
Brown's death - and a grand jury decision to spare officer Darren Wilson from criminal charges for shooting him - sparked a prolonged wave of demonstrations in Ferguson last year that boiled over into rioting and arson at times and spawned sympathy rallies across the country.
It also sparked greater scrutiny of racial bias within the U.S. criminal justice system, giving rise to the "Black Lives Matter" movement that gained momentum from a series of other high-profile slayings of unarmed minorities by white police in cities such as New York, Baltimore, Los Angeles and Cincinnati.
DOVES, THEN GUNFIRE
The unrest that erupted Sunday night was in marked contrast to a day of mostly subdued, peaceful commemorations in Ferguson and elsewhere.
White doves were released after 4-1/2 minutes of silence to represent the roughly 4-1/2 hours that Brown's body lay in the middle of the street after he was shot. A crowd of about 1,000 then embarked on a silent march through Ferguson to honor Brown and others killed in confrontations with police.
Another name was added to that list on Friday when unarmed 19-year-old Christian Taylor, a black college student, was shot dead by a white police officer investigating a burglary at a car dealership in Arlington, Texas.
A federal review of Brown's slaying found that officer Wilson acted lawfully. However, it also determined that Ferguson's predominantly white police department had for years violated the rights of the city's black population.
The Justice Department report found police were singling out African-Americans for arrests and ticketing, in part to raise revenue for the city. It also found a pattern of excessive force, including the use of attack dogs and electric stun guns, by police against unarmed black citizens.
The city's police chief, city manager and municipal court judge all left their jobs following the report.
The anniversary weekend in Ferguson was also marred by an apparently unrelated drive-by shooting on Sunday afternoon a few blocks away from a church as marchers were approaching, police said. One person was wounded in the foot.
A 17-year-old was arrested early on Sunday after firing at a 22-year-old man in a strip mall parking lot, police said.