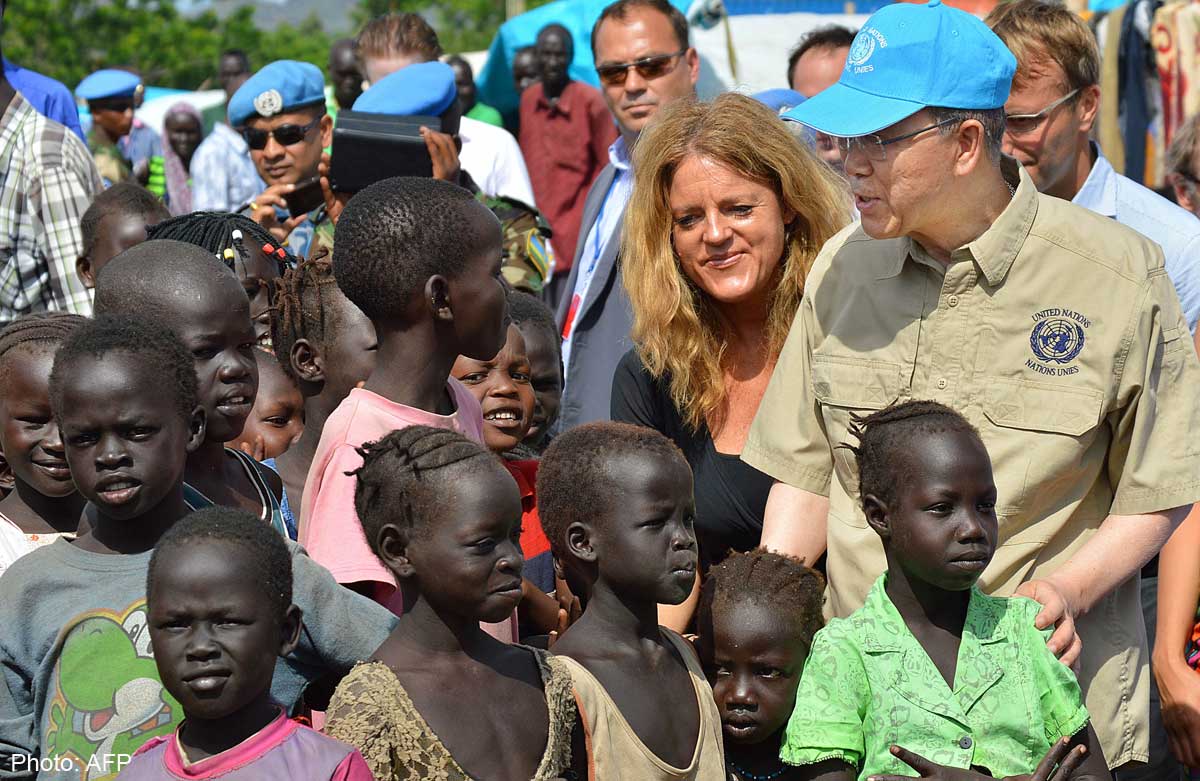 JUBA - UN Secretary General Ban Ki-moon flew into South Sudan Tuesday to demand an end to a brutal civil war, with leaders defying peace efforts despite dire warnings of genocide and famine.
The visit, coming as rebels and government forces battle for control of a key oil town, is the latest major push for a ceasefire in the nearly five-month-old civil war, which has seen the world's youngest nation collapse amid a brutal cycle of war crimes.
"The Secretary-General has repeatedly called on the leaders to find a political solution, and to put an immediate end to the violence which has led to the suffering of so many innocent civilians," a UN statement read.
Both sides in the conflict have been accused of widespread ethnic massacres, rape and recruitment of thousands of child soldiers.
Ban's visit comes days after US Secretary of State John Kerry flew into the capital, a visit in which he extracted promises from President Salva Kiir to meet face-to-face with rebel chief Riek Machar, a former vice-president.
But despite warnings of sanctions if fighting continued, the government has pushed forward a major offensive to claw back towns from the gunmen, capturing a rebel stronghold and forcing Machar to flee into the bush.
Kerry, who had already threatened US sanctions on the warring parties, has since warned of "serious implications" unless the fighting stops.
Ban, who is scheduled to meet with Kiir on his one-day visit, will also meet with community leaders from the tens of thousands sheltering inside hugely overcrowded fortified UN peacekeeper bases.
They are too frightened of attacks to leave the protection of the peacekeepers, even though the camps themselves have come under attack.
Peace promises broken
Ban last visited South Sudan amid euphoric celebrations at its independence from Sudan in July 2011, after it voted to split away following decades of war with Khartoum.
But as he arrived Tuesday, battles raged around the dusty northern town of Bentiu, capital of the oil-producing Unity state, four days after government troops moved to wrest back control.
Defence Minister Kuol Manyang told AFP government troops were in control of the town centre, but that heavy fighting was ongoing in surrounding villages, some five kilometres (three miles) from the town.
Rebels staged a large scale assault on Monday, but waves of gunmen "were repulsed after eight hours of fighting", Manyang said.
Forces include both mutinous troops as well as ragtag forces, including a fearsome militia called the White Army, after the ash they daub on their bodies, both to ward off mosquitoes and as war paint.
The war has claimed thousands - and possibly tens of thousands - of lives, with at least 1.2 million people forced to flee their homes.
A January ceasefire was never enforced. Stop-start peace talks in Ethiopia have yet to forge agreement on even the basic agenda.
Aid agencies are warning that South Sudan is now on the brink of Africa's worst famine since the 1980s, while both Kerry and the UN human rights chiefs have spoken out over their fears that the country could slide towards a genocide.
Although starting as a personal rivalry between Kiir and Machar, the conflict has seen armies divide along ethnic lines and fighting pitting members of Kiir's Dinka tribe against Machar's Nuer.
The conflict erupted on December 15 with Kiir accusing Machar of attempting a coup. Machar then fled to the bush to launch a rebellion, insisting that the president had attempted to carry out a bloody purge of his rivals.
Despite the fighting, Juba said it was committed to peace talks, and Manyang insisted talks would happen "as soon as possible", although Machar - who has not been heard of since fleeing into the bush ahead of government assaults on Saturday - has yet to confirm he would attend.