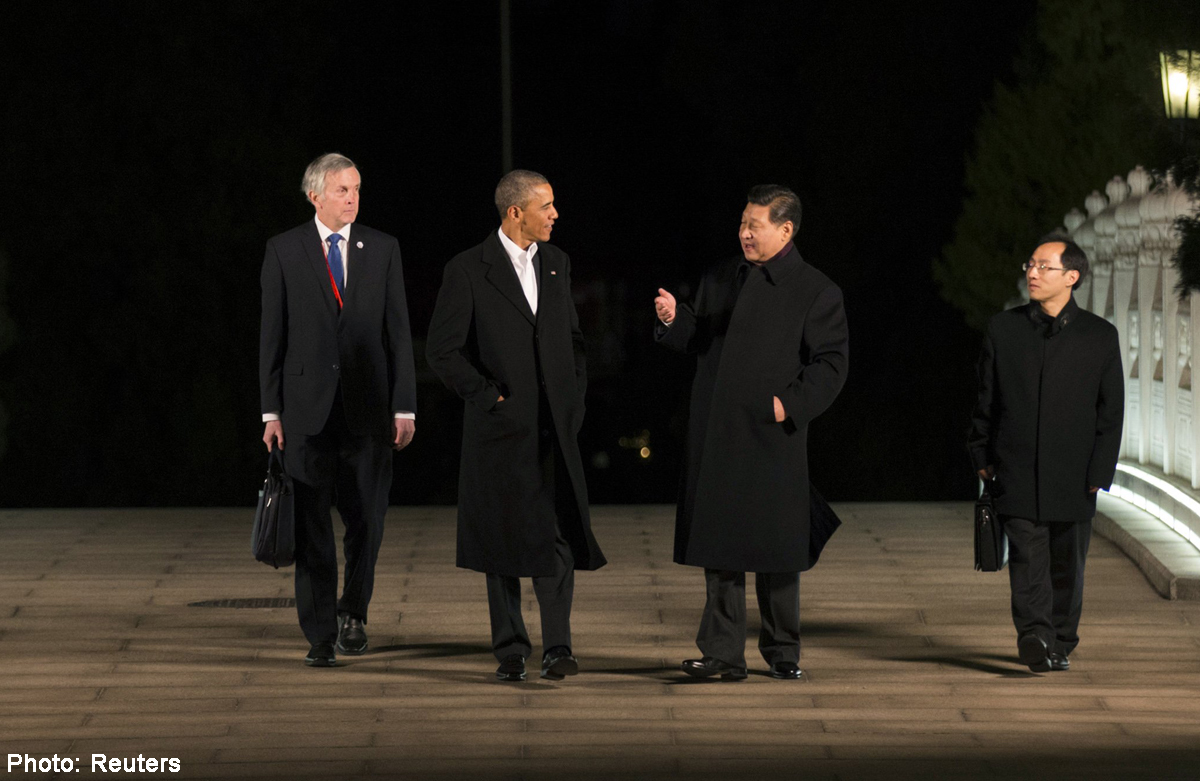 Chinese President Xi Jinping said small positive steps can gradually strengthen overall ties between the US and China, after he took a stroll with his US counterpart Barack Obama at the Zhongnanhai leadership compound in central Beijing in chilly weather.
Using a Chinese idiom that means it takes many drops of water to make a pool, Mr Xi was cited by the White House press pool report as telling Mr Obama that the same logic of patient accumulation applied to Sino-US ties.
In response, Mr Obama said he hopes for "productive and candid" talks like those they had at the 2013 Sunnylands summit and wants to "take the relationship to a new level". "When the United States and China are able to work together effectively, the whole world benefits," he added.
Mr Obama began his two-day state visit yesterday evening after the close of the Asia-Pacific Economic Cooperation (Apec) summit with the walk, a bilateral meeting and a private dinner at Zhongnanhai, where China's top leaders work and live.
Both men will take part in a welcome ceremony at the Great Hall of the People and toast each other at a state banquet today.
This meeting was seen as a redux of their Sunnylands meeting in California in June last year that saw both sides agreeing to a new type of major-power relationship that seeks to avoid conflict between an existing power and a rising power, among others.
But it has not stopped the two sides from clashing on issues such as the US' involvement in China's territorial spats with neighbours. A US decision in May to charge five Chinese military officers with stealing American corporate secrets also led to the suspension of a cyber security working group.
And so while sticky issues like these will be on the agenda, Washington observers say both sides are likely to focus on common ground at today's talks. These include the bilateral investment treaty - an agreement on foreign investors and investments from both countries - tackling climate change and battling Ebola.
Both countries also moved forward yesterday on talks to eliminate tariffs on US$1 trillion (S$1.29 trillion) in global sales of IT products. The expansion of the Information Technology Agreement could be reached by next month.
Observers say Mr Obama will be seeking a "feel good" outcome as he turns to foreign policy for a boost after his party's disastrous defeat in the US mid-term elections. Dr Ely Ratner of the Centre for a New American Security said: "I think the message is, the administration is invested in the relationship but not in deference to China. They're clear-eyed about the competitive aspect of it."
China experts say Beijing will be watching for clues as to the China policy Mr Obama will adopt in his remaining two years at the helm now that Republicans hold both chambers of Congress.
Associate Professor Li Mingjiang at the S. Rajaratnam School of International Studies noted that Mr Obama, now viewed by some as a "lame duck" in domestic politics, might choose to leave his legacy in foreign policy. "This might see him implementing a hardline policy on China or he might work closely with China to deliver positive results instead," he said.
Still, the "strategic mistrust" is unlikely to fade with many China proposals such as the Asian Infrastructure Investment Bank being seen as "ambitious" by the US, said Sino-US expert Shi Yinhong.
China unveiled the J-31 stealth fighter jet at an air show yesterday, in an apparent show of muscle during Mr Obama's visit.
esthert@sph.com.sg
jeremyau@sph.com.sg
This article was first published on Nov 12, 2014. Get a copy of The Straits Times or go to straitstimes.com for more stories.