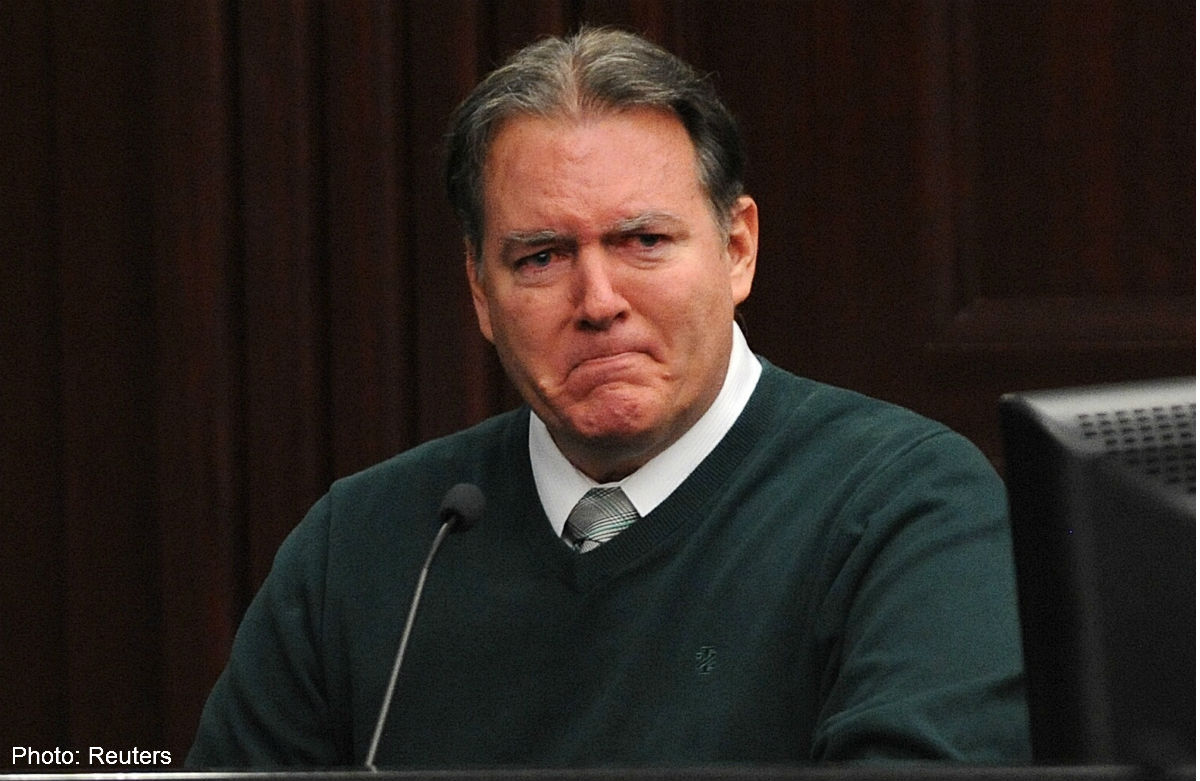 CHICAGO - A Florida man who shot and killed a black teenager in a dispute over loud music defended himself in court Tuesday at a racially-charged trial which has revived memories of a notorious case that gripped the United States last year.
The murder trial of Michael Dunn has drawn comparisons to that of neighborhood watch volunteer George Zimmerman, who was cleared of killing teenager Trayvon Martin after claiming self-defence under Florida's controversial 'stand your ground' law.
It comes days after a retired police officer who shot a man for texting in a Florida movie theatre was ordered held in prison ahead of trial.
Dunn, 47, who is white, insisted he was in fear for his life when he opened fire on a red sport utility vehicle after exchanging words with the black teenagers inside when he asked them to turn their music down.
"I was just going 'oh my God, where is all this hostility coming from?'" Dunn told the court as he described seeing one of the teens pull out what looked to him like a shotgun.
Police did not find evidence of a gun in the vehicle and the three surviving teens testified that they never threatened Dunn.
Dunn insisted he was "in a panic" when he yanked his pistol out of his glove box as one of the teens started to get out of their car and come towards him.
"This is the point where he is coming to kill me, coming to beat me," Dunn testified. "He made it quite clear what his intentions were."
Dunn said he kept firing as the sport utility drove away because he was afraid that he or his fiancé - who had rushed out of the gas station shop when she heard the shots - might get hit by returning fire.
Dunn testified that he had no idea that he had shot and killed Jordan Davis, 17, until he saw a news alert on his phone once he got back to his hotel.
He explained that he did not immediately contact local police because he wanted to get the advice of a neighbour who works in law enforcement and was convinced it was an open and shut case of self-defence.
Unlike Zimmerman - who did not face charges for weeks after claiming self-defence in the shooting of an unarmed teenager - Dunn was arrested and charged with murder the day after the shooting. He has been held in jail pending his trial.
Gun control advocates say cases like those seen in Florida are the inevitable by-product of relaxed local laws which allow individuals to carry firearms in virtually any setting.
Florida was the first state to pass a permissive 'shall issue' law in 1987 which grants permits to carry concealed weapons to anyone who qualifies - typically anyone without a history of violent crime or mental illness.
Since then every US state has begun issuing concealed carry permits, although a handful still have less permissive 'may issue' laws which give law enforcement officials the task of determining if an applicant has a good reason for wanting a permit.
Gun ownership in the United States has fallen to 37 per cent of households from 50 per cent in the 1960s, according to the Gallup polling group. A decline in recreational hunting and urbanization is believed to be behind the trend.
Guns kill more than 30,000 people every year in the United States, though suicide accounts for almost 20,000 of those deaths. More than 81,000 people are injured by guns every year, according to the Centers for Disease Control and Prevention.