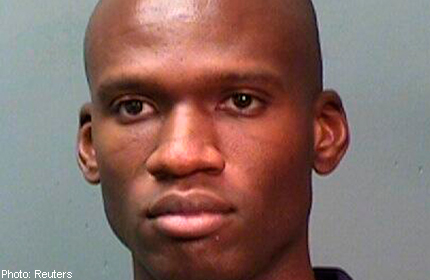 SINGAPORE - For some, 34-year-old Aaron Alexis was a gentle young man who taught himself to speak Thai for his earlier job as a waiter, and he would chant Thai prayers at a Buddhist temple.
"There was nothing sinister about him," said Ms Kristi Suthamtewakul, 35, who helps run her family's Thai restaurant outside Fort Worth, Texas, where Alexis worked as a waiter and deliveryman, The Los Angeles Times reported.
Alexis, a former Navy electrician's mate working as a government subcontractor, was shot dead by police after he killed 12 people at the Washington Navy Yard on Monday, authorities said.
Ms Suthamtewakul recalled Alexis celebrating Christmas and New Year's with her and her husband Nutpisit, and singing "(I Can't Help) Falling In Love With You" at a karaoke bar.
Alexis was generally easy-going, she said in an interview at the restaurant, the Happy Bowl. But he bristled when describing his service in the Navy and the benefits he believed had been withheld.
Mr Suthamtewakul said Alexis drank alcohol, always carried a gun and "acted childish - not like a 34-year-old".
Others had difficult encounters with Alexis. A Fort Worth resident described him as a brooding, menacing figure quick to brandish and fire a gun.
Alexis was investigated by police in Fort Worth and Seattle for firing a handgun in incidents involving disputes with a neighbour and a construction worker.
He also had a string of Navy disciplinary infractions leading up to his discharge in January 2011.
But there was little indication from his public record that he was capable of escalating from petty disputes to a mass shooting.
A woman who lived at the flat above Alexis' told police in September 2010 that he had harangued her about supposed noises from her apartment and confronted her in the carpark.
Police said Alexis fired a shot into the woman's floor from his apartment. He told police his handgun had gone off as he was cleaning it, but the woman said she thought the shooting was deliberate.
"She is terrified of Aaron and feels this was done intentionally," a police report said.
In Seattle in 2004, a construction worker told police that Alexis had stared at him and fellow workers every day for a month, occasionally brandishing a handgun, at a construction site next to his residence.
The worker said he had never spoken to Alexis, who fired three shots from a handgun into the worker's parked car in May 2004.
Mocked
Alexis later told police that the worker had "mocked" and "disrespected" him.
He said he had experienced an anger-fuelled "blackout" and did not recall the shooting until an hour later, according to the police report.
Seattle police said Alexis' father told them his son had "anger management problems".
Alexis had also said that he had been present during the Sept 11 attacks and that "those events had disturbed him".
He was arrested for both shooting incidents but was not prosecuted. No one was hurt in either incident.
Alexis was born and raised in Queens, the New York Post reported. He attended Hillcrest High School and bounced around Brooklyn, Staten Island and Harlem.
In 2000, he obtained a rifle permit from the New York Police Department to shoot at local firing ranges, sources said.
He was in the Navy from May 2007 to 2011 and was stationed at the Naval Air Station in Forth Worth as a petty officer third class before he was given a general discharge after a "pattern of misconduct", military records showed.
Despite this, he was awarded the Global War on Terrorism Service Medal and the National Defence Service Medal.
A temple member said Alexis could chant better than some of the Thai worshippers.
But the vet was disgruntled over military dismissal.
"He thought he never got a promotion because of the colour of his skin," said the fellow congregant, Ty Thairintr. "He hated his commander."
The former reservist worked as a computer contractor for The Experts, a subcontractor of Hewlett-Packard.
He moved to Washington about a month ago to begin a new HP contract and was scheduled to start at the Navy Yard this month. His position gave him security clearance that allowed him access to the facility.
The CEO of The Experts said on Monday that the company performed a background check on Alexis.
"Nobody could have done anything to prevent this except Aaron Alexis," said the exec, Thomas Hoshko. "Maybe he snapped. I don't know."
Ms Suthamtewakul said that Alexis had expressed anger about Sept. 11 to her, but that he was angry at terrorists.
"The way he talked about 9/11, he just didn't seem like the kind of person to do this,'' she said. "There was no way I could have foreseen this."
Mr Anthony Little, who said he is married to Alexis' sister, Naomi Alexis, said no one in the family had ever indicated that Aaron had any problems.
"From what I know, he was a regular guy.... I never was close to him," Mr Little told reporters outside the Brooklyn home where Alexis' mother, Cathleen Alexis, lives.
At the Fort Worth Star-Telegram, two staff members who knew Alexis from the Happy Bowl said he gave no indication of being capable of violence.
"I thought Aaron seemed kind of geeky - didn't seem like a Thai restaurant waiter," columnist Bud Kennedy said in a video uploaded by the newspaper.
Copy editor Sandy Guerra-Cline said in the video that Alexis was "really a sweet and intelligent guy."
"He was like an ex-airman [for the Navy], still had sort of the military bearing about him, but very sweet," Guerra-Cline said. "He's not a guy that talked about guns, or talked about anything violent."
Mike Ritrovato, 50, of Saginaw, Texas, said he knew Alexis and was troubled by his attraction to first-person shooter video games.
"If he had anything bad about him, it was that he was a 35-year-old man playing video games," Ritrovato said - even when Ritrovato and the rest of their friends were watching football together.
"He just felt slighted by what he was getting each month," she said.
Alexis, 34, a former Navy electrician's mate working as a government subcontractor, was shot and killed by police after he gunned down 12 people, authorities said. He left behind questions not only about his motives but about who he was and what might have set off the rampage.
"There was nothing sinister about him," said Suthamtewakul, 35, who helps run her family's Thai restaurant outside Fort Worth where Alexis worked as a waiter and deliveryman.

Get The New Paper for more stories.