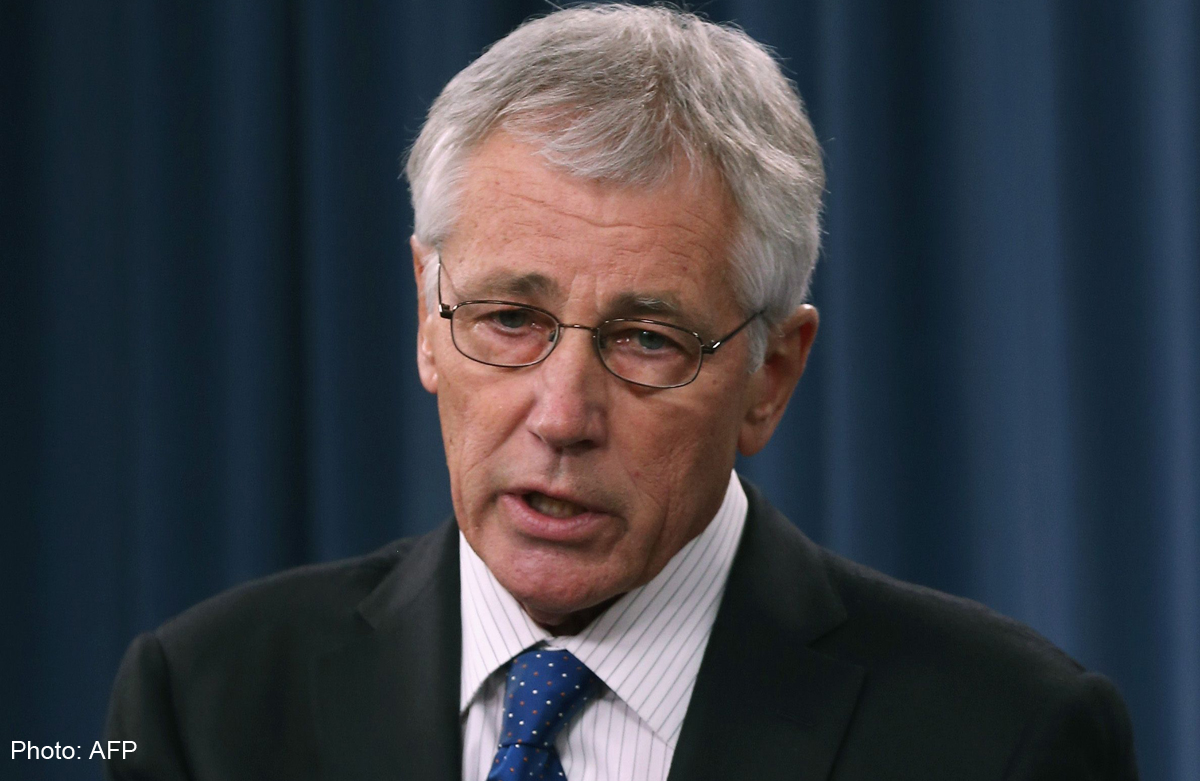 HONOLULU - The United States is scrapping plans for a Navy ship to join a fleet review in China after key ally, Japan, was not invited, US officials said on Thursday, in a move that came just ahead of Defence Secretary Chuck Hagel's trip to Japan and China.
The United States had been invited to participate in the fleet review - essentially a parade of ships - as part of activities linked to the Western Pacific Naval Symposium, which is being held this month in Qingdao, an eastern port city.
The United States will still participate in the naval symposium and will observe the review, one official said. "We're not going to put a ship in the actual parade. We'll observe the parade," the US official told Reuters, speaking on condition of anonymity, adding the decision was taken last week and came after a request by ally Japan.
Japanese Defence Minister Itsunori Onodera told a news conference on Friday that Japan would take part in the regularly held naval symposium but confirmed that it had not been invited to the fleet review. "Japan is responding calmly but it is unfortunate that China took such approach," he said.
The US decision was another sign of troubled Sino-Japanese ties, chilled by a territorial dispute over a group of East China Sea islets.
It also shows the tricky balancing act facing Hagel over the next week as he moves to reassure Tokyo of Washington's commitment to its security while seeking better ties with Beijing. Hagel leaves on Friday on a trip to Japan, China and Mongolia.
China's territorial disputes with its neighbours were front and centre for Hagel as he hosted talks in Hawaii with defence ministers from Southeast Asian nations, grappling with assertive Chinese military moves in the South China Sea.
"I told the ministers that the United States is increasingly concerned about the instability arising from the territorial disputes in the South China Sea," Hagel said at a news conference, calling for all sides to avoid resorting to the"threat of force, or intimidation, or coercion."
The US State Department has accused China's coastguard of harassment of Philippine vessels and called its attempt on Saturday to block a Philippine resupply mission to the Second Thomas Shoal, a disputed atoll, provocative and destabilizing.
Earlier on Thursday, Daniel Russel, President Barack Obama's diplomatic point man for East Asia, said that while the United States did not take a position on rival territorial claims in East Asia, China should be in no doubt about Washington's resolve to defend its allies if necessary.
Hagel said he would speak candidly and directly with officials from China when he travels to Beijing next week and would encourage "responsible behaviour."
"The South China Sea, East China Sea - we have differences there. We talk about those differences," Hagel said as he wrapped up three days of informal talks with ministers from the 10-member Association of Southeast Asian Nations (ASEAN).
The ASEAN meeting as well as other steps to enhance the US military's posture in the Asia-Pacific have been viewed suspiciously by Beijing, which is hiking military spending. But Hagel rejected the idea that such moves were to counter China.
"This visit was not a visit to contain China," Hagel said. "This area represents tremendous opportunities. The three largest economies in the world are here in the Asia-Pacific - China, Japan and the United States."
Hagel said he would encourage China to follow international norms and looked forward to a chance to "sit down, close the door, and talk very clearly and directly to our friends."
"And I consider the Chinese as friends. We have differences. We are competitors. We disagree in areas. But we're certainly not enemies," Hagel said. "We're doing a lot of things together where we can find some common interests." US President Barack Obama is due to visit Japan, South Korea, Malaysia and the Philippines from April 22.