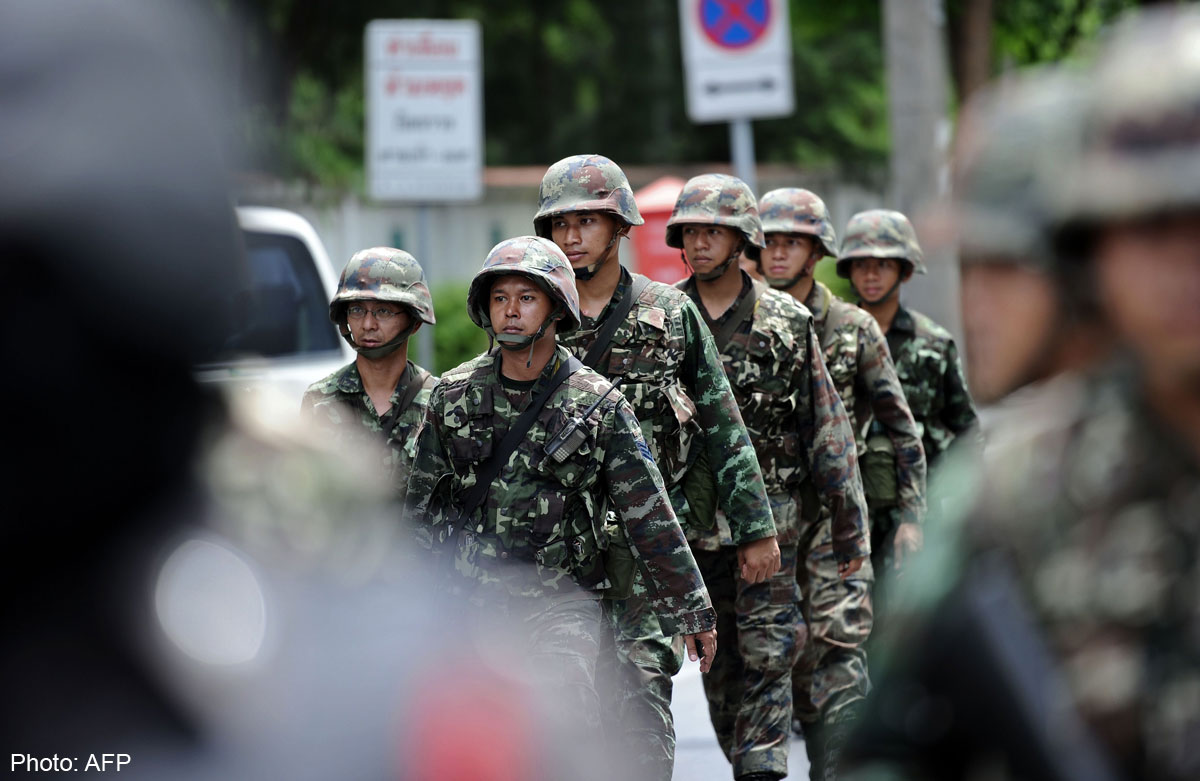 WASHINGTON - The United States on Friday suspended one-third of its aid to ally Thailand after a coup and cautioned tourists as international calls mounted for a return to civilian rule.
Moving swiftly a day after the military seized power, Washington said it froze $3.5 million (S$4.4 million) in military assistance out of around US$10.5 million in total aid to America's oldest treaty-bound ally in Asia.
The United States contacted junta leaders and urged "the immediate restoration of civilian rule, a return to democracy and, obviously, respect for human rights during this period of uncertainty," State Department spokeswoman Marie Harf told reporters.
Washington had warned the Thai military, long a central player in the kingdom, to stay on the sidelines despite years of political upheaval.
Secretary of State John Kerry voiced disappointment Thursday and said the coup had "no justification."
Japan, by far Thailand's biggest foreign investor overall, described the coup as "regrettable."
"Our country wants to call strongly for a prompt restoration of a democratic political system," added Chief Cabinet Secretary Yoshihide Suga.
Japanese auto giants that have invested heavily in Thailand were forced to stop night operations at their factories to comply with a curfew imposed by the new junta
Toyota, the world's number one carmaker which produces 670,000 cars a year in Thailand, said the curfew had halted production at all three of its local assembly plants late Thursday.
Honda Motor also curtailed operations at its plant on Thursday, stopping four hours ahead of its original planned shutdown at midnight, a spokeswoman said.
But the military regime had granted permission to Toyota for Friday's night shift to go ahead, the Japanese firm said.
Indian foreign ministry spokesman Syed Akbaruddin also voiced concern and said some Indian troops in Thailand for exercises had been advised to return.
'Unpredictable and volatile'
Thailand, while a US ally, has warmer relations than several of its neighbors with China, whose traditional stance has been to avoid "interference" in other nations' affairs.
Beijing called for restraint but, as in a previous coup in 2006, refrained from criticizing Thailand's military.
"China and Thailand are friendly neighbors. We hope to see normal social order to be restored as soon as possible in Thailand," foreign ministry spokesman Hong Lei told reporters.
The European Union, another of Thailand's top trading partners, expressed "extreme concern" and demanded a rapid return to democracy, while Australia said it was "gravely concerned" at the army's seizure of power.
"It is a volatile situation. We are monitoring it closely but people need to pay close attention to their personal security and their travel plans," Foreign Minister Julie Bishop told ABC radio.
The United States toughened its travel advice, joining Hong Kong, Malaysia and Singapore in urging its tourists to reconsider travel.
The State Department said US government officials had suspended non-essential visits to Thailand until further notice.
Some 2.99 million Malaysians visited Thailand last year, more than any country except China. Hong Kong's Travel Industry Council said all group tours would be canceled from May 24 to May 30, affecting 1,300 people. Singapore's foreign ministry warned in a statement that Thailand's situation was "unpredictable and volatile, and may evolve quite rapidly."
However, most other countries urged citizens to exercise caution without calling on them to defer travel. Tourism is a major industry for the sun-kissed kingdom, which welcomed 26.7 million visitors last year.
Indonesia, Southeast Asia's largest economy, said it was following developments "with deep and profound concern" and that it would seek the intervention of the Association of Southeast Asian Nations, of which Thailand is a leading member.
ASEAN is traditionally loath to get involved in its members' internal affairs. But Indonesia stressed that the bloc's charter "emphasizes adherence to democratic principles and constitutional government" and so the coup merited engagement by the region.