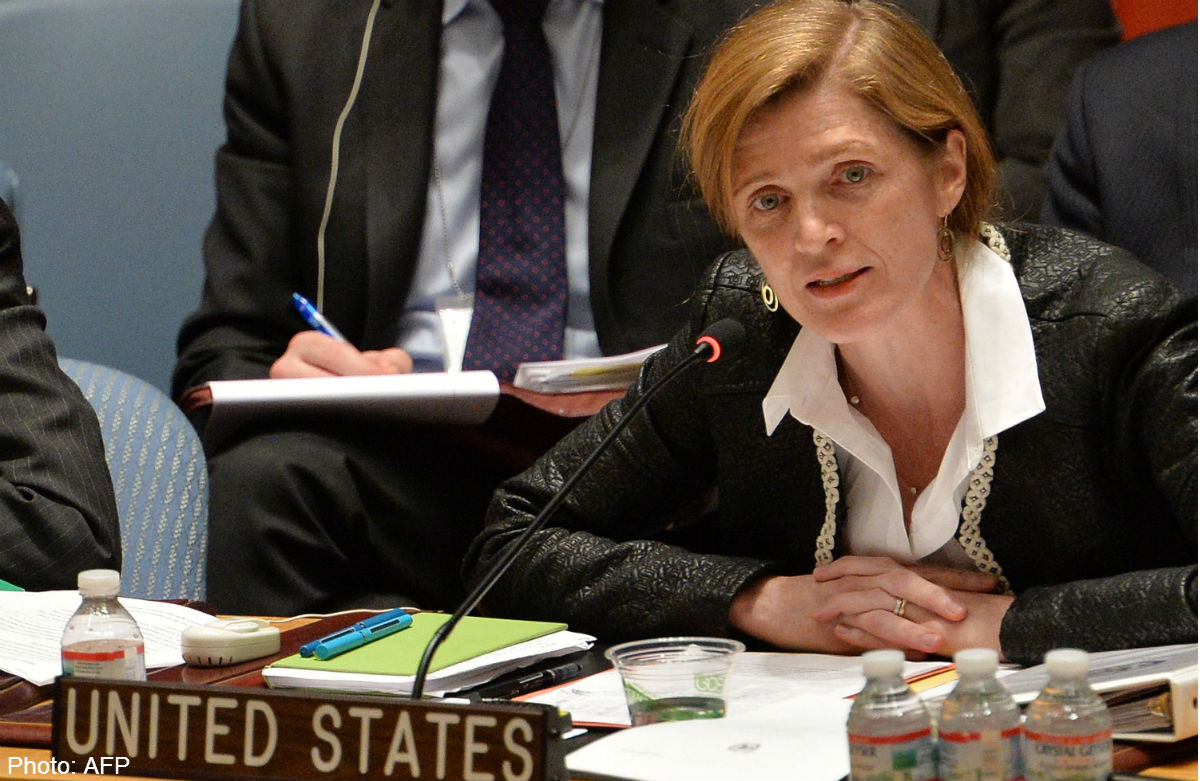 UNITED NATIONS, United States- The US envoy to the United Nations warned Wednesday that America was ready to slap a fresh round of sanctions on Russia over its "aggression" and "provocations" in Ukraine.
During a debate on Ukraine at the UN Security Council, Samantha Power charged that "what happened in Crimea cannot be repeated in other parts of Ukraine," a reference to the country's eastern Russian-speaking regions.
She spoke after a defiant Russian President Vladimir Putin brushed aside global indignation and Western sanctions to sign a treaty absorbing Crimea and expanding Russia's borders for the first time since World War II.
"A thief can steal property, but that does not confer the right of ownership on the thief," Power said in New York.
"What Russia has done is wrong as a matter of law, wrong as a matter of history, wrong as a matter of policy, and dangerous."
An outraged Russian Ambassador Vitaly Churkin charged that Power "dropped to the level of the tabloid press." "It is simply unacceptable to listen to these insults addressed to our country," he added.
"If the delegation of the US expects our cooperation in the Security Council on other issues, Mrs Power must understand this quite clearly."
Pro-Russian forces, meanwhile, seized Ukraine's naval headquarters in Crimea and captured the Ukrainian naval commander in the region.
Dozens of despondent Ukrainian soldiers filed out of the base in the Black Sea port city of Sevastopol after its storming by hundreds of pro-Kremlin protesters and Russian troops.
France's UN envoy Gerard Araud backed Power, saying that "seizing territory by force or even just threatening to do so will not be recognised." He hoped for international calls on Russia to "stop its maneuvers" and stressed the "need for Moscow to open direct communication channels with Kiev."
"We continue to call Russia to reason," Araud added.
Churkin did not respond to the call, instead justifying once more the Crimean Peninsula's referendum to break away from Ukraine and rejoin Russia.
"A historic injustice has been righted," Churkin said, referring to the Soviet-era decision by Nikita Khrushchev to hand Crimea to what is now Ukraine.
"The people of Crimea made their choice, and this choice must be respected." Ukraine's envoy Yuriy Sergeyev scorned the "illegitimate" Crimean referendum and the region's annexation to Russia.
"We... ask the civilized world not to recognise them," he added.
The council has failed to reach agreement on Ukraine, Russia having used its veto power to block a Western-backed resolution.