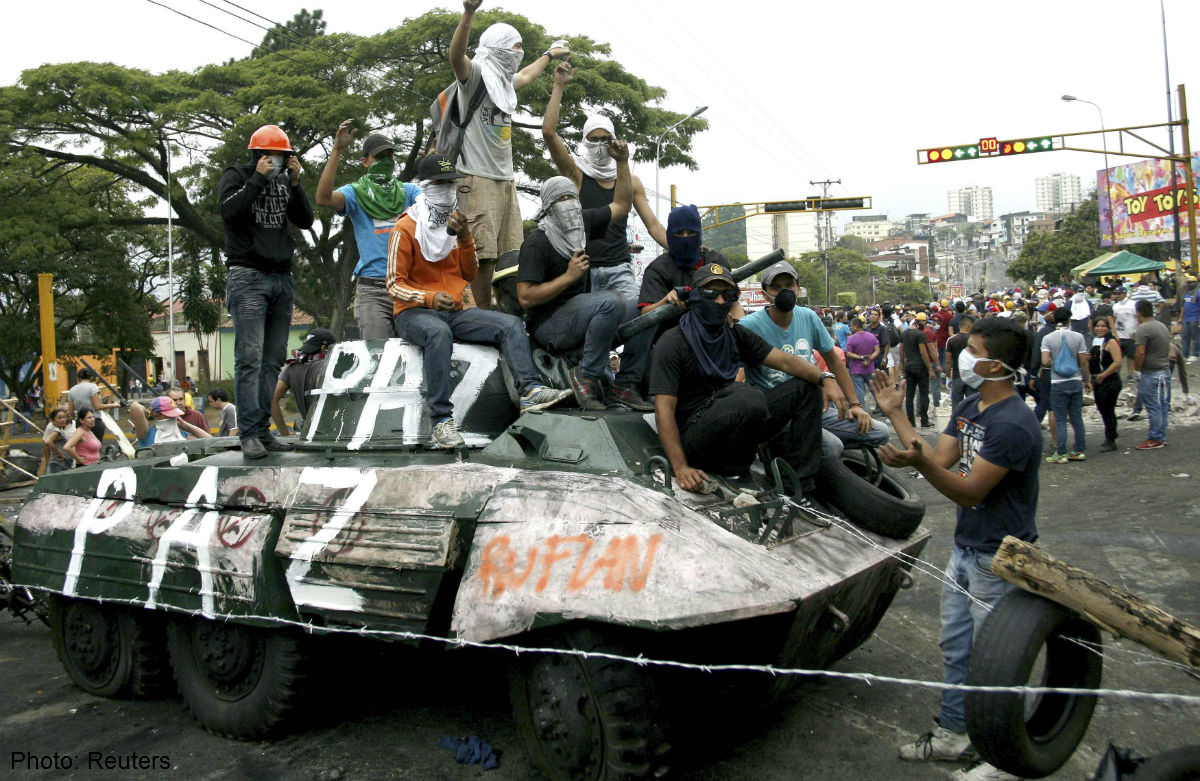 CARACAS, Venezuela - The Venezuelan government ordered paratroopers Thursday to a border city where growing student protests began over two weeks ago, with President Nicolas Maduro angrily rejecting US calls for dialogue.
The nationwide demonstrations, led by students and the opposition, have left at least four people dead and dozens hurt in the biggest challenge to Maduro since he took power from the late Hugo Chavez last year.
There have been near-daily protests and rallies, some of them violent, in the capital Caracas and other cities, over what Maduro's critics say are deteriorating economic conditions, rampant street crime, corruption and bleak job prospects.
Maduro's leftist government - which is sitting on the world's largest proven oil reserves - rushed a battalion of paratroopers to the city of San Cristobal, birthplace of the demonstrations that began on February 4.
The military response came in response to claims from the government that Colombians were crossing the border there "to carry out paramilitary missions" in Venezuela.
Shops were closed and streets eerie in San Cristobal, capital of the western border state of Tachira, where there have been almost daily clashes between protesters and security forces.
Maduro meanwhile threatened to block CNN over what he called the US broadcaster's "propaganda war," and shot back at Barack Obama, who has urged Venezuela to release detained protesters and address the "legitimate grievances" of its people.
Maduro's government said it "emphatically repudiates" Obama's remarks, accusing the US president of "a new and crude interference in the internal affairs of our country."
On Sunday, Maduro ordered the expulsion of three US diplomats, accusing them of meeting student leaders to conspire under the guise of offering them visas. Washington denies the allegations.
Maduro also came under attack from US pop icon Madonna, who Thursday accused Maduro's government of "fascism" over its handling of the roiling demonstrations.
- White for peace -
Opposition leader Henrique Capriles, who has kept a low profile during the protests, challenged Maduro to prove his claims that the demonstrations were part of a conspiracy to overthrow his government.
"Is this a coup or an auto-coup?" he asked. "The only one who has talked about a coup d'etat has been the government. It is a fabrication by government actors," he said.
Prominent opposition leader Leopoldo Lopez, who has helped spearhead the protests, is being held at a military jail where his lawyers say he could remain for up to 45 days awaiting trial.
Lopez, a 42-year-old Harvard-educated economist, has been charged with instigating violence, property damage and criminal association - but not murder, as had been threatened.
Student protest leaders called Thursday for a march for peace, urging "Venezuelan civil society to respond to the violence with white flowers."
The students convened a rally, with flowers, in Las Mercedes, an upscale Caracas neighborhood of embassies, trendy restaurants and luxury condominiums.
But their plea fell on deaf ears, with yet more disturbances in other parts of the capital.
- Tear gas fired -
Late Wednesday in Caracas, police fired tear gas and buckshot to disperse hundreds of anti-government protesters. Burning barricades, police assaults, and intimidating sweeps by pro-government civilians on motorcycles kept residents on edge through the night.
The archbishop of Caracas appealed to the government to rein in "armed groups" who he said were "acting freely, with impunity."
"How is it possible that there could be eight or nine wounded in Valencia and a girl dead in the vilest manner simply because an armed group attacked a peaceful protest," Cardinal Jorge Urosa Savino said.
He was referring to the latest fatality - a 21-year-old beauty queen who was shot in the head Tuesday at a protest rally in the northern city of Valencia.
When reports first linked violence in an earlier shooting incident February 12 to armed groups that appeared to be working in concert with security forces, Maduro said those groups had no place on the government's side.
"I do not accept violent groups in the Chavismo camp," he said.