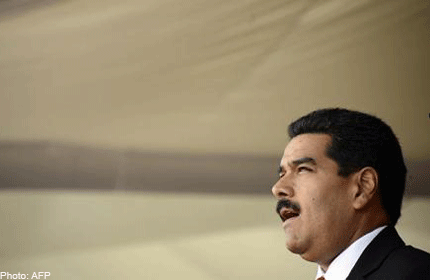 CARACAS - Venezuelan President Nicolas Maduro on Tuesday announced that he will visit China between September 21-24 to discuss bilateral business and to work on what he touted as "new geopolitics."
Maduro said he will meet with his Chinese counterpart Xi Jinping, in a bid to "strengthen strategic relations."
The Venezuelan president made the announcement to lawmakers in a letter requesting permission to travel, pledging to work on building "a multipolar, balanced world ... and on guaranteeing world peace."
Venezuela is negotiating a new $5 billion financing deal for oil sector development projects. China is Venezuela's second biggest economic partner with $20 billion in bilateral trade in 2012.
"At the moment, we look good in the higher winds," Kramers said. "Maybe they look good in lower winds. That might change in the coming days." The Oracle team made about a half-dozen changes to its catamaran in moves that improved its performance in what had proven to be a pivotal upwind leg of the race where the Kiwis were dominating.
"There are still two races out there for us to catch," New Zealand's Holroyd said. "That is still an undertaking. We've got to keep making good decisions."
The America's Cup, first contested in 1851, has been held since 2010 by Oracle team owner Ellison.
The technology industry titan, whose personal fortune is estimated at some $40 billion (30.6 billion euros, 26.3 billion pounds) beat the giant Swiss catamaran Alinghi 2-0 three years ago in Valencia, Spain, with a 30-metre-long (98-feet) rigid wing trimaran.
Ellison brought the regatta to San Francisco, setting the scene for high-speed AC72 catamarans to race this year.
Only two challengers, from Italy and Sweden, competed with the Kiwis in the challenger series, in part because of the high cost of setting up an America's Cup contender.
If the Kiwis win, they will decide where the next regatta takes place and what type of boats are used.