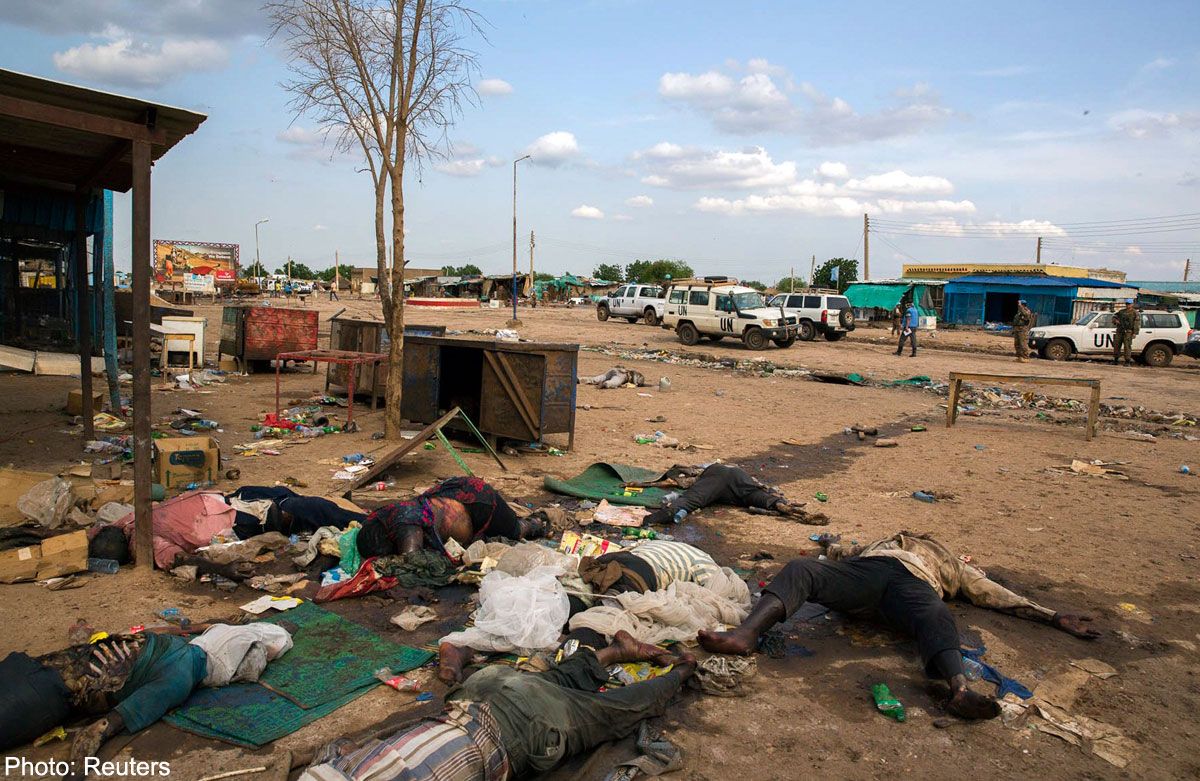 JUBA - The White House expressed horror at what it called the "abomination" of spiralling violence in South Sudan's civil war, where rebels have been accused of massacring hundreds of civilians.
The rebels seized the town and oil-hub of Bentiu last week, unleashing two days of ethnic slaughter as they hunted down civilians sheltering in mosques, churches and a hospital, butchering dozens on the roadside, according to the United Nations.
"We are horrified by reports out of South Sudan that fighters aligned with rebel leader Riek Machar massacred hundreds of innocent civilians last week in Bentiu," White House spokesman Jay Carney said.
"These acts of violence are an abomination. They are a betrayal of the trust the South Sudanese people have put in their leaders," he said.
"Images and accounts of the attacks shock the conscience: stacks of bodies found dead inside a mosque, patients murdered at a hospital, and dozens more shot and killed in the streets and at a church - apparently due to their ethnicity and nationality - while hate speech was broadcast on local radio," Carney added, noting the dead have been buried in mass graves and populations of camps for displaced persons have surged.
The UN said the killings continued for almost two days after the rebels issued a statement boasting of victory in Bentiu, a time when rebel spokesman Lul Ruai Koang previously said gunmen were "mopping and cleaning up" in the town.
South Sudan's army has been fighting rebels loyal to sacked vice president Riek Machar since the unrest broke out more than four months ago.
The conflict has taken on an ethnic dimension, pitting President Salva Kiir's Dinka tribe against militia forces from Machar's Nuer people.
The White House called on Kiir and Machar to "make clear that attacks on civilians are unacceptable, perpetrators of violence on both sides must be brought to justice, and the cycle of violence that has plagued South Sudan for too long must come to an end".
However, Koang praised the "gallant forces" of the insurgents, who the UN said were driven by calls over local radio to rape women from the opposition ethnic group and drive out rivals from the town.
Piles of bodies
The rebels, however, blamed retreating government troops for the atrocities.
"The government forces and their allies committed these heinous crimes while retreating," Koang said, adding that the rebel offensive targeting oil fields was continuing.
The scale of killings in Bentiu is one of the worst atrocities in the four-month conflict, during which both sides have been implicated in massacres, rape and the recruitment of child soldiers. Last week gunmen in the government-held town of Bor also attacked a UN base sheltering civilians, killing at least 58 people.
Toby Lanzer, the top UN aid official in the country, told AFP after visiting Bentiu - capital of oil-producing Unity State - that he had witnessed the "most terrible sight".
"There are piles of bodies lining the streets where they had been executed, in the market, outside and inside places of worship... the majority wearing civilian clothes," Lanzer said Monday.
The United States, which was instrumental in helping South Sudan win independence from Khartoum in 2011, has threatened sanctions against those responsible for continuing the war.
Heavy fighting on Tuesday was also reported in the eastern state of Jonglei, and in Upper Nile in the northeast, with Aguer boasting the army had repulsed the attacks and killed scores of rebels.
In Bentiu, some 23,000 terrified civilians have crowded into the cramped UN peacekeeping base for protection, where under both fierce heat and heavy rains - and little if any shelter - they are surviving on just a litre (quart) of water a day each.
Jonathan Veitch, the UN children's agency chief in the country, warned of fatal water-borne diseases, saying that "children have endured unspeakable violence." The UN has said more than one million people are at risk of famine.
On Tuesday, 22 international aid agencies, including Oxfam, Care and the International Rescue Committee, issued a joint warning they were already witnessing "alarming rates of malnutrition".
The conflict in South Sudan has left thousands of people dead and forced around a million to flee their homes. Peace talks are due to restart in neighbouring Ethiopia later this month.