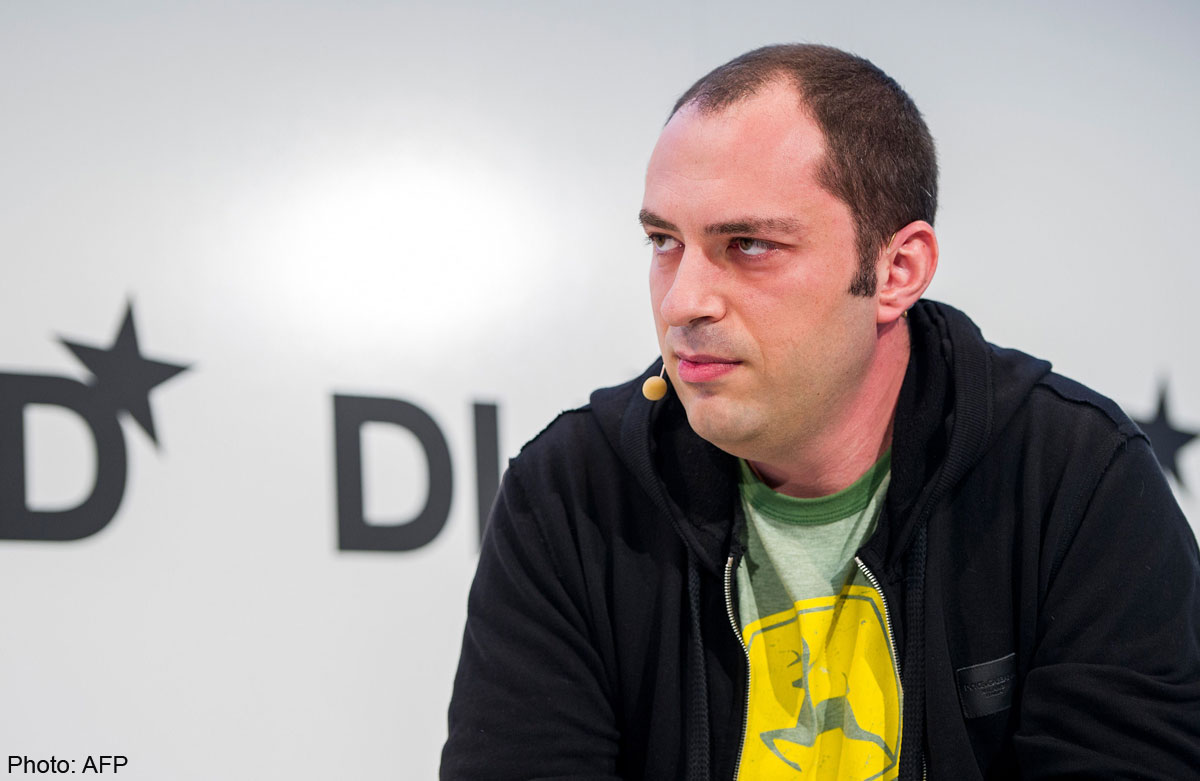 WhatsApp co-founder Jan Koum may have been putting pen to paper on the largest tech buyout in history, but he did not do it in a fancy conference room surrounded by lawyers and media.
He simply propped the contract on the door of an abandoned building to put his signature on it. The unassuming, blocky white building in California was once a welfare office, and the Ukraine-born Mr Koum picked it for the historic signing in a nod to his destitute past, according to Forbes.
As a teen, he used to queue up there for food stamps - government food subsidy coupons given to the needy.
Those days are long gone, of course.
Mr Koum, 37, is now the protagonist of one of the world's most extreme rags-to-riches stories.
Last week, he sold his five-year-old mobile messaging company to Facebook for an unprecedented US$19 billion (S$24 billion) - dwarfing all previous tech deals, including billion-dollar buyouts of Instagram, YouTube and Motorola. The valuation also means WhatsApp is now technically worth more than Singapore Airlines, CapitaLand and Keppel Corp.
Forbes estimates that Mr Koum owns 45 per cent of WhatsApp, which has about 450 million active users.
In comparison, Facebook, which has been around for a decade, has 1.23 billion users. At the age of 16, he came to the United States with his mother, a housewife, and they settled in Mountain View, California - the home of Google, LinkedIn and other tech giants. His father, a construction manager, never made it to the US, and he and his mother had to work odd jobs to make ends meet - she would baby-sit, while he swept the floor of a grocery store.
Still very much in touch with his Ukrainian roots, Mr Koum tweeted last month: "praying for peace and quick resolution to the crisis #ukraine #freedom".
Like such tech giants as Steve Jobs and Bill Gates, he also dropped out of college - San Jose State University, where he studied mathematics and computer science.
Then, in 1977, he met his co-founder Brian Acton. Mr Acton was employee No. 44 at Yahoo while Mr Koum was temping with accounting firm Ernst & Young. They sat across a desk from each other while Mr Koum inspected Yahoo's advertising system.
According to Wired magazine, Mr Acton, a computer-science graduate from Stanford, had worked at Yahoo on display advertising, shopping and travel, then keyword advertising. Mr Acton, 42, grew up in Florida with his mother, who owned an air-freight business, and his adoptive father who had dabbled in professional golf. About six months after their meeting, Mr Acton interviewed his would-be-partner for a job in systems security at Yahoo.
Mr Koum got the job. Their time together at Yahoo lasted about 10 years, during which they developed a close friendship. They quit together - on Oct 31, 2007 - as they had become disillusioned with the work. In a twist of irony, both subsequently applied to and were rejected by Facebook.
The two kept in touch even as they pursued separate interests, occasionally playing Ultimate Frisbee together. It was Mr Koum who registered WhatsApp as a company on his 33rd birthday, on Feb 24, 2009.
When it was first released in May that year, it was intended as a "status" app, to inform contacts if you were at the gym, or on a call at the moment. But the service started to evolve when Apple launched push notifications in its iPhone operating system and people started pinging each other with their status changes. "Being able to reach somebody half way across the world instantly, on a device that is always with you, was powerful," said Mr Koum.
Mr Acton joined the company as co-founder in November 2009. Their mutual dislike for ads, together with Mr Koum's deliberate decision not to collect user information - a result of his days living under communist rule when everything was tapped and tracked - ultimately led to the lean, no-questions-asked, ad-free messaging service it is today.
A handwritten note from Mr Acton, pinned at Mr Koum's desk, underscores their principles: "No Ads! No Games! No Gimmicks!" The service proved to be a hit and soon app stores were filled with competitors - Kik, WeChat, Line to name a few - trying to replace old SMS apps on smartphones
. Even as WhatsApp grew, the two kept a low profile, shunning media attention. In line with their disdain for seeing advertising, they did not create any of their own. Despite having hundreds of millions of users, WhatsApp never hired a PR manager.
The WhatsApp headquarters in Mountain View, California does not even have a sign. Writes Mr Jim Goetz, a partner at Sequoia Capital, which held an estimated 20 per cent to 30 per cent stake in WhatsApp: "As competitors promoted games and rushed to build platforms, Jan and Brian remained devoted to a clean, lightning-fast communications service that works flawlessly."
Perhaps a tweet best sums up Mr Koum's dislike for unsolicited pop-ups. Quoting from the 1999 movie Fight Club, he writes: "Advertising has us chasing cars and clothes, working jobs we hate so we can buy s**t we don't need."
The inherent contradiction between his principles and the ad-based, game-filled Facebook is not lost on Mr Koum, and he has since stressed that the product will remain independent.
Blogging about the sale this week, he wrote: "Here's what will change for you, our users: Nothing."
WhatsApp users who share Mr Koum's sentiments can only hope he will stick to his ethos.
simlinoi@sph.com.sg
Get a copy of The Straits Times or go to straitstimes.com for more stories.