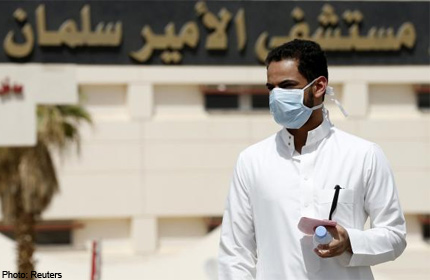 LONDON - An outbreak of deadly MERS virus infections remains a serious public health problem, the World Health Organisation said on Tuesday, but an upsurge in cases is abating and the disease does not constitute a global emergency.
The Middle East Respiratory Syndrome (MERS) virus, which causes coughing, fever and sometimes fatal pneumonia, has been reported in more than 800 patients, mainly in Saudi Arabia. It has spread to neighbouring countries and, in a few cases, to Europe, Asia and the United States. At least 315 people have died.
In a statement issued after the 6th meeting of its MERS emergency committee, the WHO said a surge in cases in Saudi Arabia that began in April has now decreased and "there is no evidence of sustained human-to-human transmission in communities". "There have been significant efforts made to strengthen infection prevention and control measures," it said. As a result, "the committee unanimously concluded that the conditions for a Public Health Emergency of International Concern (PHEIC) have not yet been met".
Global health regulations define a PHEIC as an extraordinary event that poses a risk to other WHO member states through the international spread of disease, and which may require a coordinated international response.
The WHO stressed, however, that the MERS situation continues to be "of concern", especially given an anticipated increase in travel to Saudi Arabia related to the pilgrimages and religious festivals of Umra, Ramadan and the haj.
Millions of people travel to Mecca each year for the haj, the pilgrimage which all Muslims must perform at least once in their lifetime, if they are able. This year's will take place in October.