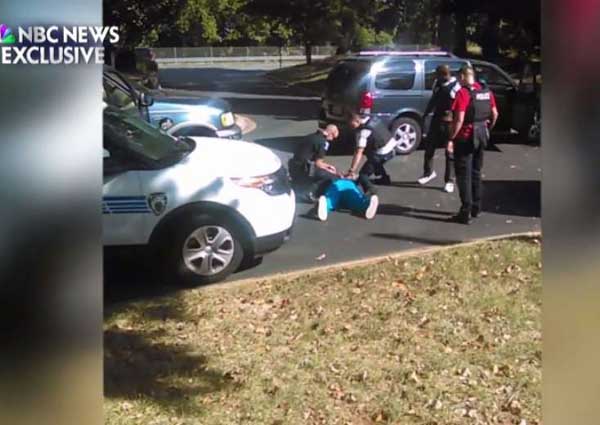 CHARLOTTE - The wife of the African American man whose death has triggered days of unrest in Charlotte, North Carolina, on Friday (Sept 23) released dramatic video footage of the moments before and after her husband was shot by police.
Police in the city have so far refused to publicly release their own body-cam and dashcam footage that they say shows Keith Lamont Scott posed a threat to officers.
The smartphone footage filmed by his wife Rakeyia Scott, released by her lawyers to the New York Times and NBC News, will add to mounting pressure on Charlotte authorities to make the video public.
Read also: Policewoman charged over killing of black man in Tulsa
The two-minute, 16-second clip does not show the shooting itself, but captures the moments leading up to it, as Scott's wife pleads with officers not to open fire.
"Don't shoot him. Don't shoot him, he has no weapon. He has no weapon. Don't shoot him," she is heard saying as the footage begins.
"He has a TBI, he's not going to do anything to you guys," she says, presumably referring to a traumatic brain injury.
Several neighbours have told AFP the 43-year-old Scott was disabled, and had a stutter among other issues.
As Scott's wife records, police are heard yelling "Drop the gun! Drop the gun!"
"Don't let them break the windows. Come on out the car," she asks her husband.
"Keith. Don't do it. Keith get out the car," she says.
"Keith. Don't you do it," she adds, a moment before the sound of four quick gunshots, at which point the phone is pointed away from the shooting.
Moments later, Scott is seen lying face down on the asphalt surrounded by officers.
"Did you shoot him? Did you shoot him?" Rakeyia Scott screams. "Did you shoot him? He better not be f***ing dead."
"I know that much, he better not be f***ing dead."
Scott at this point is seen lying motionless on the ground.
"I'm not coming near you, I'm gonna record you," his wife says.
"These are the police officers that shot my husband, and he better live. He better live, because he didn't do nothing to them."
The victim's family, along with many in Charlotte, dispute the police assertion that Scott was armed with a handgun. His family says he was holding a book.