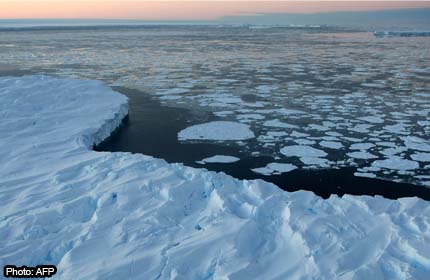 BERLIN - The chances of limiting global temperature increase to two degrees Celsius this century are swiftly diminishing, a new United Nations climate report warned Tuesday, ahead of the body's annual climate talks next week.
Global greenhouse gas emissions will be eight to 12 billion tonnes higher than target levels in 2020, even if surveyed countries stick to existing emission-reduction agreements, according to the UN Environment Programme (UNEP) report.
Scientists say avoiding the upper threshold of two degrees Celsius (3.6 degrees Fahrenheit) would avert the worst affects of climate change, but according to the report would likely require a slashing of emissions by 14 per cent in 2020.
"The challenge we face is neither a technical nor policy one," wrote UNEP chief Achim Steiner. "It is political: the current pace of action is simply insufficient." UNEP officials were to present the report at a news conference in Berlin later Tuesday.
The annual report projected 2020 greenhouse gas emissions would be about 59 billion tonnes, a billion tonnes higher than the estimate in last year's report.
New data from China and updated modelling were cited for the increase.
"Achieving the two degree goal is with every year less possible. Emissions always rise, even though they need to sink sharply," German Institute for International and Security Affairs researcher Oliver Geden told AFP.
The UNEP, however, said the goal was still technically possible.
The report highlights the agricultural sector, which contributes about 11 per cent of global greenhouse emissions, as an area largely untapped for emissions savings.
It named reducing tilling on farm fields and increased planting of trees and shrubs on agricultural land as among the strategies to eliminate up to four billion tonnes of greenhouse gases in 2020.
The report is being issued ahead of annual UN climate talks starting next week in Warsaw.
More than 190 countries will meet to set a timetable toward a new binding, global climate agreement to be signed in 2015 and go into effect in 2020.