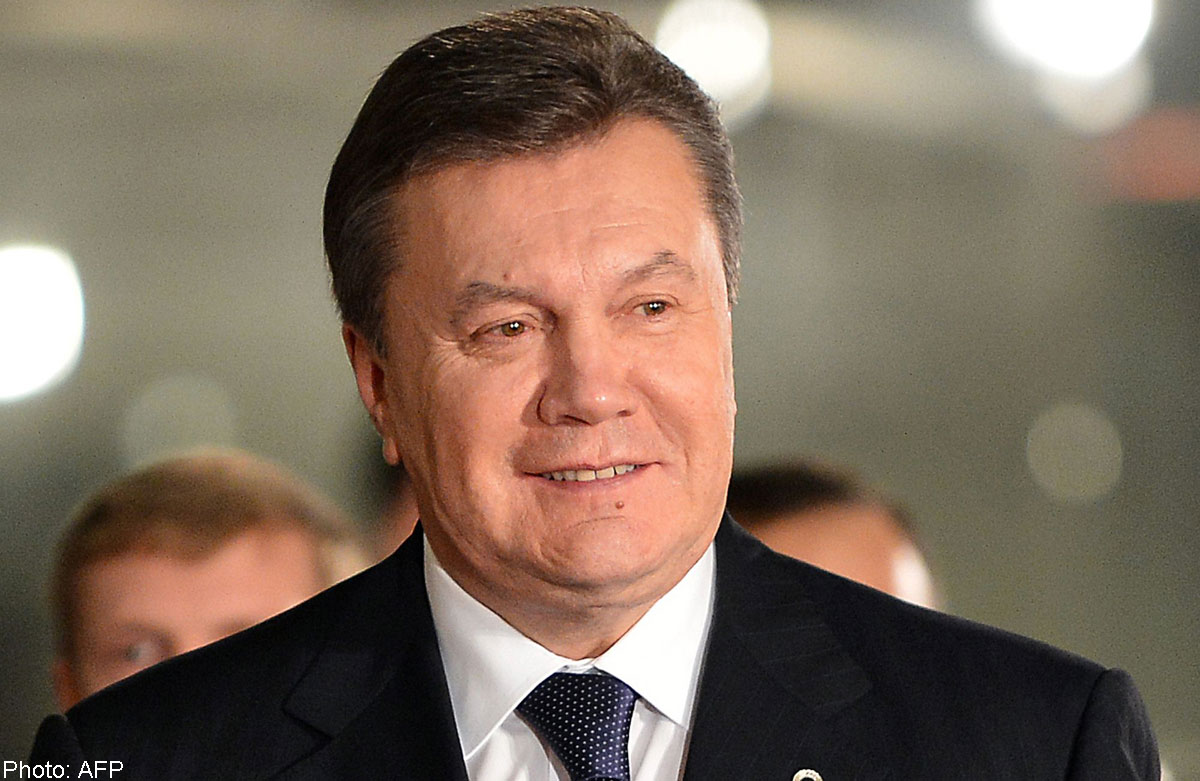 SIMFEROPOL, Ukraine - Armed men seized the regional government headquarters and Parliament in Ukraine's Crimea region yesterday and raised the Russian flag, alarming Kiev's new rulers, who warned Moscow not to abuse its navy base rights on the peninsula.
It was not immediately clear who was occupying the buildings in the regional capital Simferopol and they issued no demands, but witnesses said they spoke Russian and appeared to be ethnic Russian separatists. Interfax news agency quoted a witness as saying there were about 60 people inside, and they had many weapons.
Their action came on the same day that deposed Ukrainian president Viktor Yanukovych broke five days of silence to declare himself still Ukraine's head of state, as sources strongly indicated that he had taken refuge in Russia.
Mr Yanukovych issued a defiant statement through Russia's three main news agencies, saying he had asked Russia to ensure his personal security. He gave no clue as to his whereabouts.
"I, Viktor Fyodorovich Yanukovych, address the people of Ukraine. I still consider myself to be the legal head of the Ukrainian state," he said in his statement. "As the president, I did not let the armed forces of Ukraine interfere in internal political events. I order this now as well."
There were mixed signals from Moscow, which put fighter jets along its western borders on combat alert, but earlier said it would take part in discussions on an International Monetary Fund (IMF) financial package for Ukraine. Ukraine has said it needs US$35 billion (S$44.35 billion)over the next two years to stave off bankruptcy.
The fear of military escalation prompted expressions of concern from the West, with Nato secretary-general Anders Fogh Rasmussen urging Russia not to do anything that would "escalate tension or create misunderstanding".
Polish Foreign Minister Radoslaw Sikorski called the seizure of government buildings in the Crimea a "very dangerous game".
About 100 police officers gathered in front of the building, and a similar number of people carrying Russian flags later marched up to the building chanting "Russia, Russia" and holding a sign calling for a Crimean referendum.
One of them, Alexei, 30, said: "We have our own Constitution, Crimea is autonomous. The government in Kiev are fascists, and what they are doing is illegal ... We need to show our support for the guys inside (Parliament). Power should be ours."
Crimea is the last big bastion of opposition to the new political leadership in Kiev following the ouster of Mr Yanukovych on Saturday.
Part of Russia's Black Sea fleet is based in Crimea, in the port of Sevastopol, and Ukraine's new leaders have been voicing alarm over signs of separatism there.
Ukraine's Acting President Olexander Turchinov described the attackers as "criminals in military fatigues with automatic weapons".
He also called on Moscow not to violate the terms of an agreement that gives the Russian Black Sea fleet basing rights at Sevastopol until 2042.
Crimea is the only region of Ukraine where ethnic Russians are the majority, though many ethnic Ukrainians in other eastern areas speak Russian as their first language.