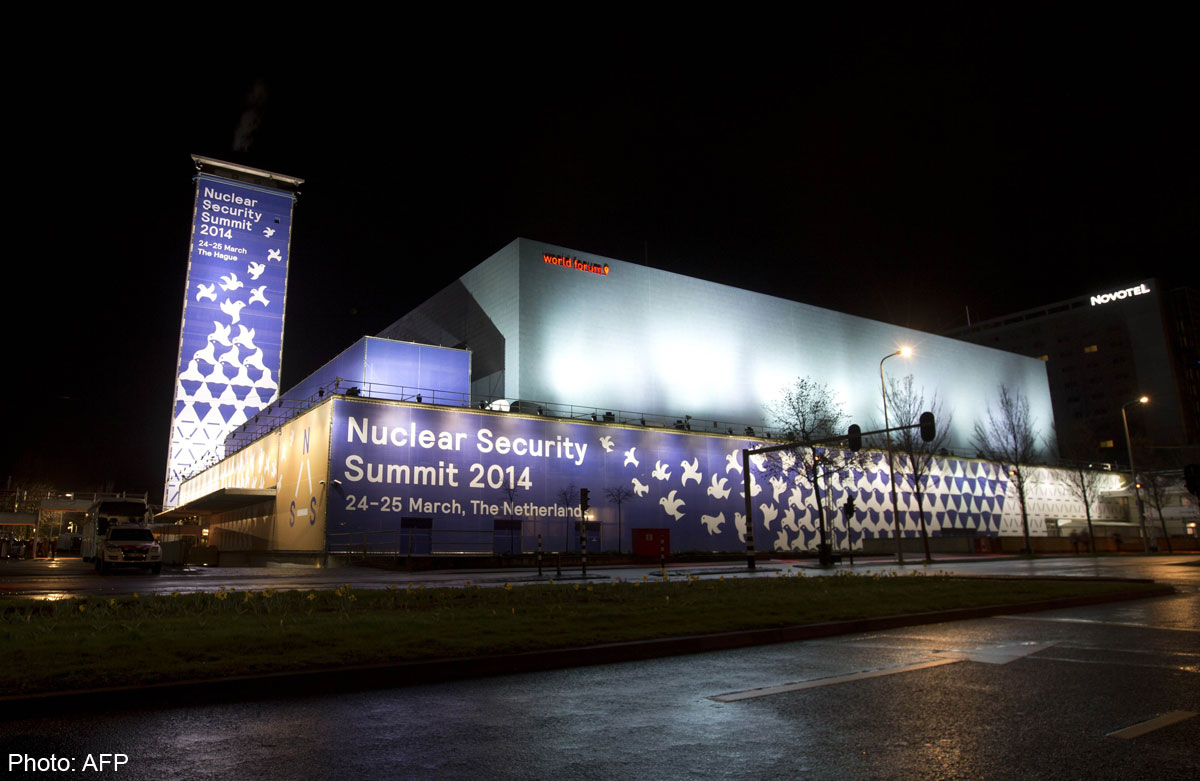 THE HAGUE - World leaders gather in The Hague on Monday for talks set to be dominated by the crisis in Ukraine, with Russia facing possible exclusion from the G8 club of rich nations as punishment for its actions.
US President Barack Obama has called an emergency Group of Seven summit to discuss what steps to take against Russia for its absorption of Crimea, which has forced Western leaders to rethink their relationship with Moscow after a post-Cold War period in which they sought to usher Moscow into the broader international community.
With Russia massing what NATO called a "very sizeable" force on its border with Ukraine, there are fears that President Vladimir Putin is hungry for more Ukrainian territory.
The growing crisis is expected to dominate a meeting originally set up to discuss on nuclear security.
On Monday, Russian Foreign Minister Sergei Lavrov is to meet US Secretary of State John Kerry on the sidelines of the Nuclear Security Summit for what may be their most tense talks to date.
It will be their first meeting since Washington imposed financial restrictions on the most powerful members of Putin's inner circle for their decision to resort to force in response to last month's fall of Ukraine's pro-Kremlin regime.
'No more G8'
Kerry has already warned that Moscow risks losing its coveted place among the G8 over its deployment of troops in Crimea.
British Prime Minister David Cameron said leaders from Canada, France, Germany, Italy, Japan and the United States - minus current G8 chairman Russia - must discuss the permanent expulsion of Russia from the group, to which it was admitted in 1998 as its reward for choosing a democratic post-Soviet course.
German Chancellor Angela Merkel said last week the political conditions were not in place for a G8 to exist, although her Foreign Minister Frank-Walter Steinmeier later said she had been referring to the June G8 summit in Russia.
Ukraine's interim premier, Arseniy Yatsenyuk, said Sunday he had cancelled plans to be in The Hague so he could hold talks with the IMF on a support programme for his crisis-hit country.
Ukraine's Western-backed leaders also voiced fears of an imminent Russian invasion of the eastern industrial heartland, following the fall of their last airbase in Crimea to Russian troops.
Saturday's takeover involving armoured personnel carriers and stun grenades provided the most spectacular show of force since the Kremlin sent troops into the heavily Russified peninsula three weeks ago before sealing its annexation Friday.
Dutch Prime Minister Mark Rutte insisted on Sunday that the G7 meeting would not detract from the aims of the two-day Nuclear Security Summit (NSS), with the G7 talks to wind up on Monday evening.
Leaders of 53 countries are gathering for the third bi-annual NSS, a brainchild of Obama, aimed at preventing a terrorist nuclear attack and reducing the world's non-military nuclear materials.
World leaders should be free on Tuesday to discuss securing the world's stocks of nuclear material to prevent a group like Al-Qaeda acquiring a nuclear or so-called 'dirty' bomb of conventional explosives wrapped in radioactive material.
Rutte said leaders were expected to hammer out a so-called "nuclear security architecture" plan to ensure that nuclear material "did not fall into the wrong hands."
South Korea, which hosted the 2012 NSS, the Netherlands and the US want to draw together best practice guidelines approved by the International Atomic Energy Agency for nuclear safety and security in a package that countries attending the summit can sign up to, although this is not expected to be included in the final statement.
Nuclear security is central to Obama's political legacy and in 2009 he called nuclear proliferation "one of the greatest threats to international security".
The final NSS is planned in Washington in 2016.