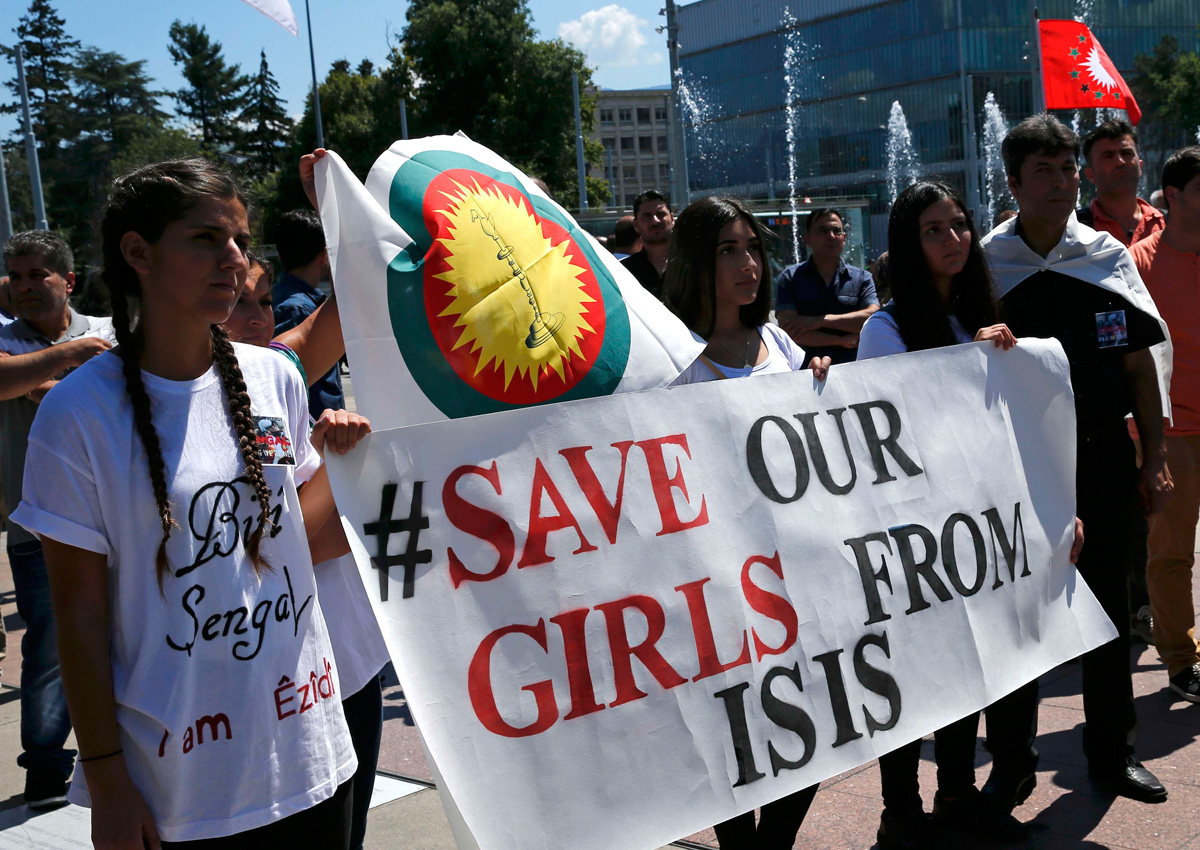 LONDON - The world has abandoned the Yazidi people of northern Iraq, leaving women and girls from the minority group to be brutalised at the hands of Islamic State, two Yazidi sisters told a conference in London.
"After 14 months the situation is the same, nothing has changed," said Vian Dakheel Saeed, the sole Yazidi member of Iraq's parliament. "Nobody supports us."
Islamic State militants attacked Yazidis in northwest Iraq in summer 2014, killing or capturing and enslaving thousands of the minority group.
The jihadist group has targeted with particular cruelty the Yazidis, whose ancient religion derives from Islam, Christianity and Zoroastrianism. They are regarded as devil-worshippers by the Sunni Muslim militants.
Some 5,800 Yazidi children and women have been captured by Islamic State, the politician told the Women in the World summit in London. Some 2,100 have been freed.
In an April 2015 report, watchdog Human Rights Watch described the systematic rape and other sexual violence against Yazidi women and girls in northern Iraq by Islamic State forces, including sexual slavery and forced marriage.
"I myself witnessed a 9-year-old girl who was raped and bled to death in front of her mother's eyes," said Delan Dakheel Saeed, the sister of the lawmaker. "There is not even a medical cure or physical cure, not even a mental cure," she said.
The 25-year-old, who is a doctor in Erbil in northern Iraq, works in refugee camps, particularly with girls raped by Islamic State fighters.
Nearly all of Iraq's half a million Yazidis have fled the Sinjar and Nineveh Plains districts, at times with the help of US and Iraqi strikes against Islamic State forces. They are now living in camps inside Iraq's northern Kurdistan region.
Vian Dakheel Saeed, who survived a helicopter crash while delivering aid to Yazidis on Mount Sinjar, gained international attention last year when she made an emotional plea to the Iraqi parliament to save her people.
It was the plight of Yazidis trapped on the mountain, together with Islamic State's advance towards the Kurdish capital Erbil, that prompted US President Barack Obama to order air strikes against Islamic State in Iraq in August 2014.
More than a year later, while battle lines have shifted, the suffering of Yazidis women and girls continues, Delan Dakheel Saeed said.
She described how many of the women, having escaped their ordeal, then face the decision of whether to abort pregnancies resulting from rape. "I will not stop, I will keep telling those stories, I will let people hear us," she said.
The current US-led air strikes in Iraq against Islamic State were not helping the Yazidis she said, and were "not in the area where they keep those girls."