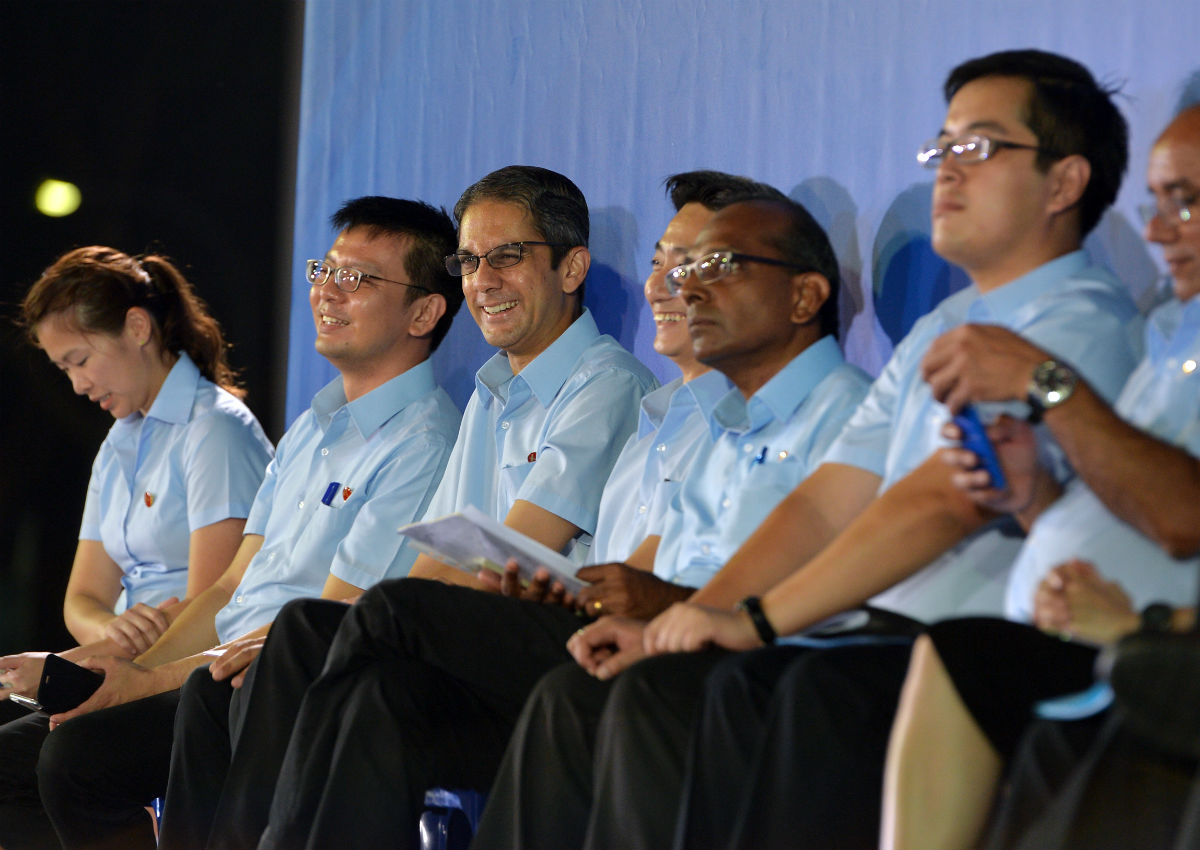 SINGAPORE - The third Workers' Party (WP) rally opened with three East Coast GRC candidates speaking out on hot-button issues such as public transport, housing, population, retirement savings, and low-income wages.
Sociology professor Daniel Goh, consultancy firm chief executive Leon Perera and Non-Constituency MP Gerald Giam touched on policy proposals found in the party's manifesto.
As Dr Goh brought up the 2013 Population White Paper titled A Sustainable Population For A Dynamic Singapore that the opposition party had voted against, he said the WP's focus was instead on a dynamic population for a sustainable Singapore.
This can be achieved by encouraging higher labour force participation by older workers and women, he added at the rally held in Yishun Stadium for the Nee Soon GRC.
"Think in terms of dynamic Singaporeans, empowered, confident to become productive workers," he said.
Economic growth fuelled by foreign workers benefits the top 10 per cent of Singapore more, he added.
In his speech, Mr Perera said that the Central Provident Fund Life monthly payouts were not enough for many senior citizens to retire comfortably.
The Government's solution is to "unlock the wealth in your home", he said. But this meant selling your home and incurring costs when moving to a new house. It also "uproots us from the community we grow up and want to grow old in".
Mr Perera also said the Government had "kicked the can down the road" and so the next generation has "to struggle with much higher property prices today".
"The People's Action Party is not an incompetent Government but sometimes gets it wrong. Sometimes any government gets it wrong," Mr Perera said. "It is easier to get things wrong when the Government is protected from will of people by crushing a dominant Parliament super-majority."
The other East Coast GRC candidate to speak, Non-Constituency MP Gerald Giam, repeated the call for a national minimum wage of about $1,000 to be implemented.
Studies showed that minimum wages set at "modest levels" do not lead to job loss. A wage floor of $1,000 is well within that range because it is 27 per cent of the median income in Singapore, he added.
The national minimum wage also seeks to complement the Workfare scheme so that the "Government and employers do their part to uplift the income of workers".
On transport, Mr Giam said the replacement of ageing parts of the MRT system such as sleepers and the third rail had been delayed.
Sleepers had a life span of 15 to 25 years, but the replacement works only started in 2012, more than 25 years after rail operations started, he said.
He called for a dedicated, not-for-profit entity to manage the rail and bus network so that it is insulated from profit pressure.
ziliang@sph.com.sg

This article was first published on September 4, 2015.
Get a copy of The Straits Times or go to straitstimes.com for more stories.
.