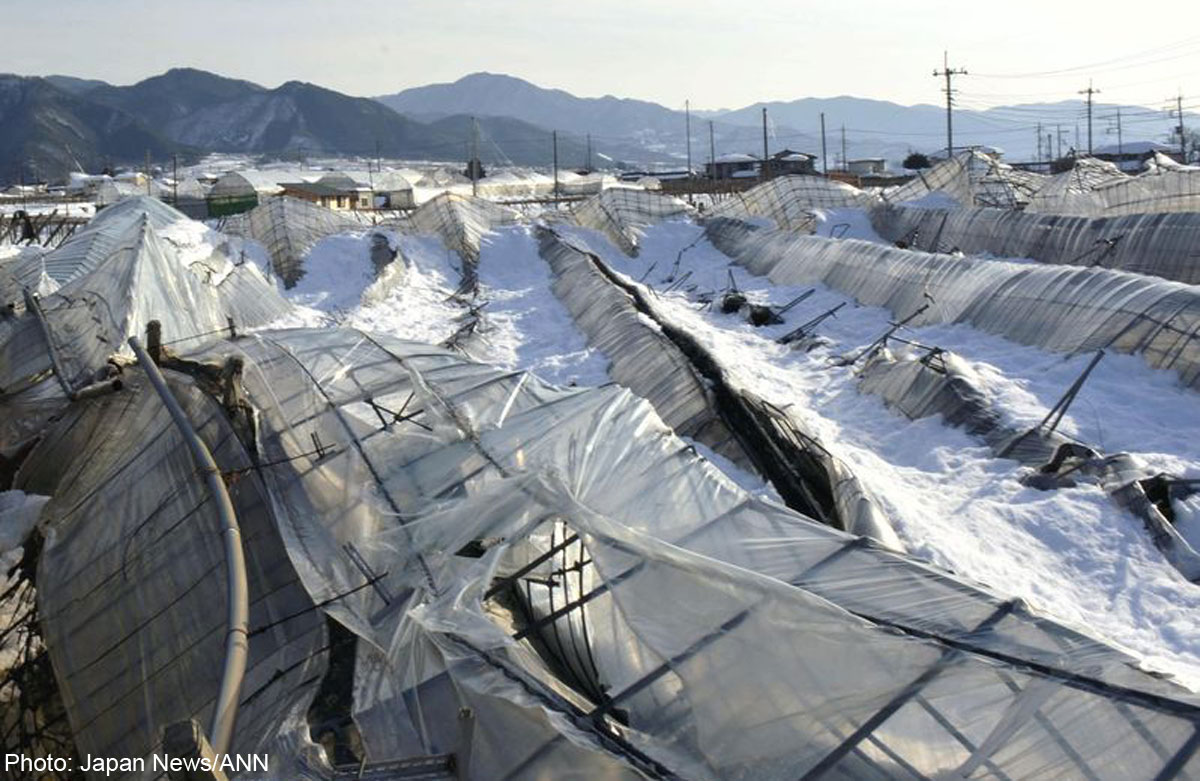 KOFU - Recent heavy snow has dealt a devastating blow to Yamanashi Prefecture, the biggest grape-production region in Japan.
About 40 per cent of greenhouses in the prefecture, mostly for grapes, have been damaged by the snow, giving local farmers worries about reconstruction.
Agricultural facilities covering 114.8 hectares were destroyed or partially damaged in the prefecture as of 4 p.m. Tuesday, according to the prefecture's agricultural policy department. The damage centred on greenhouses primarily used for grapes.
The heavy snow also affected entrance exams. Some universities plan to provide another opportunity for test takers from areas hit with heavy snow who could not travel to examination stations due to problems with public transport and other reasons.
In the Katsunuma district of Koshu in the prefecture, a 57-year-old man found his 27 hectares of greenhouses severely damaged on Saturday when he waded through the snowfall to check them. The man uses the greenhouses warmed by heaters to produce grapes intended to be eaten fresh. He said some grapes had already started budding in clusters.
"I don't know what I should do. I have no idea," the man lamented.
Another man, 58, who operates a vineyard for tourists in Katsunuma, said he heard a roaring sound when he was outside removing snow. When he turned around, he saw that the greenhouse had collapsed under the weight of snow. About 20 per cent of the 50 grape vines were crushed underneath.
"Building new grape trellises will cost 10 million yen (S$124,000)," the man said. "I'll be trapped in debt hell."
A total of 33 universities held entrance exams between Saturday and Monday in Tokyo and nine prefectures in eastern Japan, including Saitama Prefecture, according to the university admissions office of the Education, Culture, Sports, Science and Technology Ministry.
Eighteen universities, including Waseda University, decided to schedule another exam date for high school students and others who could not take the enrollment tests due to the heavy snow.
A total of about 500 test takers residing in Yamanashi Prefecture were unable to take an entrance exam for Hosei University in Chiyoda Ward, Tokyo, according to the university. The university sent letters notifying all the test takers in the prefecture who missed the test about the rescheduled exam.
"We offered the utmost consideration to the examinees," an official of the university's admission office said.
Chuo University in Hachioji, western Tokyo, announced Wednesday that it would hold another entrance exam for those who were affected by public transport troubles. The makeup exam will be held at the university's Tama campus on March 9. The tests are for those who missed the unified test for the liberal arts faculties held on Feb. 9 and those who missed tests held between Saturday and Monday for the faculties of economics, science and engineering, policy studies and commerce.