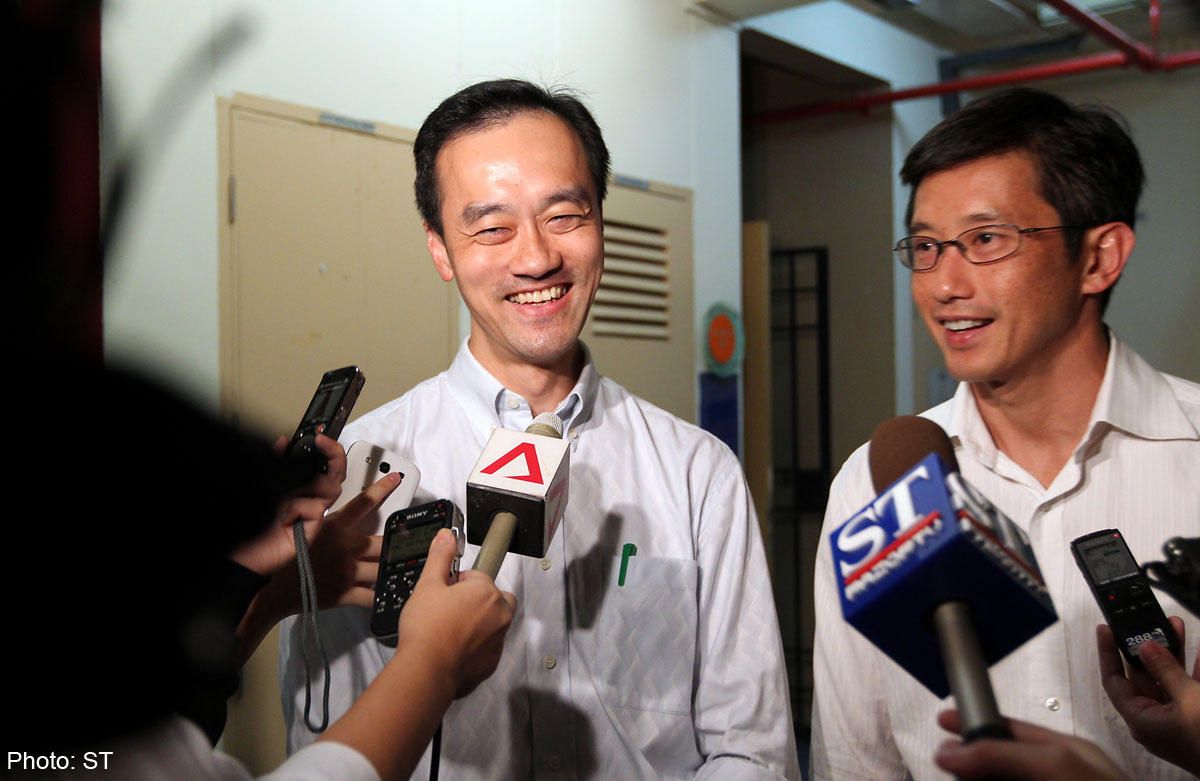 It was a robust year, with the two most represented political parties in Parliament crossing swords on a number of issues.
But the 2013 crown for politicKING should go to technology. This was the year technology showed it was not apolitical.
Left-leaning (everyone can afford it), technology shaped discussion and arm-twisted publicity-shy political leaders into selfies.
In the White Paper, even as the Government spoke of the need for immigrants to continue the many initiatives designed to look after Singaporeans, technology co-opted clueless people into wrapping the discussion around "Wah, so crowded."
Now any useful discussion of the economic need for a population boost must carefully circumnavigate the "crunch" mentality.
Technology exposed the scandalous.
The Punggol by-election came about after Mr Michael Palmer of the People's Action Party (PAP) resigned after admitting to a marital affair.
But Mr Palmer wasn't the first to quit over allegations of matrimonial mistakes in the post- 2011 general election period. Hougang's Yaw Shin Leong left after similar allegations were made. He disappeared with nary a response to the claims.
Technology was more benevolent in his case. It seems not all politicians need to be held to high standards. Just the ones in white.
How then was technology involved in the food centre cleaning bust-up between PAP and WP, or more specifically, the Aljunied-Hougang-Punggol East Town Council (AHPETC)?
And what of the AIM saga?
In both contests, netizens performed CSI (aka research) to tell their version of the truth.
Utilising a complex system based on the kindergarten past-time of "join the dots", they magically weaved logic. Netizens revealed that the person who complained about the food centre clean-up bill is actually a PAP supporter.
And the people behind AIM are retired PAP politicians earning a fat salary from a monopoly that sells software used to run PAP town councils.
Actually, these retired politicians earned nothing as directors. And it isn't unusual for town councils to engage their own to manage costs.
AHPETC hired companies belonging to its supporters. But in Orwellian fashion, PAP cannot, everyone else can.
Yes, technology has designs so insidious that not even the engineers who dreamed up the devices imagined it possible.
But former Prime Minister Lee Kuan Yew saw the signs in 1998. That year, students used e-mail to organise demonstrations which ended with the resignation of then-Indonesian president Suharto.
Mr Lee spoke then of the need for governments to understand how technology is used for politics.
He said: "However, they have to work the technology, not suppress it. Governments that try to fight the new technology will lose."
But governments struggled to make sense of it. SMS was used to oust then-president Estrada of the Philippines. The Arab Spring galvanised supporters and momentum on social media.
Technology, utilising ordinary people, will continue to shape the world it wants.
You might argue that it is people who use technology, not vice versa. But that would mean a smart person behind a smart phone and people who don't just talk online but step out into the offline world to make it a better place.
Pirate Bay co-founder Peter Sundre said in a recent interview with Wired magazine that nerds are the new elites, but they are also people too lazy to hit the streets to make a difference.
Technology will be in for a battle in 2014.
The Courts, Minister for Law and the Media Development Authority are examining how to update the "light touch" approach in the policing of communication technology. Some would label the exercise as a study in suppression.
No, it is technology, not ordinary people, that deserves the crown.
The Samsung is smart and the samseng is not.
Jan 26
WP wins Punggol by-election
Following former MP Michael Palmer's exit from Punggol-East after a sex scandal, Workers' Party candidate Lee Li Lian won the seat in a four-way fight.
Lee, 35, garnered 54.5 per cent of the votes, beating Dr Koh Poh Koon from the People's Action Party (PAP), who got 43.73 per cent.
Mr Kenneth Jeyaretnam (1.2 per cent) from the Reform Party and Mr Desmond Lim (0.57 per cent) from the Singapore Democratic Alliance had to forfeit their $14,500 election deposit as they failed to secure at least 12.5 per cent of the valid votes.
The win continued a swing against the PAP that started in the 2011 General Election. It slightly changed the balance in Parliament - the ruling party now has 80 seats to the WP's seven.
Jan 29
White Paper sparks protests
At the heart of the debate over the White Paper was the projected 6.5 to 6.9 million population by 2030.
This is to comprise a resident population of 4.2 to 4.4 million, of which 3.6 to 3.8 million are citizens and the rest, permanent residents.
Non-residents would make up about 2.3 to 2.5 million.
The 6.9 million figure alarmed some citizens, sparking three protests at Hong Lim Park, one with more than 4,000 people.
Prime Minister Lee Hsien Loong stressed that the figure had been taken out of context and assured Singaporeans that it was intended for the purpose of land use and infrastructure planning.
The amended Parliamentary motion that was passed said that the White Paper "supports maintaining a strong Singaporean core by encouraging more Singaporeans to get married and have children, supplemented by a calibrated pace of immigration to prevent the citizen population from shrinking".
May 13
The AIM saga
A war of words broke out between People's Action Party (PAP) and Workers' Party (WP) after the latter's Aljunied-Hougang Town Council (AHTC) got a red grade for chalking up arrears in service and conservancy charges - town councils' main source of income - and received no grade for corporate governance.
The WP blamed it on the Action Information Management's (AIM) terminating its town council management system contract with AHTC.
Also at issue was the sale of the software by PAP town councils to AIM, a PAP-owned company, in 2010.
A government review team later found there was no wrongdoing.
As a follow-up, National Development Minister Khaw Boon Wan announced in Parliament that Senior Minister of State for National Development and Trade and Industry Lee Yi Shyan will lead a comprehensive review of the law governing all town councils in Singapore.
May 28
MDA's rules ruffle feathers
In a move to regulate online media, the Media Development Authority (MDA) tweaked licensing rules that affected 10 online news sites.
Websites would be subjected to two new regulations: To remove content found breaching the content standards within 24 hours as directed by MDA, and to put up a performance bond of $50,000.
While this would not apply to personal blogs, about 100 sites took part in a 24-hour media blackout, Free My Internet, by replacing their homepages with a black screen.
MDA's move also riled the feathers of someone, claiming to be part of global hacker group Anonymous, who posted a video on YouTube threatening to hit out at Singapore's infrastructure.
Later in the year, two new online players, The Independent and The Breakfast Network, were also asked by the MDA to register. The Independent complied, while the latter opted to close.
June 9
Food centre clean-up turns messy
A hawker centre clean-up led to a war of words between Workers' Party (WP) chairman Sylvia Lim and Minister for the Environment and Water Resources Vivian Balakrishnan.
It started with hawkers at food centres in Blocks 511 and 538 of Bedok North Street 3 saying they had been told to pay extra for the cleaning of high areas, something they had never been asked to do in the past.
The two food centres in the Kaki Bukit ward of Aljunied GRC are managed by WP's Aljunied- Hougang-Punggol East Town Council (AHPETC).
WP chief Low Thia Kiang later called for all parties to move on.
But Prime Minister Lee Hsien Loong stepped in and said "we must take accusations of dishonesty against political leaders very seriously".
The issue died down after cleaning commenced at both hawker centres about two weeks later.
Get The New Paper for more stories.