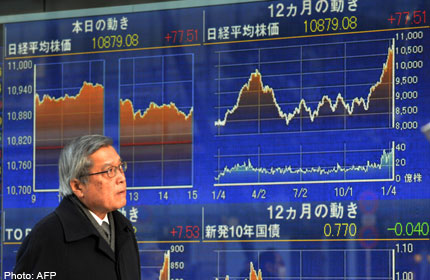 TOKYO - The yen extended a rebound Wednesday following multi-week declines after Japan's economy minister warned the unit's freefall could jeopardise any recovery in the world's number three economy.
In morning Tokyo trade, the dollar slipped to 88.23 yen against 88.80 yen in New York Tuesday afternoon, while the euro fetched 117.22 yen against 118.14 yen in US trading.
The euro slipped to $1.3285 from $1.3304 after a top European official said the 17-nation currency was "dangerously" overvalued.
Japan's new Prime Minister Shinzo Abe came to power last month with promises of massive spending and calls for aggressive central bank easing to boost the economy, pushing the yen into a steep decline. Easing tends to weaken the unit.
Three months ago, the dollar traded below the 79 yen level, after hitting a low around 75 yen in late 2011, sparking appeals for action from Japan's exporters whose products become pricier overseas when the unit is strong.
However, Japan's Economy Minister Akira Amari warned Tuesday that the yen's fast decline could hurt consumers by making imports more expensive as the economy struggles to cement a recovery.
"Obviously, an excessively weak yen will be reflected in import prices," Amari told a regular Tokyo press briefing.
"It might help exports, but it could also have negative effects on the lives of the public." After the comments, the yen began its strong rebound Tuesday afternoon.
A weak yen would also hike Tokyo's already high energy bills since the nation turned to pricey fossil-fuel imports after shutting down nuclear reactors following the 2011 Fukushima atomic crisis.
The euro had been surging since late last week when European Central Bank chief Mario Draghi said there was "a significant improvement in financial market conditions" in the single currency bloc.
But the 17-nation unit reversed course Wednesday after a report quoting Jean-Claude Juncker, head of the eurozone finance ministers' group and Luxembourg prime minister, as saying the euro is "dangerously high".
His comments mean "the potential for bouts of risk aversion... will likely bring about, ironically, periodic bouts of USD strength", National Australia Bank said in a note.
Also weighing on the euro was poor German data showing Europe's top economy shrank by about 0.5 per cent in the fourth quarter of last year.
The dollar's mixed showing came after upbeat data Tuesday showed US retail sales in December rose 0.5 per cent from November.
Markets were also looking ahead to fourth-quarter Chinese growth data later this week, which analysts hope will confirm that the world's number two economy is picking up.