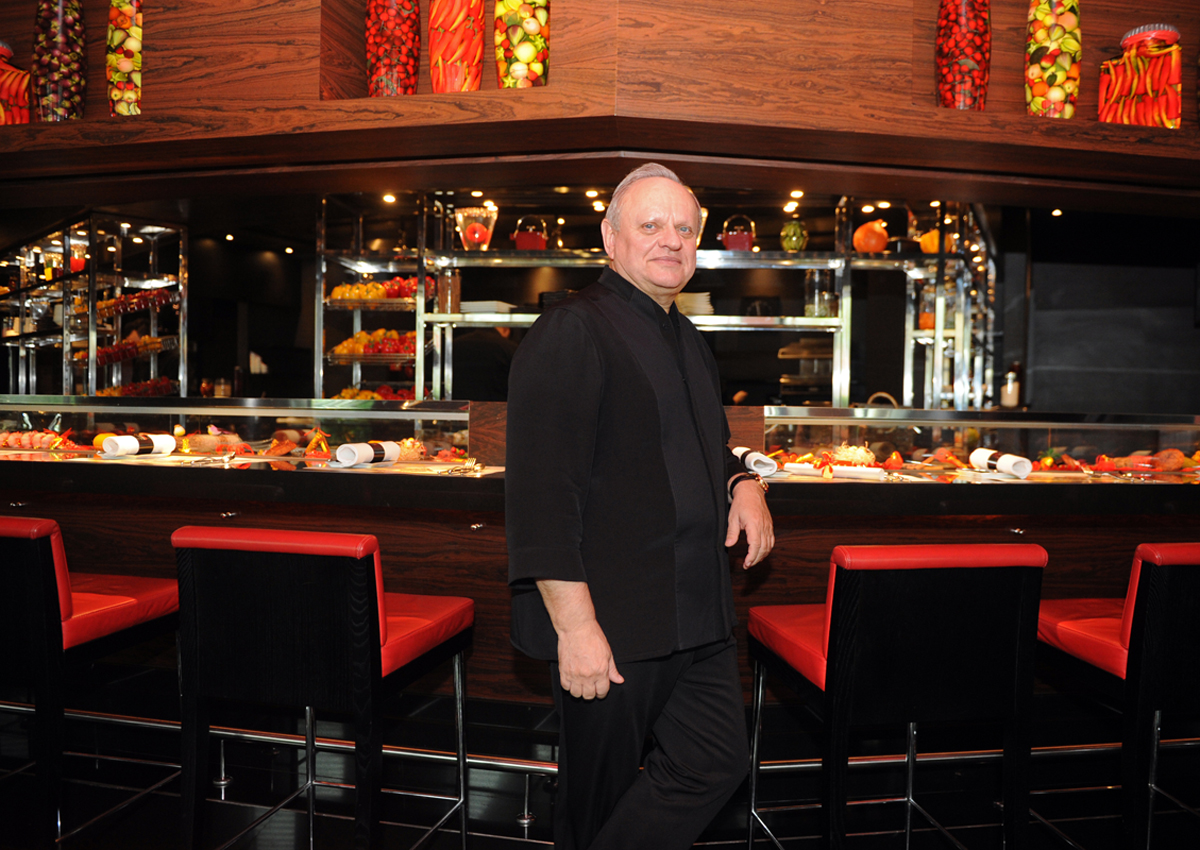 As anticipation builds up over the Michelin Guide's debut here this year, there is no better authority to talk about it than the chef with the most Michelin stars.
French chef Joel Robuchon, who has more than 25 Michelin stars to his name and about 20 establishments around the globe, expects a period of "destabilisation" in the scene here, based on his experiences.
"Unknown restaurants could get a better ranking than those that are famous. Very often, this is not accepted well by restaurateurs. There may be a transition time when people may be a bit upset about their ranking. But it doesn't leave you indifferent," says the 70-year-old chef in French, translated by his right-hand man, group executive chef Philippe Braun.
Robuchon says the guide makes an impact, citing his experience at his eponymous restaurant at the MGM Grand in Las Vegas.
"When I first opened the restaurant, it was almost empty," he says. "As soon as I got three stars, three years after opening, the restaurant was full all the time."
And even the man given the title "Chef of the Century" by the guide Gault Millau in 1989, also gets the jitters before the stars are announced.
For his restaurant in Bordeaux, which opened a year ago, he says: "I tried to find clues everywhere, but everything was secret. Newspapers can speculate and it may mean nothing at all."
The restaurant received two Michelin stars in the guide on Feb 1.
The straight-talking chef also confirms that the guide's inspectors reveal themselves after meals and ask to check the restaurant's premises - which many in the industry view as jeopardising Michelin's claim of anonymity.
But Robuchon says the inspectors who have visited will never return.
He adds that overseas, the inspectors are local and "not all French". However, he does note that the inspector who visited his fine- dining restaurant in Resorts World Sentosa (RWS) in December last year is "either French or Belgian".
Asked if he is here because of the guide, Robuchon says candidly: "We're not cooking for the guide, but for ourselves.
"You can't cook for Michelin, as there's no particular style of cooking. They can be very keen on traditional, molecular or modern food. What they judge is the taste and the quality."
Robuchon, who normally comes to Singapore at least three times a year, was in town last month to change some dishes at his two restaurants - Joel Robuchon Restaurant and L'Atelier de Joel Robuchon - in RWS.
He is looking to implement a dessert trolley for the Joel Robuchon Restaurant soon and jokes that he "needs to find the trolley first".
And while he may have announced his retirement at age 50, the busy chef is still charging ahead.
Next month, he will open L'Atelier de Joel Robuchon in Shanghai, as well as a boulangerie in Shinjuku, Tokyo.
Next year, he will open in New York, Miami and Geneva. Another big project is his culinary school in Montmorillon, France. Because of building constraints, he says, it may open only in 2018.
The school - located in a monastery-hospital - will accept up to 1,500 students. To give them experience of working in a restaurant environment, it will have different set-ups, from fine dining to brasserie to a bar, along with a hotel.
Do not be surprised to see Robuchon teaching as well.
He says: "I don't want a traditional school with a teacher explaining in a pedagogical way what you should know. I've always been interested in transmission of knowledge from master to disciple.
"Of course in many schools, students are trained in restaurants, but that's a small part. Here, they will be plunged into a real-life scenario, followed by a team to correct and show the right way."
With more than 50 years of experience as a chef, he has had to evolve with the times.
He says: "The way of cooking and ingredients have changed. We travel a lot more. And the richness of knowledge makes us cook differently. But we definitely eat better than before."
Fine dining will also remain, he says, but the shift to casual dining will continue as diners want affordable food.
He is also no different from every chef here hoping for a chance to make it to the Michelin Guide.
He says: "It's very difficult to know what's going to happen to you. Of course, everyone wishes for the best ranking. It's very, very tough to be perfect, as every day is a new day.
"You always face problems with quality of products, your oven may not be working well and you may overcook something, or you may be sick and not be in the best shape to cook.
"To get three stars, you need to be perfect during every visit by Michelin. But you can think you are doing everything well and still fail somewhere."
euniceq@sph.com.sg

This article was first published on February 14, 2016.
Get a copy of The Straits Times or go to straitstimes.com for more stories.